Canon may not give you the latest and greatest in their cameras before anyone else, they are more likely to sit back and wait – then strike when the market gets hot. However, in the world of broadcast lenses they are a force to be reckoned with. They've been doing it for decades and have it down to a science. Today as announced the Japanese mega-super electronic giant is adding more glass to its already impressive line-up of broadcast lenses the CJ12ex4.3B. This is a brand new 2/3" portable 4K zoom lens with the world's widest focal length – an incredible 4.3mm, designed for professionals shooting interviews or live broadcast, including sport and news.
Canon also today announces that it is developing another new compact 2/3" 4K all-purpose-zoom lens to be announced fully later. Further bolstering Canon's 4K broadcast lens range for cameras employing 2/3" sensors, the versatile new lens will be optimised for both indoor and outdoor shooting, across a variety of applications including, sporting events, live broadcasts, as well as television dramas and commercials.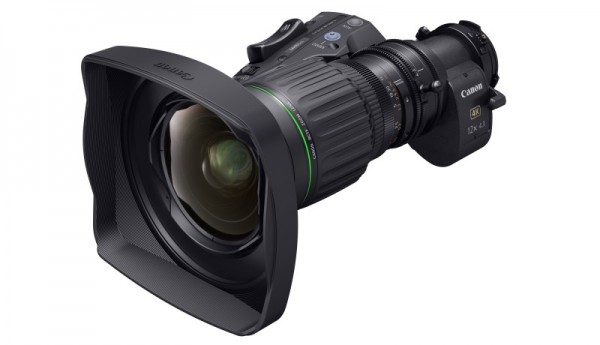 Thanks to the built-in 2x extender the CJ12ex4.3B can go up to 104mm on the long end making it a very well-rounded lens for ENG style shooting. This is certainly great news for broadcast camera professionals who always need the zoom range; the 4K optics are a good way to future-proof their purchase for the upcoming transition into 4K acquisition on a broadcast level. 2/3type lenses were primarily designed for SD acquisition, and even with later models optimised for HD with better optics, most of them still do not deliver stellar results when paired with Super 35 sensors in modern cameras like the F5 or Sony PXW-FS7.
There are plenty of folk out there who reign from the (g)olden days of shoulder style cameras, who are still widely used today, that have plenty of old 2/3inch B4 glass but want to pair them with their newest 4K Super 35mm camera. Sadly all these lenses are not optimised for large sensor and the extra sharpness of 4K makes the majority if not all 2/3 lenses look very soft and low contrast on such cameras. The CJ12 will be a good addition to the Sony HDC-4300 for example, but on anything larger than 2/3 not so much, regardless of which optical adapter is used IMHO. Pricing and availability is in the air, but I won't be surprised to see this cost 15-20 grand at least.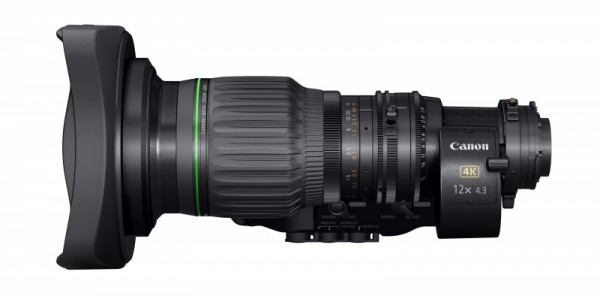 Here's more from the Canon Press Release
Outstanding 4K optical performance
Leveraging Canon's renowned heritage in optical design and advanced technologies, the CJ12ex4.3B delivers outstanding 4K image quality throughout the entire 12x optical zoom range. Providing the freedom to quickly adapt to different shooting environments, the new lens enables shooters to swiftly move from an ultra-wide 4.3mm angle shot to close ups, whilst ensuring first-class image quality from the very centre to the edge. A built-in 2x extender also helps provides even greater focal reach, whilst still maintaining 4K optical performance.
To further provide sharp, high contrast images, the CJ12ex4.3B includes an increased use of fluorite and UD glass combined with Canon's expert coatings, resulting in exceptional control over ghosting and flare. A new three group internal focus system also reduces focus breathing.
Exceptional portability and flexible operation
Boasting a brand new design, the CJ12ex4.3B is compact and lightweight, weighing just 2.1kg, making it similar in size and weight to a comparable 2/3" HD lens. Ideal for on-shoulder shooting traditionally adopted by news gatherers, the lens can easily be used on-the-go, and with an ergonomic design and grip, it is comfortable to hold for longer periods of time. The lens also incorporates three 20-pin connectors for easy integration with existing HD zoom/focus controllers and can be directly connected to an external virtual operation system at the same time.
Featuring a Digital Drive Unit, the CJ12ex4.3B offers advanced operability giving users the freedom to select repeatable zoom positions and speeds, in addition to focus and iris settings. A 16-bit absolute value encoder integrated into the Digital Drive Unit allows operators to start shooting with the camera's aberration compensation function in an instant, without the need for any initialization.
This is perfect for news and wildlife environments where action can disappear as quickly as it started. A digital display, built into the Digital Drive Unit, also makes it easy to set, review and adjust vital functions in a way similar to 2/3" HD lenses.
Key features CJ12ex4.3B:
4K resolution 2/3" portable wide angle lens with 12x zoom
Exceptional 4.3mm focal length at the wide end extends to 52mm (104mm using the built-in 2x extender)
Stunning optical performance right to the edge of the image when paired with a 2/3" 4K compatible camera
Combines 4K quality with lightweight design and compact size comparable to HD lenses for comfortable on-shoulder shooting
Sustained 4K performance even when using the built-in 2x extender
Proven, high-quality 16-bit encoder captures precise information on zoom, focus and iris and allows support for aberration correction immediately on start-up
3 20-pin connectors make for effortless use with existing Canon HD lens accessories and virtual systems
Claim your copy of DAVINCI RESOLVE - SIMPLIFIED COURSE with 50% off! Get Instant Access!