After 3-axis gimbal stabilisers literally flooded the market, some mini crane manufacturers are desperately trying to attract the attention of  independent filmmaking community with some bold and innovative design ideas related to their products. Last week we covered the entirely hand-held HandJib, and now here is the super portable and expandable Motorised Carbon Fibre Jib from Digislider.
The UK-based company is mainly known for its portable and affordable motion camera slider systems for video and time-lapse photography now introduces this lightweight extendable carbon fibre DSLR crane. Emm from cheesycam.com already had the chance to play around with the device, so here is his insightful video review where he shares his initial impressions of the jib along with some footage he managed to capture while testing the platform out in the wild.
As we can see, the Digislider Motorised Carbon Fibre Jib is a well-designed and sturdy built professional device that can produce some super smooth, fluid shots even when it's operated by a push of a finger. It has a compacted length size of 75cm that can be extended to 240cm easily with the quick lock system. It's the perfect fit for compact cameras and DSLRs or any other system weighing up to 11 pounds (5kg). The portable jib has a maximum Radius of 120cm and a minimum of 50cm from centre to camera platform and can be seamlessly attached to any tripod head through a regular plate.
If you mount a video tripod head on the front you can get a smooth pan and tilt shots without altering the counter balance. Alternatively, you can tilt the platform the jib is attached to get the same effect, but the counter balance will be slightly off as the centre of gravity is shifted. When folded the device weighs only 1.5kg(3.4lbs) and comes in a nice padded 80cm x 10cm x 16cm full-length zip bag than can easily fit in your car while travelling.
The ability to attach a controllable motor to the jib, however, takes its functionality to a whole new level. The motor and the strap itself can be attached to the platform through a single thumb knob, that instantly turns the platform into an automated device that can produce some great real-time or time-lapse movements. You can adjust the movement of the jib through a dedicated controller that can be additionally purchased  in different variations with the main unit.
The MX3 tilt kit, for instance, comes with a motor, mount and an MX3 controller from Dynamic Perception for more precise Time Lapse and Video control, with ramping/feathering and delayed start time.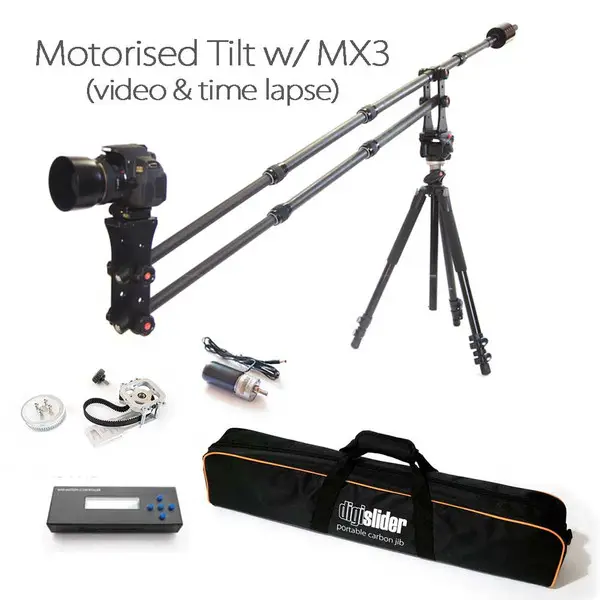 Whereas the SMS version features the Shoot-Move-Shoot Controller that is a more basic analogue Time Lapse Controller.  The advantage is that it is quicker and easier to set-up but lacks the fine tuning and accuracy of the MX3 Controller.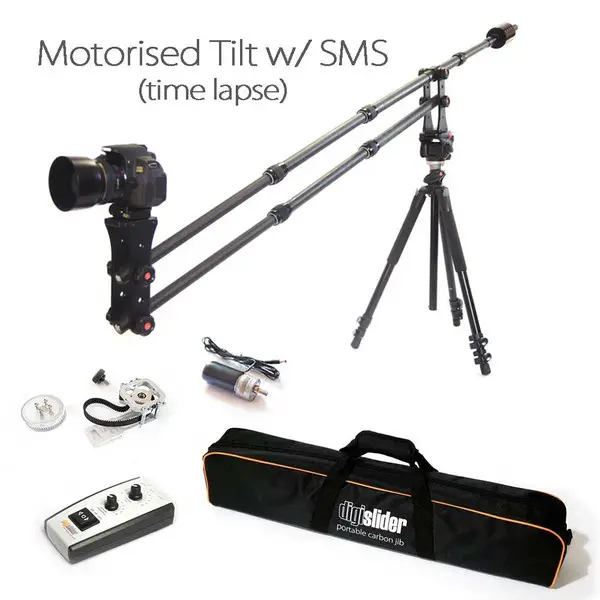 Currently, Digislider are also working on a 2 Axis Pan and Tilt option that is expected to ship later this year. For more details on pricing head on over to Digislider website.
[via: Cheesycam, source: Digislider]
Claim your copy of DAVINCI RESOLVE - SIMPLIFIED COURSE with 50% off! Get Instant Access!