IBC 2015 is just around the corner and with just a bit over a week left to the start of Europe's premiere broadcast technology show, Anton Bauer have a few new products they'll be displaying at the show. At IBC 2015, Vitec Group's Anton Bauer brand will be exhibiting a new CINE battery series for digital cinema cameras. The CINE battery's compact design complements cine-style cameras such as the ARRI ALEXA Mini and RED Weapon and functions on all existing Anton/Bauer chargers. It's also designed to be the safest and most durable mobile power solution for professional cinematographers. The CINE series delivers 12 amps of continuous power and incorporates Fuse Link technology which provides protection to surrounding battery cells, preventing catastrophic damage. The battery line also features multiple sensors to detect temperature and over-current states, ensuring optimal battery performance during regular use.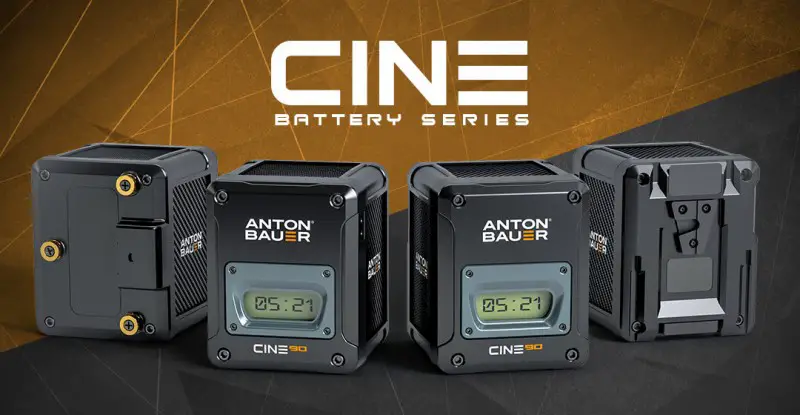 Ideal for camera stabiliser systems and rail-mounted cameras, the CINE battery's durable, industrial design and footprint complements cine-style cameras such as the ARRI ALEXA MINI and RED Weapon. For ultimate convenience, the CINE battery series works on all existing Anton/Bauer chargers and includes a PowerTap to power auxiliary accessories such as monitors, lights, wireless receivers and any other 14 volt accessory.
"The CINE battery series exemplifies Anton/Bauer's dedication to producing the world's safest, smartest, and most reliable power systems for professional cinematographers," said Neal Laneville, Product Manager for Anton/Bauer.

"We spent a lot of time gathering feedback from our customers and integrating it into the design of the new CINE series. The result is a battery series that combines our groundbreaking safety technologies with a completely redesigned chassis built just for cinematographers. It's a bespoke solution for the most demanding professionals."
The CINE series also includes an extremely accurate LCD that provides users with run-time information in hours and minutes. When the battery is detached, the LCD screen will display battery life as a percentage of capacity, allowing you to effortlessly track usage.
Available in September 2015, the CINE series will come in a choice of Gold Mount or V-Mount connectors. A 190 Wh option will be available in 2016.
In addition the company is releasing a 7.2v line of popular L-series Sony style (NP-F) batteries and chargers. These can literally be found as a power option on almost all cheap (and some not so cheap) LED lights, monitors, and camcorders such as the Sony FS700 and the 4K Sony FDR-AX1.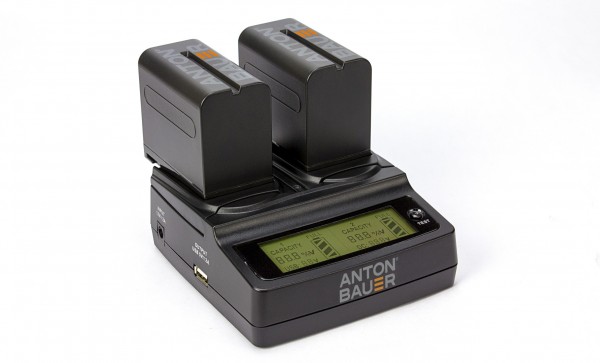 The L-Series batteries accompany the two new 7.2V chargers. The Single Position Charger boasts a lightweight, compact design with an LED indicator light. The charger also includes a charge control switch that allows users to switch between ECO and FULL charging speeds (for slow or fast charging) as well as a 5V USB output port for powering an extra device simultaneously. The robust L-Series Dual Position Charger simultaneously charges two batteries at once and has an easy-to-read LCD that shows each battery's charge percentage. The charger also possesses battery testing functionalities to optimize battery life.
The Anton/Bauer L-Series batteries are available in two capacities: the NP-F774 is a 4400mAh (30Wh) and the NP-F976 is a 6600mAh (47Wh). The Anton/Bauer 7.2V batteries and chargers will be available worldwide October 2015, and on display for the first time at IBC 2015 (September 11-15), along with Anton/Bauer's other products on the Vitec Videocom stand #E55 in Hall 11.
[via Vitec Group]
Claim your copy of DAVINCI RESOLVE - SIMPLIFIED COURSE with 50% off! Get Instant Access!