Canon is planning on cramming 36 megapixels into an APS-C sized chip to be featured in a new mysterious 8K camera, which may or may not be the C500 Mark II, and possibly not see the light of day in the next two years. Some of you may be asking – why 8K? I don't know. I really don't, 4K is plenty enough. I am asking the same. Broadcasters are too afraid to move from 720p and SD, to even Ultra HD at this point….
Maybe it has to do with the 2018 Winter Olympics in South Korea, which have been already hyped up as deployment grounds for 8K broadcast acquisition – NHK have been demonstrating their 8K technology for some time now in past trade shows. Whatever the case is, its clear that Canon is committed to taking the resolution/megapixel race with rival manufacturers to a new level. This may not necessarily be a good thing, or it may simply be the company responding to criticism over their slow implementation of 4K in their top end lineup (The current C500 model is 4 years old and still needs an external recorder to record 4K).
Their EOS-1DC was the first DSLR to have 4K on-board but at the price of your car (currently $8,000). The upcoming C300 Mark II is their first cinema camera to offer internal 4K recording, and is priced at $16,000 with an imminent shipping schedule later this month.
As you can read form the PR below, the latitude is nothing earth-shattering with supposed 13 stops DR, but there is 60p at 8K, which is to be the normal speed for such resolutions. No doubt, technological  innovation drives progress, but in the end its the market that determines what manufacturers sell. 1080p cameras are still the majority of cameras major manufacturers like Sony, Panasonic, JVC and Canon sell to the masses in the professional and semi-professional arena. 4K is creeping up and becoming a preferred acquisition format for many productions. We have amazing mirrorless cameras like the Sony A7R II, which closed the gap between a stills camera and a video oriented DSLR form factor camera.
Oh, and there is a 120 megapixel DSLR on the way in a few years. Does more always equal better? Maybe, maybe not, we'll have to wait a few years and see. In the mean time good luck finding lenses for it. Read more below.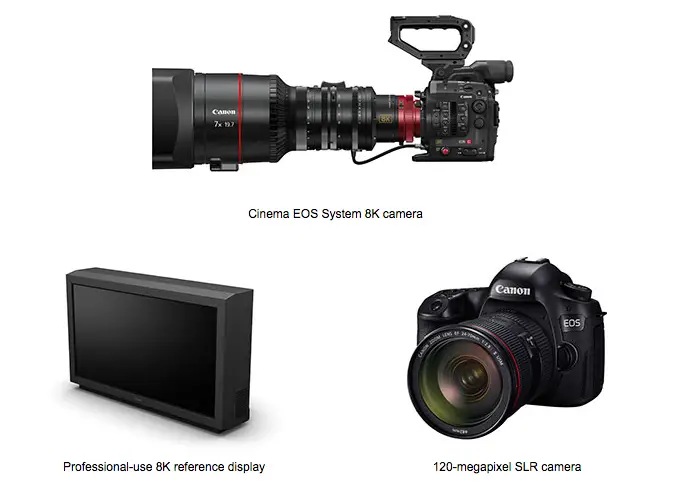 Canon Inc. announced today that it is developing a Cinema EOS System 8K camera and professional-use 8K reference display that will support the production of next-generation 8K video content, along with a still-image single-lens reflex camera equipped with a CMOS sensor featuring approximately 120 million effective pixels. Through the Company's proprietary imaging technologies, Canon provides still and video input and output devices that will contribute to the development of imaging culture.
Canon, as a leading company in the field of imaging technology, conducts research and development into devices designed to support cinema and video production with the aim of expanding the boundaries of visual expression. Through the further enhancement of the Cinema EOS System 8K camera and professional-use 8K reference display under development, Canon aims to contribute to smooth production workflows, facilitating not only the input and output of 8K video content, but also such processes as 8K to 4K down-conversion and 4K cropping.
The Cinema EOS System 8K camera being developed will be equipped with a Canon Super 35 mm-equivalent CMOS sensor that makes possible high-resolution 8,192 x 4,320 pixel (approximately 35.39 million effective pixels) imaging performance even at a frame rate of 60 frames per second with 13 stops1 of dynamic range and a richly expressive wide color gamut. Additionally, featuring a body size that realizes outstanding mobility and a design that delivers high levels of operability, along with an EF mount that offers compatibility with Canon's extensive interchangeable EF lens lineup,2 the camera will support diverse shooting styles and means of visual expression.
Incorporating Canon image-processing technology, the ultra-high-resolution 8K reference display currently under development will achieve high brightness, high contrast (high dynamic range) and a wide color gamut. Additionally, with a pixel density exceeding 300 pixels per inch, a level approaching the limit of human visibility, the display will make possible ultra-realistic imaging that enables the reproduction of subtle changes in light that were previously not possible. Furthermore, when used in combination with the Cinema EOS System 8K camera, the display will be capable of conveying truly impressive levels of visual expression.
Featuring a resolution of approximately 120 effective megapixels, the SLR camera now being developed will incorporate a Canon-developed high-pixel-density CMOS sensor within the current EOS-series platform, which will realize compatibility with the Company's diverse interchangeable EF lens lineup.3 The high-resolution images that the camera will be capable of producing will recreate the three-dimensional texture, feel and presence of subjects, making them appear as if they are really before one's eyes. The camera will facilitate a level of resolution that is more than sufficient for enlarged poster-sized printout while also enabling images to be cropped and trimmed without sacrificing image resolution and clarity.
Claim your copy of DAVINCI RESOLVE - SIMPLIFIED COURSE with 50% off! Get Instant Access!