Video Devices have released a new firmware update v3.51 for their 4K recorder/monitor lineup – the PIX-E series, including the 5-inch PIX-E5, the HDMI variant PIX-E5H and larger 7-inch PIX-E7. The latest firmware update features mainly important bug fixes concerning some observed artifacts on some PIX-E recorders when recording 4K via HDMI, and some notable fixes to bugs in the audio pipeline on the PIX-E series.
Just as a reminder, in the previous firmware update v3.50 the PIX-E series gained key playback functionality, including the ability to add, delete, and locate to cue markers, create a custom playlist, loop playback of individual recordings, regions or playlists, and much more. The new functionality is available as a free download for PIX-E5, PIX-E5H, and PIX-E7 owners, and work with or without the optional PIX-LR audio interface accessory.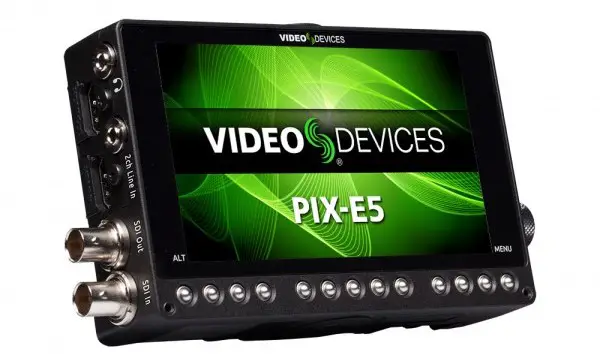 You may recall we posted about firmware 3.0 here, which added simultaneous H.264 recording to the ProRes options. I also reviewed the 5-inch PIX-E5 not that long ago, and in case you missed it, you can check out my review in our post here.

Video Devices PIX-E Series Firmware ver. 3.51 Details
Bus and Issues Fixed
Visible "Speckle" artifacts on some PIX-E when receiving 4K via HDMI.
Loud audio pops on PIX-LR XLR Out when playback was stopped.
Audio channel 3 and 4 gains reset to 0 after the unit entered record.
Incorrect timecode value displayed if files were skipped during playback.
Upon stopping playback, there was a brief window of time where if Record was initiated, the unit might indicate that recording was active, but no recorded file was created.
Other miscellaneous performance enhancements
Note: Enhancements made and issues resolved in previous firmware updates still apply.
Known Issues or Limitations
This is a list of any published Known Issues or Limitations for the latest PIX-E Series Firmware:
PIX-E monitors do not support playback of non-native files. They will playback only those files that have been recorded on the device.
The GH4 Menu > Motion Picture > HDMI Rec Output > 4K Down Convert must be set to Off in order for the PIX-E to receive 4K signal when PIX-E Menu>Recorder & Drives>Rec Trigger is set to HDMI/SDI Flag – Panasonic.
GH4 HDMI timecode is only received by the PIX-E when Menu > Recorder & Drives > Rec Trigger is set to HDMI/SDI Flag – Panasonic is set on the PIX-E.
H.264 Playback is not supported.
While recording H.264, HDMI output, scopes, and the 4-way view are disabled.
When 720p is coming in and the monitor is set to anamorphic de-squeeze with the following combination of settings (16:9, 2x, Full), the display will be noticeably choppy. This is only a display issue; the recordings are fine. Display of incoming 720p with any other combination of anamorphic de-squeeze settings is okay, and the aforementioned combination of settings will work just fine with other resolutions.
You can learn more about the latest functionality in the PIX-E series in the videos below:
H.264 Recording for the PIX-E Series:
To download the latest firmware version 3.51 head over to Video Devices's website via the link here.
Claim your copy of DAVINCI RESOLVE 16 - SIMPLIFIED COURSE with 50% off! Get Instant Access!