The PIX-E series recorder/monitors from Video Devices (you know of Sound Devices fame) have been around for a couple of years now, but I have always wanted to get my hands on one. I felt like the Video Devices PIX-E5 with it's 5-inch screen and HDMI/SDI I/O would be the one to test for a few weeks on my Sony FS5. I should mention here that I am very grateful to my buddies at B&H for hooking me up with this review unit, which I did return at the end of the evaluation period, so that's my ethics caveat for you folks.
In a nutshell, priced at $1,495, the PIX-E5 is quite a powerful 5-inch monitor/recorder with a really nice 5-inch 1920 x 1080 display with touch screen functionality. The unit is built like a tank and uses a very useful and compact USB 3.0 based recording media – called the SpeedDrive to record up to 4K DCI at 30fps. The SpeedDrive uses mSATA drives, which are quite tiny; users can use 250GB, 500GB and 1TB drives.
The PIX-E5 can record in resolutions up to 4096 x 2160/30p (UHD is supported as well), in addition to 1080 or 720 up to 120fps.
Ok, so for those unfamiliar yet with the PIX-E5 from Video Devices here are some of the highlights of the unit.
Video Devices PIX-E5 Features
5-inch Full HD (1920 x 1080) Display
Punch-in zoom (touch screen functionality)
Record DCI 4K (4096 x 2160) up to 30 fps
1080p up to 120 fps
Simultaneous 4K ProRes and 1080p H.264 recording
ProRes 4:2:2 and 4:4:4 Encoding (444 limited to 1080p)
Uses mSATA SpeedDrive Media
4K-Capable HDMI Input with Loop-Through
SDI Input with Loop-Through
Analog Audio Input
Physical Button and Jog-Dial Controls
I shot this little piece on my Sony FS5, thanks to the PIX-E5, which let me monitor what I was shooting.
Sony FS5 EOSHD Pro Color CINEMA – Slow Motion Test from 4K Shooters on Vimeo.
A major plus is the fact that Video Devices appear to be committed to the unit (and the PIX-E lineup overall) as they have released quite a few firmware updates over the past 18 months including the latest firmware update v3.50, which granted some key playback functionality, including the ability to add, delete, and locate to cue markers, create a custom playlist, loop playback of individual recordings, regions or playlists, and much more.
In the prior firmware update v3.0 – the PIX-E series were given simultaneous H.264 and ProRes recording; in addition to 1080/120fps slow-motion via HDMI and 6G-SDI support for 4K for cameras like the ARRI Amira in previous firmware updates.
PIX-E5 Review Summary of Findings
Things I liked (some a lot):
That 1080p, 441 ppi/500 nit IPS display – At first you tend not to notice it, but over time, the consistency in colour reproduction and decent brightness levels, even for outside, are a killer feature. At first I thought I'd definitely need a sun hood for exteriors, but the performance in sunlight was quite decent IMHO. Sure, one can argue that I didn't test it in a 40 degree Summer heat, but I live in England. Any bit of sun helps here.
Overall Build Quality – enough said – you have to use it to see how durable this thing is. A tank. The Die-Cast metal chassis and the whole attention to detail and craftsmanship is beyond stunning.
Full Set of Monitoring Tools – Waveform, Zebras, Vectorscope, False Colour, LUT's you name it – it's in here.
NOTE: it's quite important they are there, and I commend Video Devices for including a full suite of monitoring tools, but maybe the Vectorscope and Waveform in particular could have a bit less "pixelated" appearance – i.e. As a benchmark for external recorders I often cite the ones on the Odyssey7Q+ – these things are a work of art on that recorder.
"Tap Zoom" – this feature is quite neat – tap on the screen and get a 200% / 400% magnification; can be moved around the screen.
USB 3.0 SpeedDrive – no need for a card reader, just pop it into your Mac/PC and offload your footage. More compact form factor compared to 2.5-inch SSDs that most other external recorders are based around. A pre-installed 240GB SpeedDrive will cost you $239 at B&H, or you can get an empty one for $59 and buy your own approved 250GB Samsung mSATA (for $100 and save some money this way)
Tactile buttons and Jog Wheel – nothing replaces the physical feeling of knowing where to press even without looking at the monitor. Very well responsive and well crafted, the buttons don't feel difficult or awkward to press, on the contrary – they feel quite natural and pleasing (this is getting quite weird… enough talk about touching inanimate objects)
Sony L-Series NP-F batteries – yes, those are affordable and readily available (best to use the smaller or medium sized ones, not the biggest NP-F970's as when you use two the unit gets quite heavy. The PIX-E5 can be powered via D-tap as well from V-mount or AB batteries via an optional accessory cable.
Thins I wasn't too keen on, or didn't like:
It gets hot and the fan is quite audible – I didn't find this to be a problem, and the fan is no that loud, but you can clearly hear a the buzzing or humming sound from it. It does get quite hot though, and quite fast. However it didn't shut down or perform out of the ordinary despite the heat.
No DNxHD or DNxHR – maybe in future, who knows. It would be nice to have one day for those out there on PCs and post-houses/studios based around Avid infrastructure.
4K via HDMI only – 4K via 3G-SDI for Sony FS cameras (and most other pro cameras) would be grand, but at this point it's not available. When connected via SDI to my FS5 I only had 1080p up to 60p (422, LT and HQ recording options).
No Sony FS Raw support or any Raw support at all – again, would have been nice, but even Video Devices refer to the Pix-E lineup – as great monitors with 4K ProRes recording functionality. The 3G-SDI output of the Sony FS5 can really only be utilised by Convergent Design's O7Q+ and the Atomos Shogun Inferno (to a degree). The PIX-E5 in my opinion is better suited for cameras like the A7sII and Panasonic GH4.
Battery and SpeedDrive latches – sometimes it's a bit of a struggle to get the SpeedDrive out of the unit.
Gets top heavy when using NP-F970 high capacity batteries.
Requires a bit of juice – that is, is power hungry – I got around 40 minutes before replacing the big NP-F battery, and I wasn't even recording. Good thing is that the unit requires only 1 battery to run at a time, and you can have 2 and hot-swap. You also get a couple of "low battery" warnings before it shuts down so that's a nice touch.
In summary, I quite enjoyed working with the PIX-E5. The rugged build and the 5-inch screen size and form-factor are a real draw for those who prefer to keep a smaller footprint.
I'd say from my experience having used other 5-inch monitors from other brands (like SmallHD and TVLogic), which don't have any recording functionality, but other merits of their own, the PIX-E5 from Video Devices is by far the best 5-inch on-camera monitor I've ever used.
I can't pinpoint exactly what it is about it, but the combination of those super-good feeling tactile buttons, the 5-inch form factor, the easy of use (that jog wheel on the side is awesome), and the fact that pretty much everything on it makes sense and it feels like all the bits serve a purpose and aren't there just for show.
It's quite a relief to know that you can take it out of the bag, pop it onto a Sony FS5 for example (on which it sits perfectly) and not have to worry that it's going to shatter in several pieces if you bump it against a C-stand or actually drop it.
Sure, it's not perfect, I do wish they included some form of Raw to ProRes conversion, DNxHD, maybe 4K/60p,  and better 4K capture integration (for Sony FS cameras) into the SDI input, and it certainly isn't one of the most affordable monitors out there, but as a monitoring devices it's ace.
I can definitely recommend this unit and/or the HDMI only PIX-E5H (which is $200 cheaper) for any DSLR shooter or anyone shooting with a Sony A7sII/A7RII or thinking of getting the new Panasonic GH5.
The PIX-E5 is a solid performer that will probably outlast your camera. Throw in the PIX-LR audio interface attachment ($399 at B&H) that carries all the Sound Devices DNA and you get a seriously pro piece of kit that let's you monitor your LOG footage with confidence and also capture super crips audio.
At the time of the review, I had no access to the PIX-LR audio attachment, so I can't say how good it is or otherwise. Maybe in the future, if I get access to it, I can do a review on it, but for now, the barebones PIX-E5 will have to do.
So if you have an SDI based camera (other than the URSA Mini or ARRI Amira) and you want only a solid 1080p ProRes, you can get that no problem. For those looking for an incredible monitor that is build to last, and maybe occasionally record 4K via HDMI from an A7sII or GH5/GH4, the PIX-E5 will deliver in spades.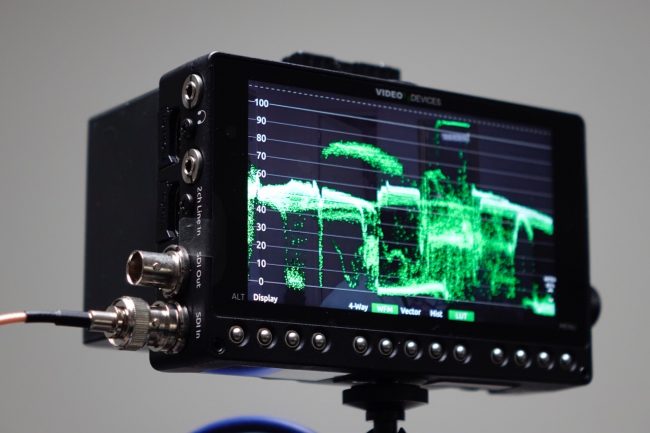 Massive thanks to our friends at B&H for providing the review unit. In closing, I'd say it again – the PIX-E5 from Video Devices is a nearly perfect 5-inch pro monitoring solution, that can also record 4K ProRes, and most likely will serve you and your future cameras for many years.
Order-links:
Claim your copy of DAVINCI RESOLVE - SIMPLIFIED COURSE with 50% off! Get Instant Access!