Much like the they did with the Nikon Z7/Z6, external recorder and HDR monitor leader Atomos have announced their support for 4K 10bit recording via HDMI from the latest Canon EOS R full-frame mirrorless as well as the new Fujifilm X-T3 mirrorless APS-C camera.
While Internet opinions on both cameras have been varied and in some cases extremely polarizing especially (as they always are) in the case of the Canon EOS R and it's crippled 4K recoding requiring a massive crop, one thing is certain – when it comes to getting the maximum quality out of these cameras you'll need an external 4K recorder – and this is where Atomos come in with their soon-t0-start-shipping 5-inch Atomos Ninja V.
The EOS R is Canon's first full-frame mirrorless camera and also the first to offer 4K 10-bit 4:2:2 external recording via HDMI with Canon Log and and the option to output that clean signal with BT.2020 gamma for HDR. The Atomos Ninja V will support 4K ProRes and DNxHR recording from both cameras – the EOS R and the Fuji X-T3.
Atomos also supports Canon Log encoded for Rec.709 as well if that's what's required for your deliverable.
Atomos have also worked with Fujifilm to ensure their excellent F-Log gamma and soon to arrive HLG (via firmware update) is accurately resolved and displayed for perfect HDR or SDR production. F-Log and HLG are also supported on all Atomos Monitor/Recorders.
The F-Log can also be output to compatible HDR televisions and monitors in HLG or PQ HDR standards for client and customer viewing directly from the Ninja V. In addition to the F-log and HLG presets users have the ability to load an almost infinite number of custom LUTs onto the Ninja V.
One of the main reasons I think the Ninja V will be embraced universally by the filmmaking community is the fact that it is a smaller device compared to the rest of the Atomos' lineup. The 5 inch screen only weighs 360g and sits perfectly on top of a mirrorless camera, which in my opinion is the whole point of shooting a small camera – to keep the footprint small, otherwise you're better off in both $$$ and size/weight terms to get a proper 4K S35 camcorder, like a C200 or EVA1.
The Ninja V also has a very bright 1000nit monitor and industry leading HDR monitoring tools to help you ensure you are properly exposing for HDR, which is quite difficult with conventional monitors.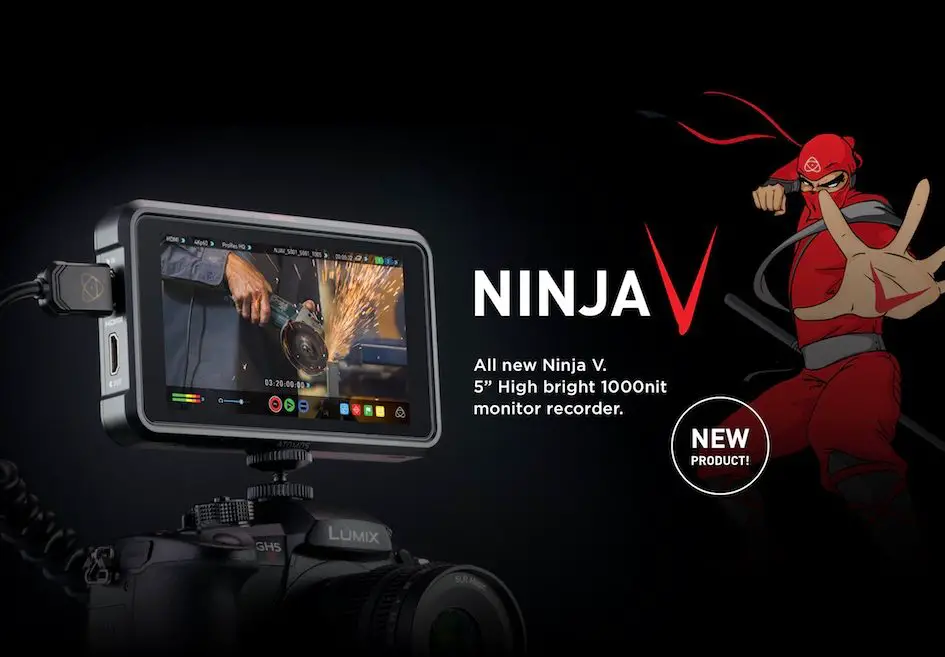 The Ninja V also supports Atomos' latest generation of AtomX SSDmini drives, which have been developed with leading brands and offer high speed and high reliability in a compact metal chassis. Guard your EOS R/Fuji X-T3 video by recording to proven, economical SATA SSD media.
Another benefit of an external recorder such as the Ninja V is the removal of recording limits – you are limited only by the maximum capacity of your SSD recording media. H.265 is also notoriously computation intensive and can be a nightmare to edit unless converted to a more edit friendly intermediate codec such as ProRes, something you get right off the bat with the Ninja V (also Avid DNx if this is your preferred format to work with).
Atomos CEO, Jeromy Young notes:
"Fujifilm's new offerings really do stake a large claim at the compact mirrorless, photo/video table. The technology improvements in video, especially over HDMI in 4K and in HDR show Fujifilm is listening to it's pro customers and delivering what they need faster than almost all other makers. We love our Fuji devices here at Atomos."
He also added this with regards to the Canon EOS R:
"It is awesome to see Canon join the Mirrorless full frame race, we are very proud to enable HDR monitoring and recording in 4K 10-bit and deep color to Apple ProRes – an amazing first from a mirrorless. Our Ninja V ships this month and Canon users can level up their video game today!"
The Atomos Ninja V is expected to start shipping soon, and you can use the links below to pre-order it or the EOS R and Fuji X-T3 (shipping Sept. 20).
Pre-order links:
Claim your copy of DAVINCI RESOLVE 16 - SIMPLIFIED COURSE with 50% off! Get Instant Access!