Earlier today, Nikon announced their highly-anticipated Nikon Z7 and Nikon Z6 full-frame 4K mirrorless cameras and, not surprisingly, it did not take long for Atomos, the leader in external recording and HDR monitoring solutions for the indie filmmaking world, to announce they will be supporting 10bit 4K external recording from the Z7/Z6 HDMI output onto their new and upcoming Atomos Ninja V external recorder/monitor.
Atomos calls monumental Nikon announcement "the holy grail of video on mirrorless cameras" which is, nevertheless a bold statement for sure, but as the new Nikon Z7 and Z6 appear to be the only full-frame mirrorless cameras with a true 10bit HDMI output the benefit of recording externally to an Atomos device is evident, so I can see where they are coming from in calling the new Nikon's the proverbial "the business".
For reference, Sony's full-frame (and APS-C) mirrorless cameras output in 8bit, and external recorders are forced to re-wrap the recording in a 10bit file (since ProRes natively is recorded at such bit depth), leaving many folks to argue that the result is not a "true 10bit" recording whatever that means. While there may be some truth to such claim, having a clean, 10bit HDMI output from the get-go is probably the best starting point for broadcast compliant recording.
A new Full-frame Era Begins
Atomos CEO Jeromy Young said:
"It's fantastic to push technology barriers with our friends at Nikon. Combining the new Nikon and our Ninja V HDR monitor/recorder gives filmmakers exactly what they have been asking for – a compact full-frame 4K 10-bit recording system at an amazing price point. To be able to offer users the next level of performance with our Ninja V and Nikon is what our company is truly about!"
You can not only record the 4K 10bit N-Log signal output by the HDMI on the Nikon Z6 and Z7 mirrorless cameras, but can also monitor it accurately thanks to the HDR display on the Ninja V. HDR monitoring can often be a bit challenging, however Atomos' user interface is super intuitive and anyone that's ever used Shogun Inferno or Flame can attest to its simplicity.
Supported recording formats are the already familiar production-ready 10-bit Apple ProRes or Avid DNxHR formats.
Atomos, naturally, are very proud to be the first to support Nikon Log, Apple ProRes recording and HDR monitoring from the new Nikon Z series cameras. The tiny Ninja V 5-inch device is the perfect partner for these full-frame mirrorless cameras, making the setup ideal for weddings, corporate, news, documentary, nature films or b-roll for Hollywood productions.
New Nikon N-Log fully supported by Atomos with automated set up.
The N-Log gamma is a brand-new Log gamma designed by Nikon to get the most out of the new Z series cameras' sensors and wide dynamic range. Atomos are the first to resolve N-Log to HDR on their devices and their engineers have developed specific presets for it.
Setup is automatic the moment you plug the Ninja V into the cameras thanks to advanced communication between camera and monitor. The Ninja V can show a massive 10+ stops of dynamic range on-screen, to allow users to make accurate exposure and colour decisions. The recorder can receive timecode and be triggered directly from the cameras.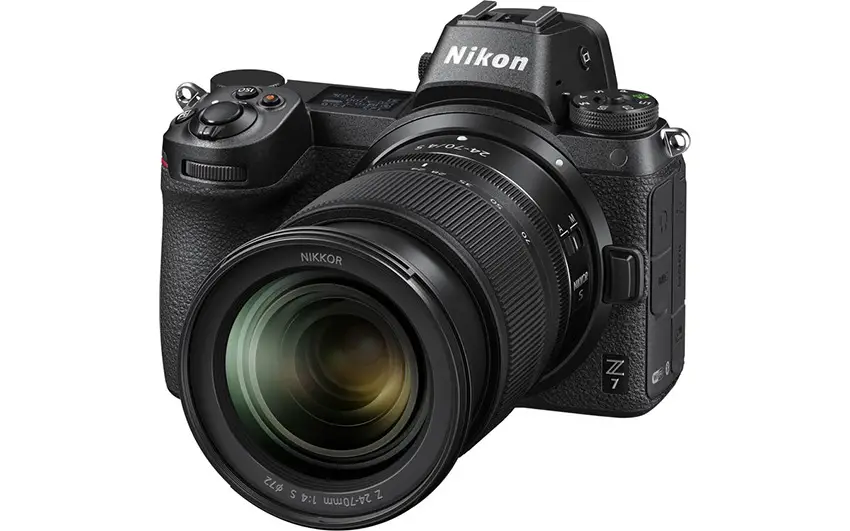 One very important thing to remember is that the N-Log gamma profile is available ONLY via the HDMI output and not when recording internal 4K or otherwise. This is probably going to make lots of people frown over the fact that Nikon have decided to go "Fuji XT2" on their new Z7 and Z6, however there are lots of reasons why you shouldn't even record in Log when recording internally in 8bit H.264 due to the increased possibility of banding issues and other artifacts due to the frail and thin native in-camera codec.
In my opinion, it would have been nice to include N-Log internally and give people the option, but Nikon apparently are not on the same frequency and have decided to eliminate the possibility of internal N-Log recording, I guess to prevent people from getting crappy footage?! Whatever their reasoning, it is not yet known whether N-Log can be added to the in-camera recording options in a future firmware update, much like Fuji did with their Fujifilm XT2.
The Atomos Ninja V Advantage
For those unfamiliar, the Ninja V features a sleek 1-inch thick aluminium body, crafted for maximum durability, and weighs only 11oz. The high brightness 1000nit display allows it to be viewed in daylight and used to display HDR images. The screen is color accurate and can be calibrated to maintain its accuracy over time.
The Ninja V records onto industry standard SATA SSD drives, including the new AtomX SSD Mini series of smaller form factor drives. As a result, these drives are more affordable than proprietary media.
Footage recorded onto the Ninja V can be instantly played back in Rec.709 or HDR on the device itself, or to a TV. Metadata is embedded into the HDMI output to allow correct display of HDR on compatible monitors and televisions. The Ninja V has a modular expansion slot to allow future upgrades to its feature set.
See some of the officially released N-Log footage shot in 4K on the Nikon Z7 (and presumably an Atomos recorder):
To learn more about the Atomos Ninja V and other external recorders and monitors head over to Atomos' website here and use the affiliate links below if you are interested in getting one or more for your production arsenal.
Order/Pre-Order Links:
Claim your copy of DAVINCI RESOLVE 16 - SIMPLIFIED COURSE with 50% off! Get Instant Access!