Blackmagic Design have been continuously adding new functionality and fixing bugs in their industry standard DaVinci Resolve 14 colour grading software, and as of today you can download DaVinci Resolve 14 Beta 8! The latest update gets support for audio control surfaces, USB audio and Blackmagic I/O devices, better H.264 and more!
Digging further into the details of the latest update in Beta 8, the audio interface support includes HUI protocol support for compatibility with the Mackie Universal Control Surface, as well as support for attaching speakers to Blackmagic Design video I/O hardware or USB audio devices. In addition, it also includes Cineform encoding and decoding on all platforms, improved H.264 compatibility on Windows, and dozens of other fixes and performance improvements.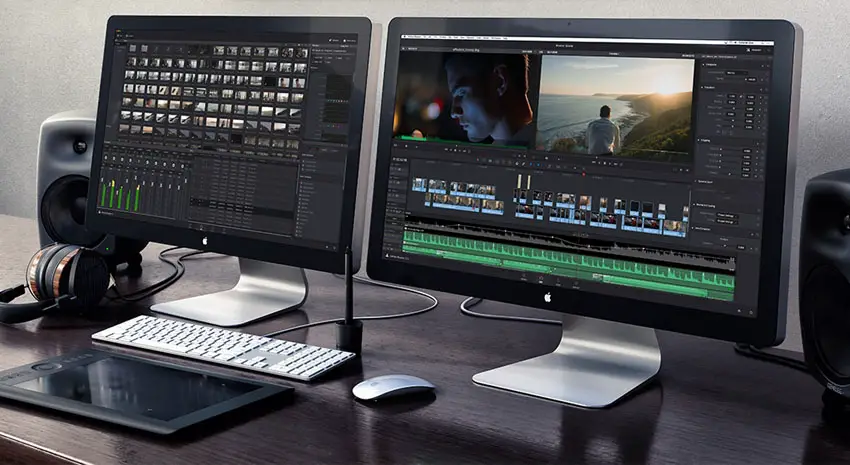 New Additions in Beta 8:
Added basic HUI protocol support over USB for MCU Pro Universal Control Surface on Mac and Windows
Added support for speaker setup of Blackmagic Video I/O hardware
Added support for speaker setup of connected USB audio devices
Encoding and decoding Cineform files is now supported on all platforms
Restored the "Hide UI Overlays for Optimized Playback" in User Preferences
Bug Fixes and Improvements:
Addressed an issue where playing back certain H.264 clips would result in a crash on Windows
Addressed an issue with decoding Cannon C200 clips
Addressed an issue where clips with fractional frame rates (such as 29.97 fps) would decode with a frame offset
Addressed an issue where some speaker setup preferences would cause loss of audio in the Edit and Color pages
Addressed an issue where Resolve would sometimes not save bus properties
Addressed various automation issues on the Fairlight page
Addressed an issue where waveforms on the Edit page would be out of sync when zooming
Addressed an issue where importing certain EDLs would result in loss of audio
Addressed an issue where ripple-deleting a marked range would not affect some gaps
Addressed an issue where the default audio track format would be ignored when dragging in clips with multiple audio tracks from the Media Pool
Addressed an issue where playback of some mp3 file would produce artefacts on macOS
Addressed an issue where rendering to some AAC formats would result in a freeze
Addressed an issue where render jobs with AAC audio would not correctly save the number of channels
Addressed an issue where decoding frame-based clips with frames of different resolutions would cause a crash
Addressed an issue where the Face Refinement tracking data would not be preserved when changing project resolution
Added support for disconnecting from the currently selected database
Addressed an issue where SubClips with linked audio would sometimes result in sync issues
Addressed an issue where retiming certain audio clips would sometimes result in sync issues
Addressed an issue where switching to the DaVinci Resolve Advanced Panel would require a machine restart on Linux
Addressed an issue with crashes on some third party OpenFX plugins
General performance and stability improvements
You can download DaVinci Resolve Beta 8 from Blackmagic Design's support website here.
Claim your copy of DAVINCI RESOLVE 16 - SIMPLIFIED COURSE with 50% off! Get Instant Access!