Workflow optimization is a natural and ever evolving process where even the smallest bits and pieces can make a huge difference in the end. Imagine a situation when you need to trigger the video recording on your GH4/GH5 camera while it's being mounted on a gimbal or any other support system that is physically out of your reach or it's just too inconvenient and impractical to get your hand on the shutter button every time you need to start or stop recording.
By using the quite inexpensive Wireless Remote showcased in the video below, you can permanently deal with this issue. Emm of Cheesycam has come across this fantastic dirt cheap piece of equipment that can be mounted to the handle of your gimbal or any other place that is within the reach of your hand allowing for easy Start/Stop video controls of your camera.
Even though it's predominantly designed for Olympus mirrorless cameras, Emm verifies that it does work flawlessly with both the Panasonic GH4 and GH5 cameras as well. As the filmmaker suggests, you can easily mount it to any type of handle by adding a strip of industrial double sided tape to the front, and lay a velcro strap over the top. Both the transmitter and receiver run on two triple-A batteries offering up to 1000 hours of standby time.
With this device, you can control your camera video recording at distance up to 100m. Just mount the receiver to the top by using the hot shoe interface of your GH4/GH5 and use the cable to tether it to the camera's remote port. Since you can start video recording with the shutter button on these cameras, pressing the remote shutter will trigger this functionality virtually in the same way.
Pixel Pro Digital & Film Camera Wireless Remote Specifications
Model: FSK 2.4GHz wireless remote control system
Transmission distance: 100m
Communication channel: 16
Transmitter launch power: 0Db
Receiver sensitivity: -99dB
Connecting cable: 30cm straight cable
Transmitter standby time: over 1000 hours (with 2pcs AAA alkaline battery)
Receiver standby time: Over 400 hours (with 2pcs AAA alkaline battery)
Transmitter dimension (L*W*H): 97mm*33mm*15mm
Receiver dimension (L*W*H): 66mm*37.5mm*28.5mm
Transmitter Weight: 21.8g
Receiver Weight: 32.2g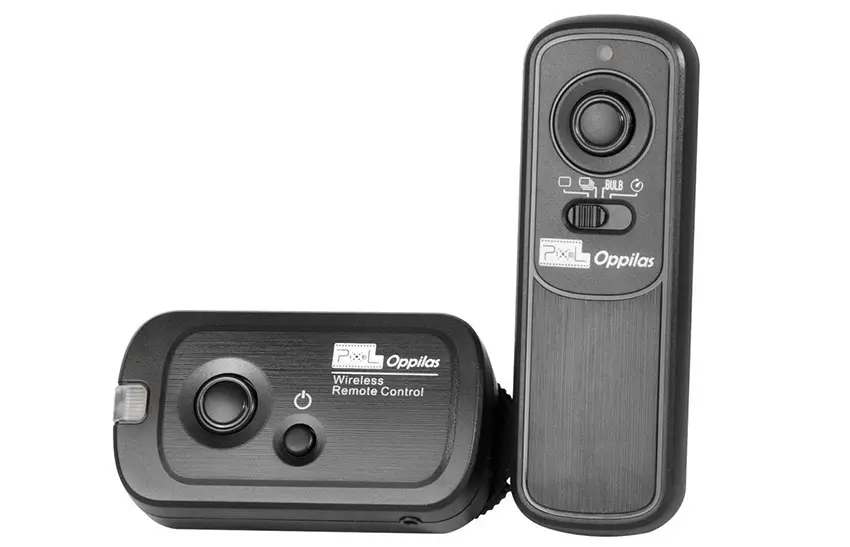 All in all, this inexpensive wireless gimbal remote could indeed save a lot of time and improve your efficiency on a wide variety of occasions in the field when triggering video recording remotely is highly recommended. Plus, the remote control combo costs just $20, so you certainly can't go wrong with this price.
[source: MrCheesyCam]
Amazon US Order Link:
Pixel Pro Digital & Film Camera 100M Wireless Remote
Claim your copy of DAVINCI RESOLVE - SIMPLIFIED COURSE with 50% off! Get Instant Access!