Ultra fast lenses for  Micro Four Thirds cameras like the Panasonic GH4 and the BMPCC for example are highly sought after, but not often very affordable. There are other super fast primes like the Voigtlander Nokton 25mm of f/0.95, which costs about $800 a piece, thus forcing a lot of shooters looking to squeeze that extra stop (and change) of light to resort to using a Speed booster optical adapter and Nikon or EF lenses. The Metabones Speed boosters unfortunately are expensive and for some not an option.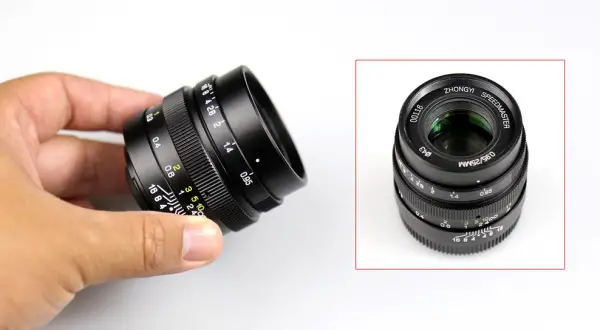 However, there is another super fast option for MFT shooters out there – it's called the Mitakon Speedmaster 25mm f/0.95. Made by Zhongyi Optics (ZY Optics) the 25mm is the latest addition to the Speedmaster family is a ultra-fast prime lens which provides a 35mm-equivalent focal length of 50mm in the Micro Four Thirds system. A maximum aperture of f/0.95 makes it extremely convenient to shoot at a low light conditions without flash.
What is probably as impressive as the super wide aperture – is the fact that it weighs a mere 0.51 pounds and is just 1.8 inches long. The compact size and fast aperture make it an ideal companion of your camera for everyday shooting in a wide variety of conditions.
Specifications:
Zhongyi Mitakon 25mm f/0.95
Lens type
Manual lens
Max Format size
M43
Focal length
25mm
Lens mount
 M43
Aperture
Maximum aperture
F0.95
Minimum aperture
F16.0
Aperture ring
Yes
Number of diaphragm blades
11
Optics
Elements
11
Groups
9
Focus
Minimum focus
0.25 m
Distance scale
Yes
Physical
Weight
230 g
Diameter
60 mm
Length
55 mm (with caps)
45mm (without caps)
Colour
Black
Zoom method
Rotary
Filter thread
43 mm
Here's some sample photos:
Despite the extreme light weight, the lens incorporates a 11 elements in 9 groups optical design, including 1pc of Extra-low dispersion elements, 4 pieces of Extra-high Refractive Index elements and 2 pieces of High Refractive index elements. This structure effectively controls the chromatic abberations and deliver excellent image sharpness even at f/0.95. The lens also features a 11 pieces of aperture blades to form a close-to-circle aperture for a creamy depth of field. Optimized lens coatings also help to suppress lens flare and ghosting.
The new lens features manual focus design and a click-less, silent aperture ring for smooth handling and is especially well-suited to video applications. The lens is built in metallic enclosure with additional protective process and finest finishing, which gives extra durability and aesthetic.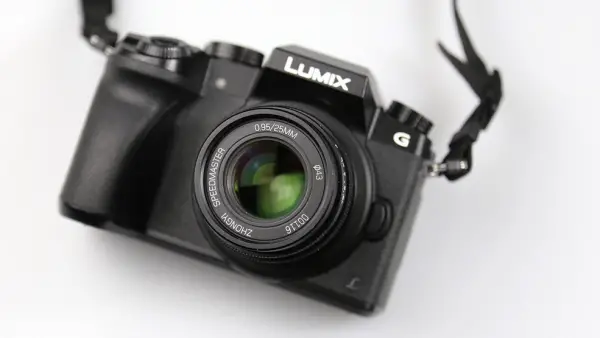 Note: Some cameras are found unfit with the Mitakon 25mm f/0.95 lens. At the moment those are: Olympus E-PL6; E-PL5; E-PM2; EM5 (Mark 1)
The Mitakon 25mm f/0.95 is available to pre-order for $399 from the manufacturer here.
Claim your copy of DAVINCI RESOLVE - SIMPLIFIED COURSE with 50% off! Get Instant Access!