Angenieux has developed a new convertible zoom lens, which can switch between Super35 mm to Full Frame/Vista Vision camera platforms with the simple addition of a rear optical module.
The third in a series of convertible lenses, the EZ-3 is an ideal addition to a cinematographer's quiver when switching between camera platforms from one day to another is an important skill, and a small footprint is of great advantage.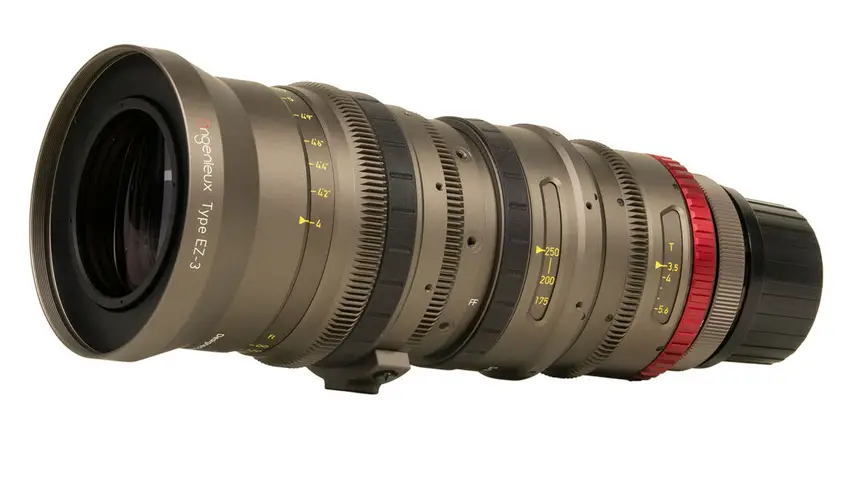 At its base configuration, the EZ-3 is a 45-165mm T2.3 to 3.0 zoom which covers a Super 35mm image sensor. To convert it to full frame or Vista Vision image formats, users merely add the additional quick IRO (Interchangeable Rear Optics) system, which amounts to a 3.7x ratio rear optical block that converts the lens to a 68 to 250mm T3.5-4.5 zoom which supports the larger image real estate with minimal distortion.
The IRO rear optical module can be added in as little as five minutes and affixed to the lens with a simple twist of the mounting ring. Users also invert the focus and aperture scales to provide the proper image format markings.
There is no crop factor either, as the wide-angle end maintains the same field of view with an additional T-Stop. This also provides the full frame focal length with a constant T-Stop from 68-200mm when the aperture is set to T4.5 or lower.
Moreover, while the lens comes with a PL mount by default, additional Sony E, Canon EF, and RF lens mounts are also available and can be swapped out just as easily.
The result is an optic that provides a tremendous amount of flexibility for a camera operator who wants to be all things to all projects.
The EZ-3 also features smooth internal zoom and 0.8 MOD focus rings with scale rotation of 300 degrees and precision markings for pinpoint focus pulls.
The lens supports standard matte boxes and focus rod arrays with a 114mm front lens diameter and a 105mm filter thread. The lens also offers a minimum focusing distance of about four feet (1.22 meters).
Users of the Angenieuz MSU-1 and 1A servo units will also find the EZ-3 supports ENG-style news-gathering assignments for even greater flexibility in the field. The result is that a camera operator can accept more project assignments and get even more work.
Pricing and availability
The Angenieux E-3 is available with two rear optical blocks (Type EZ-1 S35 PL + FF/Vistavision rear, Type EZ-2 S35 PL + FF/Vistavision rear and Type EZ-3 S35 PL + FF/Vistavision rear) for a preorder retail price of $19,300 from Angenieux Direct or its network of authorized retailers such as B&H.
Shipping is to be determined, as the lens is listed as "coming soon." Meanwhile, users can check out the EZ-3 at both IBC 2023 and the Bild Expo 2023 in New York.
Order Links:
Angenieux EZ-3 45-165mm T2.3 S35 & 68-250mm T3.5 Cinema Zoom Kit, ARRI PL, Super35 & Full-Frame (B&H)
Claim your copy of DAVINCI RESOLVE - SIMPLIFIED COURSE with 50% off! Get Instant Access!