Without any surprises and as expected, today Red officially announced the latest entry in their professional cinema camera lineup – the RED RAVEN. The camera boasts similar capabilities of the RED Dragon sensor providing 16.5+ stops of dynamic range in the smallest form factor to date weighing just 3.5 lbs. The sensor maxes out at 4K resolution (4096 x 2160) and in terms of size sits above MFT and a bit below Super 35 at exactly 20.48 x 10.8mm with an image circle of 23.2mm (thanks to Phil Holland for summarising this) meaning most if not all S35 and APS-C lenses will cover.
As promised, pricing for RED RAVEN starts at $5,950 for the camera BRAIN only, with shooting package options available for under $10,000. Capable of capturing footage with REDCODE RAW in 4K at 120 fps or in 2K at 240 fps, RED RAVEN also provides simultaneous capture options in Apple ProRes 422, 422 LT, or 422 HQ (up to 2K and 60fps). The camera records onto RED MINI Mags SSDs at the optimal REDCODE Raw 3:1 compression.
Below is the official video teaser of the new RED RAVEN.
RED RAVEN comes in three package options, Brain Only, Jetpack Package and Base I/O Package.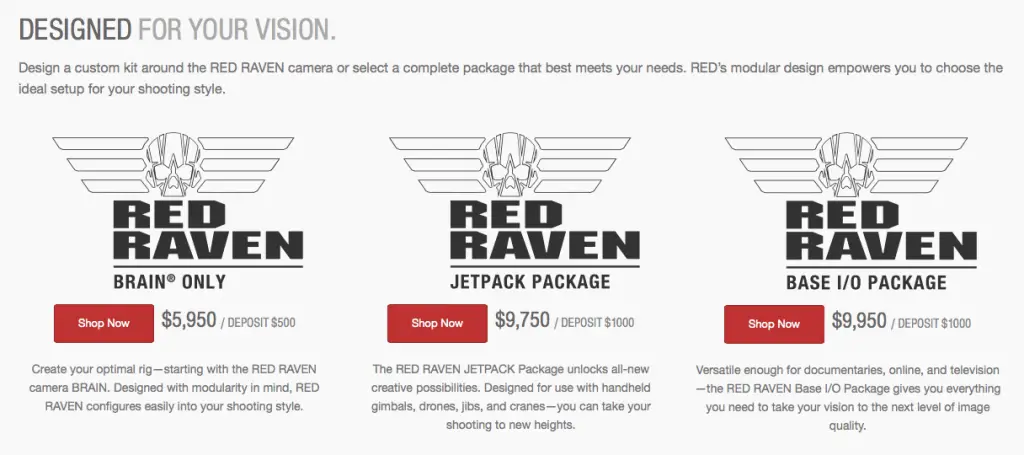 If you want to enter the Red ecosystem and get a minimum shooting kit, either the Jetpack Expander and BASE I/O Packages seems to be a viable option and will do the job. According to Red, the first one is ideal for gimbal and drone applications as the package includes the RED RAVEN BRAIN, Jetpack Expander, RED Touch 4.7″ LCD, Outrigger Handle,  Battery Belt Clip, a 120GB RED MINI–MAG.
Whereas the RED RAVEN Base I/O Package should fit most run-and-gun applications and includes the REDRAVEN BRAIN, Base I/O V-Lock Expander, RED Touch 4.7″ LCD, Universal Handle, and a 120GB RED MINI–MAG. It's worth noting that the difference between the price of the last two packages is only $200. That's just the money that you additionally need to spend to get a RED STATION RED MINI-MAG in order to be able to offload the captured media as it's oddly not included in the above packages.
Of course, you can always get the Brain only and build your own custom kit from there, yet if you really want to start off shooting with your RAVEN right off the bat you definitely need to invest in either of the two high-end packages. Let's not forget that for the price the aspiring shooters and independent filmmakers now can get the most robust and efficient professional Raw workflow known to date along with the latest RED colour science and top-notch sensor technology that Red Dragon provides.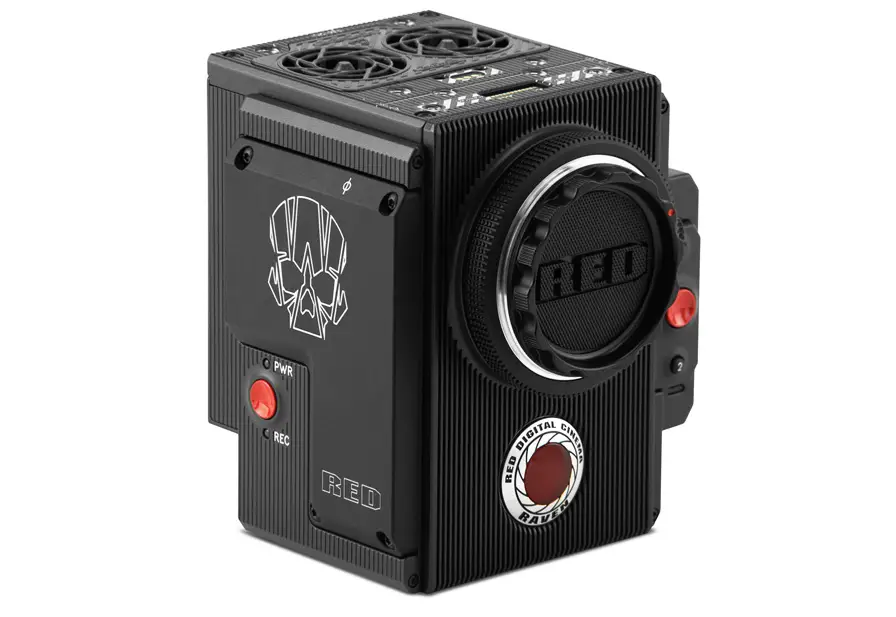 Here are the official specs of the RED RAVEN itself:
Sensor –  8.8 Megapixel

RED

DRAGON

Construction – Aluminium
Maximum Resolution – 4K DCI at 4096 x 2160
Sensor Size – 20.48 mm (h) x 10.8 mm (v) x 23.2 mm (d)
(Approximately equivalent to

APS

-C and Academy 35mm formats)
Dynamic Range – 16.5+ stops
Canon EF Mount (fixed)
Recording Frame Rates – 4K (4096 × 2160) up to 120 fps, 3K (3072 × 1620) up to 160 fps, 2K (2048 × 1080) up to 240 fps
REDCODE Compression – 3:1 maximum available

REDCODE

for 4K (4096 × 2160) at 24 fps, 7:1 maximum available

REDCODE

for 4K (4096 × 2160) at 60 fps, 13:1 maximum available

REDCODE

for 4K (4096 × 2160) at 120 fps
Apple ProRes Support –  Apple ProRes 422 HQ up to 2K (2048 × 1080) and up to 60 fps, Apple ProRes 422 up to 2K (2048 × 1080) and up to 60 fps, Apple ProRes 422 LT up to 2K (2048 × 1080) and up to 60 fps
Monitor outputs – 3G-

SDI

(HD-

SDI

) and

HDMI

with Expander Modules
Recording Media – 

RED

MINI

–

MAG

, 140 MB/s max data rate
Remote Control –  Built-in Wireless
Weight – ~3.5 lbs (

BRAIN

with Media Bay and Canon Lens Mount)
The camera is expected to start shipping in Feb/March 2016.
[source: Red]
Disclaimer: As an Amazon Associate partner and participant in B&H and Adorama Affiliate programmes, we earn a small comission from each purchase made through the affiliate links listed above at no additional cost to you.
Claim your copy of DAVINCI RESOLVE - SIMPLIFIED COURSE with 50% off! Get Instant Access!