Stabilization is still a challenge and an essential issue for many videographers and enthusiasts who prefer to shoot video with their smartphone, GoPro or another small compact camera. Sure, there are already various dedicated pistol-grip stabilizers on the market that might do a decent job, yet most of them are only compatible with limited camera models which make them an obsolete solution when it comes to picking the ultimate tool that can be utilized on almost every run-and-gun occasion.
Thanks to its modular and robust design, the 3-axis mechanical stabilizer solidLUUV is the world's first compact camera stabilizer compatible with all smartphones, and compact camera devices weighing up to 1.1lbs (500 grams). In a nutshell, the solidLUUV stabilizer is a fully-fledged compact steady cam that can be used with all smartphones, action, and compact cameras regardless of their model and size. It features a 3-axis mechanical stabilizer, however, you can attach the additional LUUV's electronic stabilization module for even more precise and solid results.
Here's what else you can expect from the stabilizer itself.
The creators of the solidLUUV claim that thanks to its 3-axis gimbal and the flexible grip, the device provides steady and silky smooth footage even in the most challenging situations. The grip's unique structure of the gimbal ensures that the natural vibrations caused by operator's hand movements are fully absorbed and are not further transmitted to the stabilizer and camera attached to the top.
Furthermore, due to its tool-less design, the balancing process of the stabilizer is easy and fast and can be done in no time. The german manufacturer even provides recommended weight setups for all established camera models for seamless and effortless integration.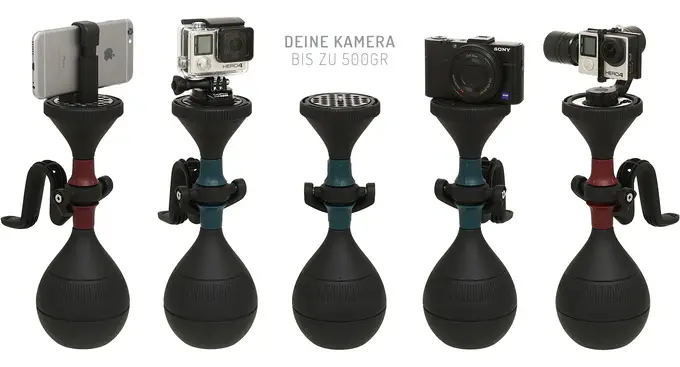 solidLUUV specifications:
Size: Height: 25cm / Width: 9cm
Weight: solidLUUV with GoPro Hero4: 680gr
Weight range: Compatible with all cameras between 0-500gr
Material: V2A stainless steel; PC/ABS; TPU
ultraLUUV specifications:
Size: ultraLUUV – Height: 33cm / Width: 9cm
Weight: ultraLUUV with GoPro Hero4: 800gr
3-axis 360 degree coverage (panning/ tilting/ rolling)
Quick release for all GoPro-sized cameras with or without LCD BacPac (Height: 33-46mm)
Powered by 2x 900mah 3.7v rechargeable Li-ion batteries; Battery life: 2-4 hours, depending on your usage (Battery charger included)
Single-button control for fast operating and mode changing
Weatherproof protection of the electronics
Universal adapter to attach the module to your favorite GoPro accessory
The LUUV's Kickstarter campaign is already successfully funded with more than €120,000 raised so far. You can still support the project and its creators by claiming your solidLUUV  for a pledge of €99 ($110 USD). The expected shipping date is set for April 2016.
[source: Kickstarter]
Claim your copy of DAVINCI RESOLVE - SIMPLIFIED COURSE with 50% off! Get Instant Access!