Announced to much fanfare back in April this year at NAB 2015 in Las Vegas, the Panasonic AG-DVX200 sports some unique features such as a 4/3 CMOS sensor and a 13x fixed zoom lens for the price of $4,195 / £3,400 – a rather interesting proposition combining the world of large sensor cinematography and shallow depth of field with the world of ENG/event/documentary/fixed lens operation that hasn't really been attempted before by other manufacturers. After months of anticipation and footage from beta testers, Panasonic have finally released the first official 4K footage from the DVX200.
For those not yet familiar with the Panasonic DVX200 – it is a true professional camcorder in every sense of the word – 4K/UHD up to 60p, 120fps variable in Full HD, records onto SDXC cards, dual XLR audio inputs, built-in ND filters, dedicated buttons for ISO/Gain focus assist and other key functions, a multitude of user assignable buttons, three independent lens rings for manual control over iris, zoom and focus, plus the new V-Log L flat gamma for an impressive 12 stop dynamic range and 5-axis hybrid image stabilisation.
From Panasonic:
This is the first official footage shot with the new Panasonic AG-DVX200, one of the newest additions to our ever expanding range of 4K broadcast equipment. The footage was shot using two AG-DVX200 engineering samples. During the development of this piece the FZ-Y1CH 4K Toughpad (the world's first PC equipped, 20" 4K resolution tablet with HDMI 2.0 input) was used to monitor the footage in crisp 4K image quality.

Recording format/mode:

UHD (3840 x 2160) 29.97p / MOV (100Mbps, SD card recording)

VFR120p on FHD (1920 x 1080) 29.97p / MOV (50Mbps, SD card recording)

V-Log L (Beta version) was used over full length.
(Grading tool : DaVinci Resolve)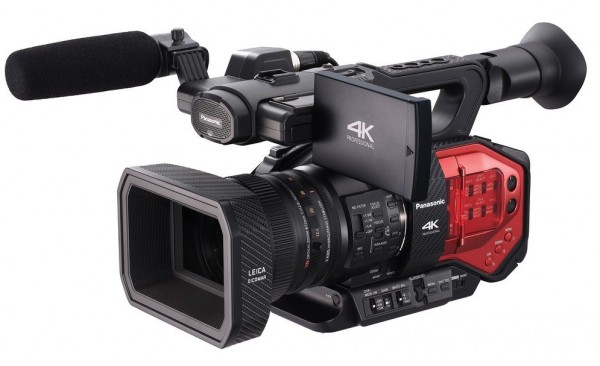 The Panasonic DVX200 is expected to start shipping October 7th according to B&H, and I am sure as those who've pre-ordered the camera get their hands on it we'll see more 4K footage from it. I must say though that even though there are some very nice bits in the video above – the day exteriors around the church, the bikes in the beginning, the groom and bride toward the end on the hill, and the some of the vista shots especially the ones over the bridge towards the end, where you can see this camera really perform well.
However in some of the low light interiors in the church and the skin tones on the bride weren't very impressive at least to my eye and of course Youtube compression. It is very difficult to judge a camera simply by looking at a Youtube clip, albeit at 4K, but still, I really think this camera can do better. These shots were designed to show the camera in a variety of situations – low light, slow motion, and wide DR situations – and for the most part it looks pretty good – but looking at the aerial bike blasting through the green patches, you can see the camera struggle to resolve all that detail in the fast moving grass – a situation that would stress any camera.
The V-Log L looks like offers more dynamic range than we've usually seen from fixed lens camcorders and the Four thirds sensor plays a big part in that too, but overall I wan't wowed by the overall image quality in this video. I hope that we get a chance to see more 4K footage soon as the DVX200 does look (at least on paper) like a really decent all-round performer for those looking to get an "out of the box" run n' gun solution without breaking the bank and buying a tone of accessories to make it work.
US:
AG-DVX200 4K Handheld Camcorder – $4,195 (B&H)
Claim your copy of DAVINCI RESOLVE - SIMPLIFIED COURSE with 50% off! Get Instant Access!