Crowdfunding platforms are often the go to place for creative projects and technology. We've covered quite a few successful crowdfunding campaigns on the blog here, and today we take a look at a really cool new LED light from Academy Award nominated Hive Lighting and their latest WASP 100-C LED light that is widely versatile, packs some pretty insane features and is compatible with multiple third party accessories to help you shape the light to fit the needs of your production. Of course, as with most crowdfunding campaigns, Hive Lighting are seeking support from the creative community and in return you not only get a super versatile new 100-Watt LED light, but you also get it at a pretty affordable price point.
The WASP 100-C from Hive Lighting boasts very high CRI and TLCI numbers of 98 and 97 respectively as well as Hive's Perfect S.H.O.T. control system, which allows you to adjust the saturation, hue, output and temperature of the light to suit your shot.
Compared to other high-end LED lights such as the ARRI Skypanel, which costs over $5K, the WASP 100-C is a bargain. To get a better idea of what the Wasp 100-C is capable of, check out their pitch video below.
The Super Early Bird special price of $799 is sadly sold out, however you can still get some at the early bird special price of $849, which also gets you some swag such as a poster, T-shirt, stickers and even sunglasses.
Hive Lighting WASP 100-C Features
100-240 VAC input via power supply
12 – 28 VDC  input via 4-Pin XLR
98 CRI / 97 TLCI
Omni-Color LED (1650K – 8000K)
360 degree Hue controls, 0-100% Saturation
0 – 100% Dimming Control
Manual, DMX, Smartphone Control
Weight: 5 Lbs
Size: 6″ Length x 4″ Diameter body
5″ Reflector face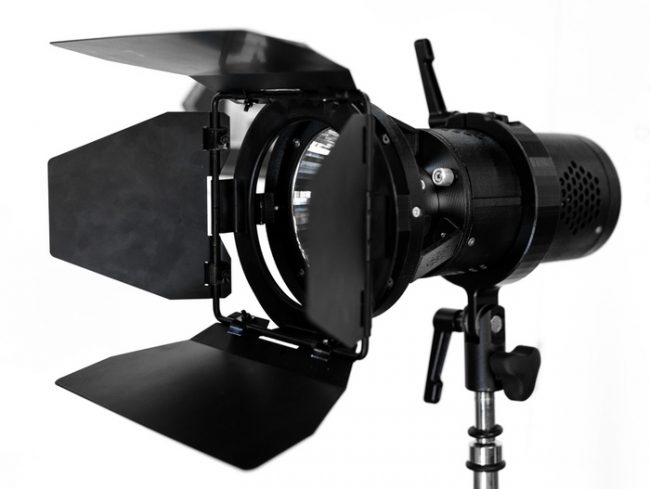 WASP 100-C Kit includes:
Wasp 100-C Head Unit with 22° Reflector
Wasp 100-C Power Supply 100-240 VAC
HDP Lenses: Spot, Medium, Wide, and Super Wide
5 inch 4-Leaf Barn Doors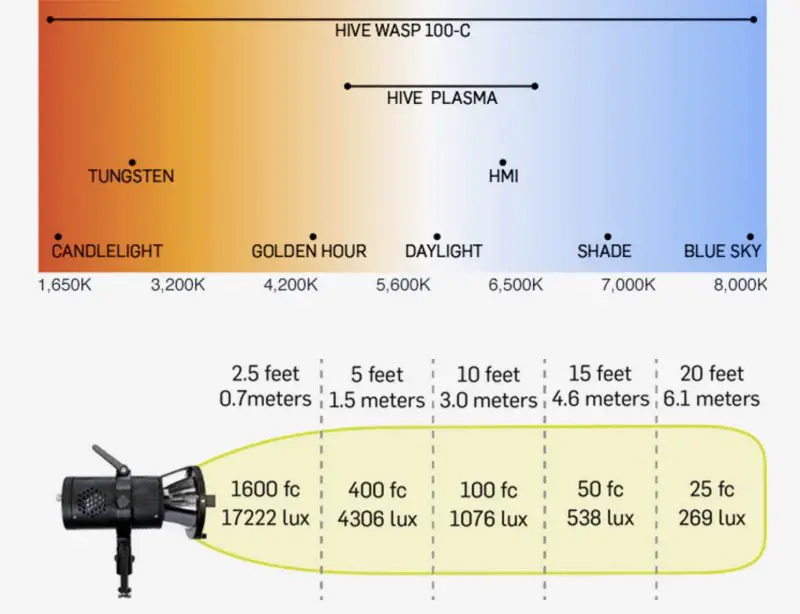 The Hive Lighting Wasp 100-C gives users the ability to have:
Total control over colour – Full hue and saturation controls give you the ultimate ability to create an immersive lighting experience with infinite colour combinations.
Leverage white light controls – Thanks to the white light controls, you can easily adjust lighting from warm candle light to cool daylight to support productions in any location or at any time of day.
Huge Access to Accessories –  The Wasp 100-C has a 180 degree spread and is compatible with the accessories to shape light any way you want. Use light modifying accessories to customize your lighting for different on screen talent, subjects and locations. You can create a theatrical spot light or a soft beauty light, a lantern light or a powerful flood—the only limit is your imagination.
DMX Control –  Control the saturation, hue and colour of the light through professional DMX boards, a simple interface on the light itself or via your smartphone app. It's that easy!
The Wasp 100-C is an environmentally-friendly lighting product, that is also practical and affordable solution offering the highest colour quality and highest output LED for all levels of production.
Designed and manufactured in Los Angeles by Hive Lighting, the engineering and prototyping on the Wasp 100-C is already complete but they need your support to help complete manufacturing the first run of these groundbreaking LED lights.
The support from the community has been overwhelming as the Wasp 100-C Kickstarter campaign has already raised over $290K and counting. There's 16 days to go until the end of the campaign, but you can still get the awesome Wasp light at a special early bird price.
For a full list of rewards and further information head over to the Hive Lighting Wasp 100-C Kickstarter campaign here.
Claim your copy of DAVINCI RESOLVE - SIMPLIFIED COURSE with 50% off! Get Instant Access!