Affordable filmmaking gear maker, Atomos just released the latest firmware update version 6.5 for their popular Shogun and Ninja Assassin family 4K recorders. Some of the new features include Canon EOS C300 Mark II and C500 Raw to ProRes support, more 3D LUTs for the C300 Mark II, and improved frame guides including 16:9, 2.4:1, 2.35:1, 1.9:1, 1.85:1 and 4:3.
In addition, AtomOS 6.5 fixes a few bugs with Timecode accuracy in RAW Sony FS700 recordings and various touch screen sensitivity improvements. See the full details of what the latest firmware includes below: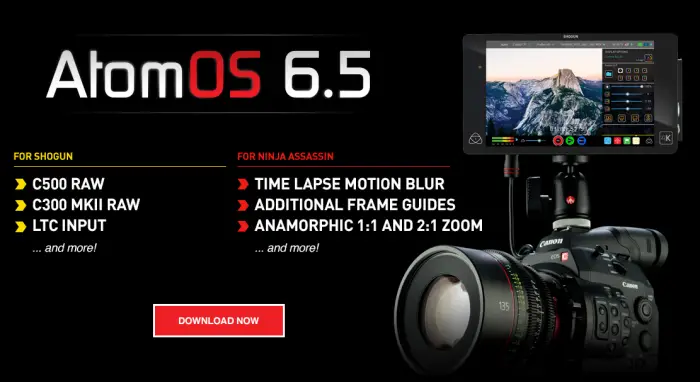 Atomos Shogun 6.5 New features:
Canon C500 and C300 Mark II – Raw to Prores and DNxHR
3D LUTs Included Canon C300 Mark II:
BT2020 C-log2 to Rec709 Gamut, Rec.709 Gamma
BT2020 C-log2 to Rec709 Gamut, Rec.709 Wide Dynamic Range
Cinema Gamut C-log2 to Rec.709 Gamut, Rec.709 Gamma
Cinema Gamut C-log2 to Rec.709 Gamut, Rec.709 Wide Dynamic Range
3D LUTs Included in Canon C500:
REC709 Gamut, C-log Gamma to Rec709 Gamut, Rec709 Gamma
Added motion blur option to Time Lapse Mode blur up to 64 continuous frames together in one sequence.
Added Panasonic Type 3, JVC and Ikegami camera triggers (Access via input page)
Added option to manually enable and disable downscale as well as automatically detecting the HDMI output and adjust output resolution accordingly.
Added LTC through Genlock input – Accessed via the timecode source option in the Timecode page.
New and improved frame guides:
Supporting the following ratios: 16:9, 2.40:1, 2.35:1, 1.9:1, 1.85:1, 4:3
New action and title safe area guides
All guides work with anamorphic de-squeeze
1:1 and 2:1 zoom can now be selected when anamorphic de-squeeze is enabled
Bug fixes:
Improved Interlace Display on LCD
Improved Sony 4K TV Audio support over HDMI
Various Touch Screen Sensitivity improvements
Improved Timecode accuracy in RAW Sony FS700 recordings.
With the new #AtomOS 6.5 Update #Shogun can now accept raw signal from Canon #C500 and #C300 MK II. Turning the C500…

Posted by Atomos on Friday, 2 October 2015
Canon Raw to ProRes/DNxHD is a major step updated and one that Canon C500 owners and C300 Mark II owners or rather future owners at this point can benefit from lower cost SSD 4K 10bit high quality compressed recording from a Raw stream, which can save both hard disks space and time in post for many production, who may not necessarily have the budget in place for dealing with Cinema DNG raw or DPX stacks.
Also, it is worth to note that the Canon Raw to ProRes update is via the SDI input of the Shogun and is not available on the lower cost Ninja Assassin, which is HDMI only and does not support Raw recording of any kind.
To download AtomOS 6.5 head over to Atomos' website here.
Claim your copy of DAVINCI RESOLVE - SIMPLIFIED COURSE with 50% off! Get Instant Access!