This time leading drone manufacturer DJI has shaken up the world of the pistol grip gimbal stabilisers by bringing down an enhanced camera stabilisation to the ground directly into filmmakers hands with the recent announcement of its single hand gimbal camera/system named Osmo. In essence, DJI Osmo is a completed hand-held gimbal solution that boasts a sleek and innovative design and comes with an integrated spherical camera on top providing 4K recording along with the ability to capture some really cool slow motion videos up to 120fps.
The Osmo system combines the Zenmuse X3 camera/gimbal with a detachable handle, bringing the benefits of stabilised 4K shooting to a handheld form factor thus making shaky videos a thing of the past.
It literally puts the power of a professional filmmaking camera system in your hands at a price point that hardly can be beaten. The camera features a 1/2.3″ CMOS sensor that enables up to full DCI-compliant 4K video recording at 24 or 25p. The device also offers hyper lapse and timelapse modes, as well as extremely precise panoramic shooting feature.
DJI Osmo Highlights:
1/2.3″ CMOS Sensor
4K: 4096 x 2160 (DCI): 24p, 25p, 3840 x 2160 (UHD): 24p, 25p, 30p
HD (1080p): 1920 x 1080: 24p, 25p, 30p, 48p, 50p, 60p, 120p
HD (720p): 1280 x 720: 24p, 25p, 30p, 48p, 50p, 60p
Maximum Recording Bitrate: 60 Mb/s
12MP JPEG or DNG RAW Sill Photos
Regular and Moving Time-Lapse Modes
Precise 3-axis gimbal stabilisation
Sleek Design
Detachable Mobile Device Holder
Price: $650
Availability: October 15th, 2015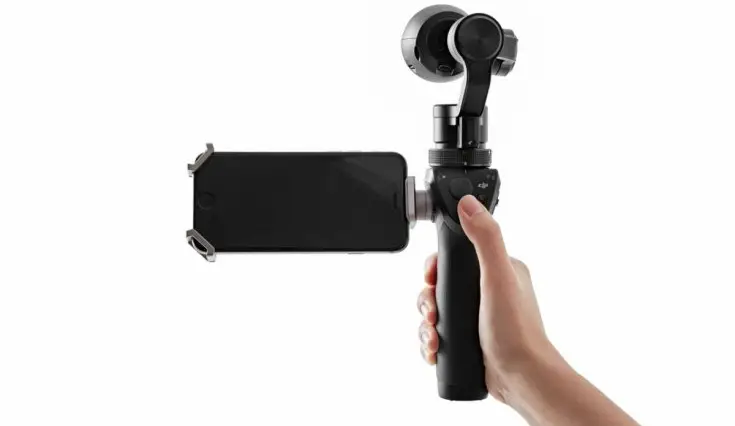 Setting up the DJI Osmo seems to be pretty simple and straightforward just as the handheld operation the combo provides. You only need to install the GO App on your phone and tether it to the DJI Osmo through the available WiFi connection. You can also remotely operate the gimbal, change settings and view a live feed directly on your smart phone once both devices are connected. There is also an integrated microphone allowing onboard audio recording that can be used as a reference later in post.
Furthermore, the handle incorporates a joystick for panning and tilting the gimbal along with a record start/stop button and a shutter button, putting the essential controls right at your fingertips. Additionally, there is also a trigger that allows you to toggle between different operating modes of the gimbal. Once you finish shooting the camera/gimbal assembly can be effortlessly detached from the handle for storage and seamless transportation.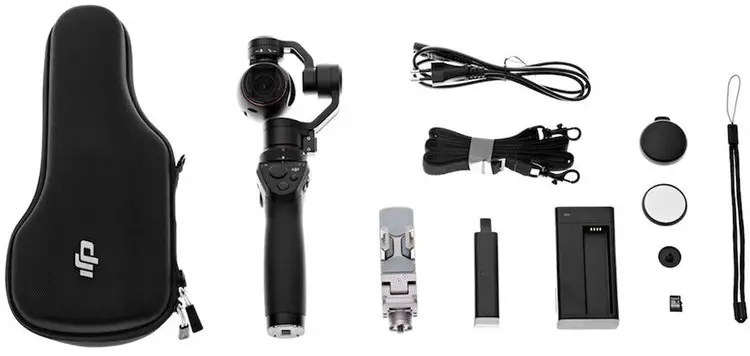 You can even swap camera systems on Osmo and mount the latest DJI's Zenmuse X5 Pro camera providing interchangeable lens mount and Raw recording for even more advanced shooting, enhanced filmmaking workflow and better control over your footage. Given the above functionality, along with the significantly improved stabilisation performance the device seems to be a compelling hand-held solution and a viable option not only for prosumers and enthusiasts alike but also for seasoned professionals as well.
The DJI Osmo is expected to begin shipping on October 15th and sell for $650 US.
B&H Pre-Order Link:
DJI Osmo Handheld 4K Camera and 3-Axis Gimbal
Claim your copy of DAVINCI RESOLVE - SIMPLIFIED COURSE with 50% off! Get Instant Access!