I was just browsing BMCuser.com and found out that Youtuber Better Aesthetics Bodybuilding recently posted what appears to be the first footage (at least that I've seen) from the Blackmagic Design Micro Studio Camera 4K – that is NOT the Micro Cinema camera, which seems to be quite the point of confusion among many. As a reminder, Blackmagic Design announced 38 new products at this year's NAB trade show in April, among which were a few new cameras.
The Micro Studio 4K camera and the Micro CINEMA camera were two of these. The two may share the same chassis and very similar button layout – but are very different cameras. The Micro Studio 4K – cannot recording internally at all – it doesn't even have a card slot or record button. It has 1 x DIN input and output (Mini BNC) which has to feed into a switcher/mixer/external recorder so you can get your footage recorded.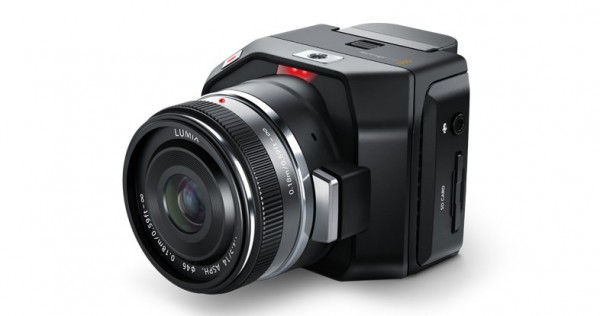 Blackmagic Micro Cinema Camera ($995)
Super 16mm-Sized Image Sensor
Active Micro Four Thirds Lens Mount
13 Stops of Dynamic Range
Global and Rolling Shutter Switchable
Records Full HD 1920×1080 CinemaDNG RAW
Apple ProRes 422 (HQ) at 220 Mbps
Ultra-Compact Design
Expansion Port with Radio Control Ports
SDHC/SDXC Memory Card Slot
HDMI & Composite Output, 3.5mm Audio In
The Blackmagic Micro Cinema camera, on the other hand features the same Super 16 sized CMOS sensor from the BMPCC with 13 stops DR, but with improved internals, which enable users to switch between Rolling Shutter and Global Shutter mode in camera. The benefits of Global Shutter are elimination of the dreaded "jello effect" when panning for example at the expense of losing about a stop and change of DR. In RS mode (Rolling Shutter) the Micro Cinema camera can record 1080p/60 slow motion, something the old Pocket Cinema camera cannot do in any frame rate.
The Micro Cinema camera is not a 4K camera, but a 1080p camera and just like the Micro Studio – it uses Canon style LP-E6/LP-E6N batteries but does not have an attached screen or viewfinder of any kind – hence the need for an external monitoring device. In the case of the dude from Better Aesthetics Bodybuilding – he's using the also very new – Video Assist 5-inch monitor from BMD, which can record 1080p ProRes onto SDXC cards.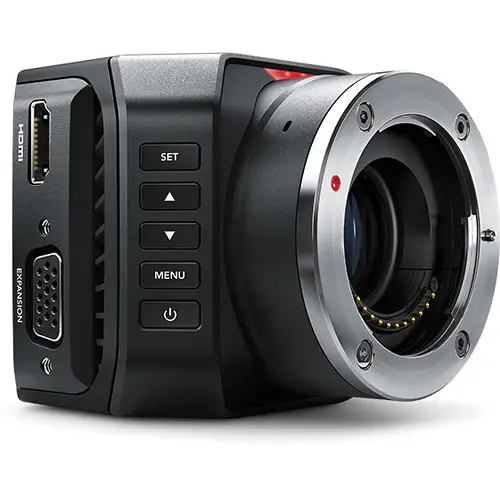 Blackmagic Micro Studio 4K camera ($1,295)
Active Micro Four Thirds Lens Mount
Resolutions Up to 3840×2160 at 30 fps
10-Bit 4:2:2 6G-SDI Video I/O
Ultra-Compact Design
SDI Remote Control Protocols
PTZ Serial Output & B4 Data Link
Built-In Talkback
HDMI Monitor Output, 3.5mm Audio In
Built-In Color Corrector
Canon LP-E6 Battery Slot
He also posted his thoughts in a First Impressions video about the camera below:

He seems to be using the Micro Studio 4K camera with the BMD Video Assist as a monitor and recorder too:

And the inevitable unboxing video…

Video Assist Unboxing video:

In addition to the above footage, here is some more Blackmagic Micro Studio 4K + Video Assist footage shot by Norbert Bielan:
Blackmagic Micro Studio 4K and Video Assist from Norbert Bielan on Vimeo.
Despite the fact that both cameras have native Micro 4/3 mounts and can take MFT lenses or third party glass via adapters, such as the Canon EF to M 4/3 Metabones Speed Booster for example, the stealth form factor of both cameras can benefit the most from pancake MFT lenses from Olympus or Panasonic IMHO. As mentioned in the video – camera control via an external device – is extremely important and should be the first consideration when deciding which camera to buy. As both cameras have no monitors on their bodies, and the Micro Studio camera cannot even record internally, for single shooters and small production companies looking for a nimble package, the Micro Cinema camera is the way to go as it has internal recording in both raw and ProRes at 1080p.
The Micro Studio 4K camera ($1,295) is specifically designed for studio use – hence the name as it is meant to feed into a separate device. Despite that fact that it shoots in 4K, there is a hit in DR compared to BMPCC footage. To make it easier for yourselves, if you're gonna buy one – get the Blackmagic Micro Cinema camera ($995), unless you're adding to your studio setup and already have the infrastructure for studio recording built-in to your workflow. The Micro Cinema camera is cheaper, it records internally and
Claim your copy of DAVINCI RESOLVE - SIMPLIFIED COURSE with 50% off! Get Instant Access!