TVLogic have made a name for themselves making some high quality and rugged monitors for on-camera monitoring. Every single rental house I've been to either in the UK or Eastern Europe includes a TVLogic monitor with their standard AMIRA and ALEXA kits, and I don't think this is a coincidence.
Their previous IPS LCD models TV Logic VFM-056 and VFM-058 monitors feature a  full set of monitoring features important to camera assistants and are built like tanks. They sport a compact 5.5 inch size, have a variety of power options, and have a very true colour in my opinion, hence why production crews and rental houses love them. Resolution is solid on the older models too, despite the more classic VFM-056 featuring a 1280 x 800 rez – it has proven more than enough for pulling focus and on set monitoring for the camera crew on countless productions.
At IBC 2017, TVLogic showed off four new broadcast monitors including its VFM-055A, which is a new 5.5-inch OLED Viewfinder Monitor with a Full HD resolution and a huge range of pro monitoring features.
TVLogic VFM-055A Highlights / Features
5.5″ 1920 x 1080 3G-SDI & HDMI Monitor
Waveform, Vectorscope & Audio Meter
17000:1 Contrast Ratio OLED Screen
160° Viewing Angle
3G-SDI & HDMI Input/Output & Conversion
Multiple Safety Area & Marker Functions
Supports Popular Camera LUTs
3.5mm Stereo Audio Jack
USB-Based Firmware Updates
Tally, Grayscale & Colour Bar Functions
Price: $1,600 (B&H)
Availability: End of October 2017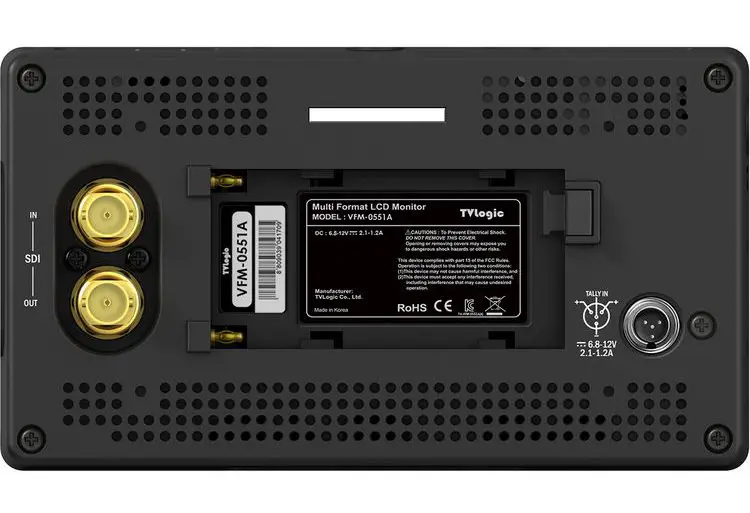 The new TVLogic VFM-055A has been specially designed for use on smaller, DSLR-sized rigs and other compact S35 cameras. Now, utilizing an OLED panel with a native resolution of 1920 x 1080 and a high contrast ratio of 17,000:1 your AC can rest assured he has a solid monitor to work with.
The VFM-055a also has a 160 degree viewing angle and and luminance of 350 cd/m2, which isn't anything to write home about, but decent. Image quality and design is where the the VFM-055A shines though.
The new OLED display offers a truly cinematic image quality with deep blacks and wide-gamut colour reproduction. 3G-SDI and HDMI 1.4 inputs and outputs are present. Useful functions include cinema camera log-to-linear LUT conversion, HDMI-SDI cross-converted output, waveform and vector scope, markers, focus assist, audio level meters and more. 
The VFM-055A has a built-in battery bracket for popular NP-F L series style Sony batteries, but also offers other battery brackets so users can bring their own battery solution. On the top of the monitor, 3 function keys and scroll wheel button are placed for easy control and on the bottom side, there is a USB port for fast firmware update and colour calibration.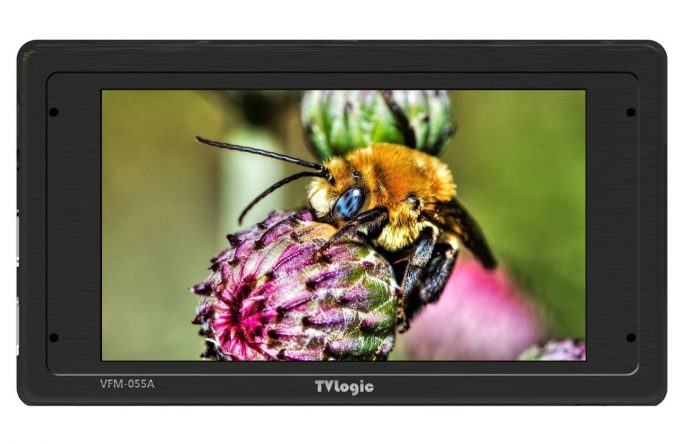 Other monitors that TV Logic showed off at the show were the 31-inch 4K (4096 x 2160) HDR Reference Monitor(LUM-310R), featuring 2,000 nit peak luminance and supporting multiple HDR formats; the 55-inch UHD (3840 x 2160) OLED Monitor (LEM-550R) with multiple HDR format support and the 16.5-inch QC Grade Monitor (LVM-171S).
The TV Logic VFM-055a is priced at $1600 and due to ship towards the end of October.
Claim your copy of DAVINCI RESOLVE - SIMPLIFIED COURSE with 50% off! Get Instant Access!