Yep, the rumors were true after all. Sony just announced the newest addition to the FS line – the Sony PXW-FS7 II, which adds Rec.2020 (BT.2020), the Electronic Variable ND from the Sony FS5, a locking-type lens E-mount, more assignable buttons and mechanical improvements to the VF mount and hand grip extension. Just a little over 2 years after the original Sony FS7 disrupted the professional 4K camera market with arguably "the best price to features ratio" at an extremely aggressive price point, at the time unheard of in the real of pro camcorders, Sony has decided to announce more of a re-vamped version of the original FS7, rather than a brand new camera.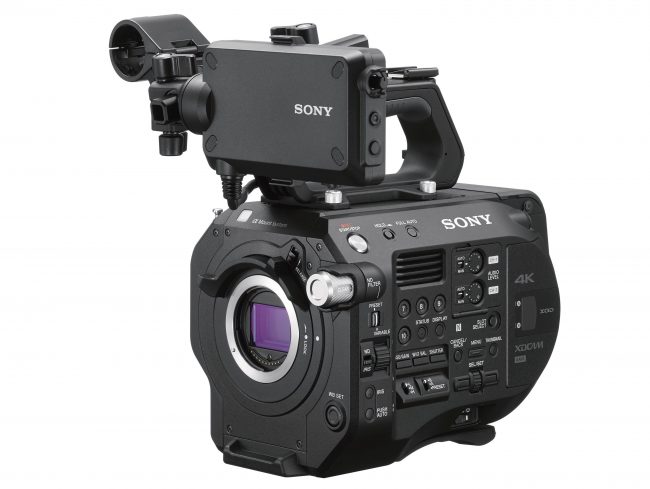 The Sony FS7 II features basically the same body and guts as the original model, with the same sensor, frame rates and codecs, but also adds the BT.2020 (or Rec.2020 as it's known more in North America) colour space for UHD/HDR broadcast compliance.
Rec.2020 has been part of the big boy Sony F55 since firmware 7.0, so to see it included on the FS7 II is going to be a huge deal for those out there who plan on shooting UHD for broadcast in the very near future. Of course, the question now begs – when, (if ever) Rec.2020 will added as a firmware update to the current FS7 and also the PMW-F5? The latter is probably the camera "hurting the most" from the new FS7 II announcement, even more than the original FS7, given it still doesn't have Rec.2020, and probably never will.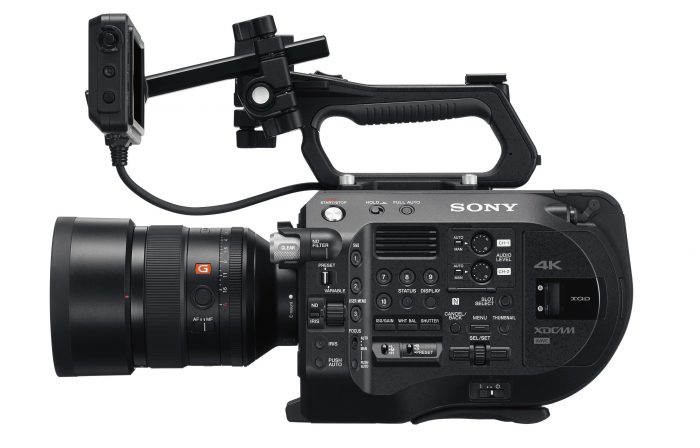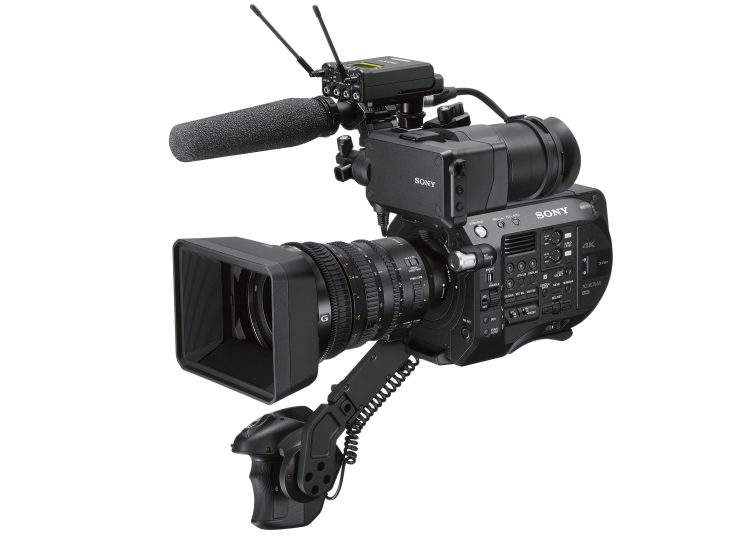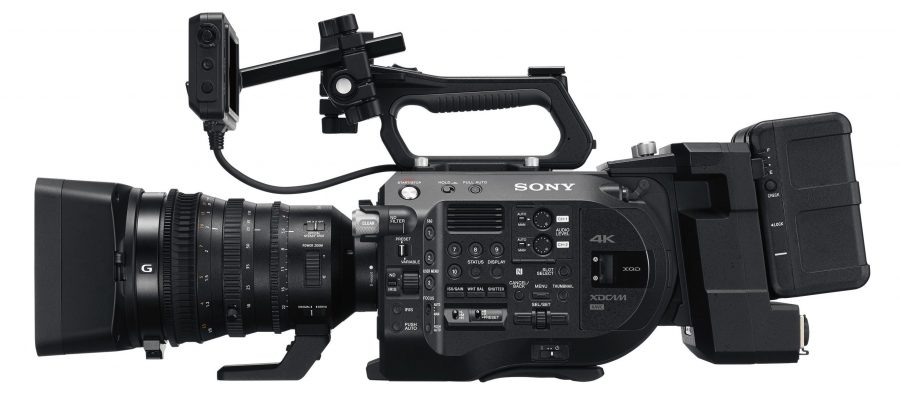 Sony FS7 II New Features
Electronic Variable ND – ported from the Sony FS5
Locking type E-mount
In-camera Rec.2020 Colour Space for future 4K/UHD broadcast and HDR compliance
2nd knob on Extension hand grip for tool-less adjustment
New "square" rod mount systems for VF/LCD
New Sun hood for VF/LCD
New VF/LCD Loupe with a hinge on bottom and lock on top
10 assignable buttons total – 4 new buttons placed on operator side
XQD cards stick out more when placed in card slots – easier to remove them
LED on top of On/Off Power Switch
Audio Pot door now flips downwards
Kit version with new Sony E PZ 18-110mm f/4 G OSS lens ($3,498 at B&H)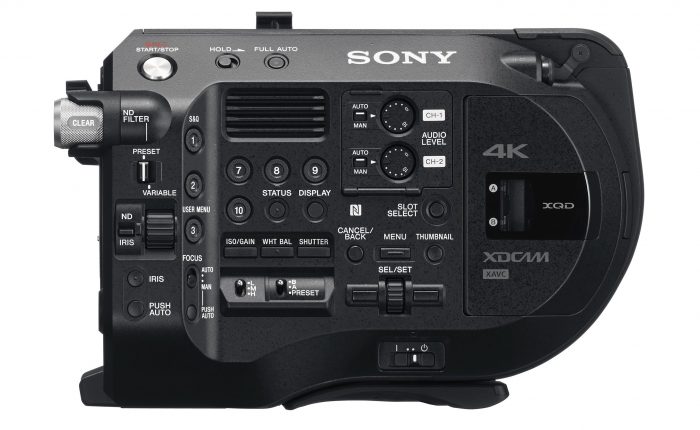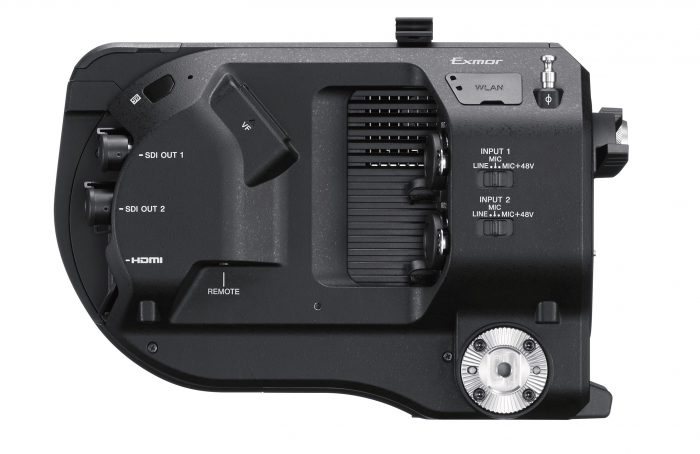 Otherwise the FS7 II is the same as the Sony FS7:
Super35 CMOS sensor – same as on FS5/FS7/F5
Electronic shutter
Same frame rates and codecs as FS7:

4K/60p XAVC-I/XAVC-L
Full HD up to 180fps in NTSC
MPEG-2 HD 422
ProRes – requires XDCA-FS7 box (same as on FS7)

XDCA-FS7 extension for Timecode, Genlock and 4K/2K Raw out
Uses XQD cards again
Sony also announced new 256GB capacity XQD cards for the FS7 II, which a lot of documentary shooters have been demanding for some time. The newest 256GB XQD cards from Sony are part of the Sony G series XQD cards (this max capacity is coded QD-G256E) and have a read speed of 440MB/s and a write speed 400MB/s, giving users approximately 45 minutes at 4K at 60p and 3.5 hours at 2K/30p.  users can shoot for longer without needing to change media cards.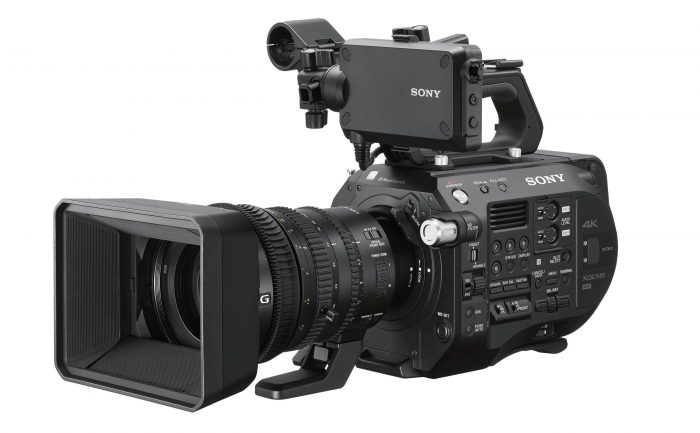 The new kit lens for the FS7 II – the Sony E PZ 18-110mm f/4 G OSS lens, which was announced back at IBC 2016 this September, will finally start shipping end of November. The lens covers Super 35mm and APS-C sensors and is compact and lightweight at just 2.4 lbs (1.1Kg); it uses a new fully mechanical/servo zoom switchable system, capable of snap zooms and entirely devoid of lag. The focal range is optimised for Super 35 and APS-C sensors as opposed to the previous kit lens for the FS7 – the 28-135mm f4, which is a full-frame lens and not particularly wide at all when used with a Super 35 sensor.
The Sony FS7 II is expected to ship in January 2017 for around 9,000 Euro/£8,200 + VAT for the body only (around $10,000), or 12,600 Euro/£11,200 + VAT (roughly translated to $13,900) for the kit with the Sony E PZ 18-110mm f4 OSS zoom.
Keep in mind these are "soft" list prices, and will most likely change slightly before shipping. Also, note recent volatility in currency exchange rates has caused some wild fluctuations, which will most likely also play a role in the final pricing of the FS7 II.
The new FS7 II model is not replacing the current model and will be sold concurrently with the existing Sony FS7 ($8,499 body only at B&H). This is how the Sony Super35 4K Pro hierarchy looks like (descending order):
PRESS RELEASE
Basingstoke – 9th November 2016: Sony is expanding its FS Series Super 35mm professional family with the addition of the new FS7 II camcorder. The new model builds on the original FS7's strengths by adding advanced features including Electronic Variable ND technology, a lever lock type E-mount, and a new mechanical design for faster and easier set-up.
Since its introduction in 2014, the FS7 has become one of the most widely used cameras in a range of production applications, and the original model remains in the Sony line-up. The new FS7 II now gives creative professionals a broader range of creative tools, with new features all based on end user feedback.
The new FS7 II camcorder is designed for long-form shooting and production applications, especially for documentaries and independent filmmaking. Amongst the many enhancements outlined below, the FS7 II can also record in BT2020 colour space, hence making it ideal for today's 4K broadcast productions.
Electronic Variable ND Technology
The camcorder's Electronic Variable ND Filter system, combined with its large sensor, delivers greater exposure control, with the option of preset or variable operation modes. Variable ND mode (clear + 2~7 stop range, in seamless transition steps up to 1/128) allows the user to vary the density of the ND filter during shooting and to transition seamlessly between steps. This also ensures an optimum motion delivery by maintaining desired shutter speed.
The camera's expanded ND operations enables fine exposure adjustment by relegating iris to set depth of field, prevents soft focus caused by diffraction, and prevents colour shift caused by stacking multiple external ND filters.
The camera can compensate for exposure fluctuation caused by iris control while adjusting the depth of field. Users can adjust exposure while keeping the same bokeh in changing shooting or lighting environments.
Preset mode lets users assign three ND settings to the filter turret, useful in selecting the most appropriate filtration range for changing light conditions, for example. Auto ND mode is also available allowing exposure to stay at a fixed level while adjusting the depth of field with iris control.
E-mount (Lever Lock type) for professional shooting
The FS7 II revisited E-mount (lever lock type) gives users the ability to change lenses by rotating the locking collar rather than the lens itself, which means that in most cases lens support rigs don't need to be removed, saving time during a production. The new E-Mount has been designed for demanding applications in the professional environment and will fit any existing E-mount lenses in the market and other mount lenses with an adapter. The new FS7 II camcorder also supports Sony α Mount System, which includes more than 70 lenses.
Mechanical Design Enhancements
Like its counterparts in the FS Series family – the FS7 and FS5 models – the new FS7 II features several design and ergonomic updates for comfortable and functional use in the field. These new features are based customer feedback around the FS7.
The FS7 II "tool-less" mechanical design lets users make on-the-fly changes to the camera's set-up and operation. For example, no tools are required to adjust the Smart Grip or viewfinder positions.
The detachable viewfinder eyepiece, which comes with a pop-up hood, provides a third stabilizing contact point when shooting handheld. Durable square section rods and lever-clamps on the LCD and camera body provide simple and precise front-to-back VF adjustment while retaining level positioning.
New Sony 18-110mm Sony G lens
Sony also introduced a new E-mount, Super 35mm lens specifically designed for documentary and motion picture production.
The new lens, model E PZ 18-110mm F4 G OSS, covers Super35mm and APS-C sensors. Compact and lightweight — 2.4 lbs (1.1Kg) — with an 18 to 110 focal range (6x zoom) it uses a new fully mechanical/servo zoom switchable system, capable of snap zooms and entirely devoid of lag. The focal range is optimised for Super 35 and APS-C sensors.
The lens is compatible with Sony α Mount System cameras, including the α7 series interchangeable-lens cameras and professional Super 35mm 4K camcorders like the FS7 or FS5. Although perfectly suited for still image taking, filmmakers will fully appreciate the lens' extended creative capabilities for shooting motion images.
The lens benefits Smooth Motion Optics (SMO) design from Sony, which is developed to optimise performance during motion image capture. This lens design eliminates undesirable characteristics and artifacts that do not affect still image taking, but can severely limit a lens' usefulness for motion shooting, such as:
Ramping: F stop gradually diminishes when zooming tight
Not holding focus while zooming
Breathing (angle of view variation while focusing)
Optical axis shift (image moves in the frame while zooming)
*Due to a change in the SELP18110G specifications it is no longer compatible with the SEL14TC and SEL20TC teleconverters.
XQD Cards
The FS7 II supports the XQD memory card format, designed for capturing and transferring high-bandwidth, high resolution files. The newest XQD card from Sony, QD-G256E – with an industry first 256 GB capacity — enables recording time of approximately 45 minutes at 4K 60P and 3.5 hours at 2K 30P. Combined with a read speed of 440MB/s and write speed 400MB/s, users can shoot for longer without needing to change media cards.
The FS7 II is planned to be available in January 2017. For more information, please visit the product page.
B&H Pre-Order Link:
Sony PXW-FS7 II XDCAM Super 35 Camera System – $ 10,000.00
Claim your copy of DAVINCI RESOLVE - SIMPLIFIED COURSE with 50% off! Get Instant Access!