Earlier in 2019, innovative LED lights maker Rayzr expanded their portfolio with a trio known as the Rayzr MC series RGBWW LED soft panels. And recently, I got a chance to review the "baby" LED of the bunch – the Rayzr MC 100. You can read more about the rest of the MC Series in this post here.
My review herein won't be as technical as some of you may want, but I am not a very technical guy, and will give you my experience using the Rayzr MC100 as one of our main LED lights on a feature film I had the privilege of 2nd ACing (and co- exec producing) back in May (see the trailer below). Related to this you can check out my previous reviews of the Sigma 18-35mm cine zoom we used on the shoot and the Teradek Bolt 500 LT.
Belated as this review is, I hope it is of help to those looking for an affordable, compact, and most of all, quality RGBWW LED panel. Because the Rayzr MC100 sure is one of the finest out there.
UPDATE: Check out the trailer for Danny. Legend. God below:
For more behind the scenes updates be sure to like the film's Facebook page and follow on Instagram too.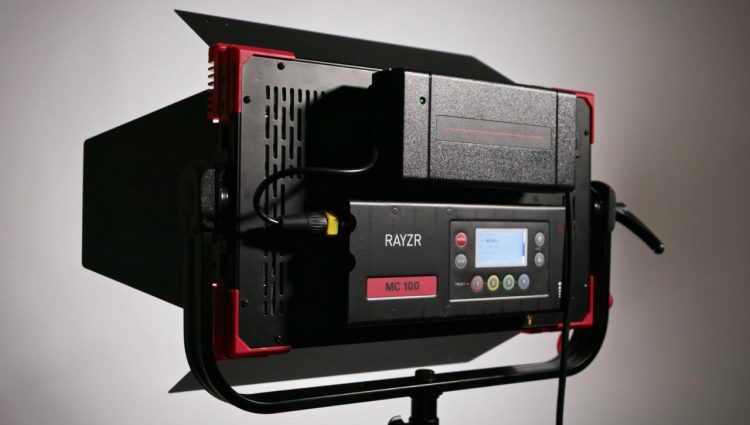 Rayzr MC100 Features/Tech Specs:
Multi-Colour RGBWW LED

with 360 degree colour control

Soft-spread with a 120 degree beam angle
Adjustable Colour Temperature:

2400-9900K
0 to 100% variable brightness

High Quality Output:
HSI Mode for Hues/Sat/Intensity Control
X/Y RGB coordinates for dialling in exact colour
A ton of built-in gels
Built-in Special Effects:

Party, Candle, Club,
Cop Car, Fire, Fireworks,
Light strobe,
Lightning and Television.

Included four-way barn doors
98W max power consumptions
2229 lux Output at 1m/557 lux at 2 meters
16mm/28mm combo pin:

Can be mounted on stands
in two ways, vertical or horizontal

Sturdy yoke, tilt & lock locking mechanism
Built in V-mount adapter (3 stud AB optional)
V-mount Battery: 14.4V × 1
DC power plug: XLR-4
On-board DMX and Wi-Fi:
Thermal Design: Silent Passive Cooling
Protection Class: IP 20
Price: $699 at B&H / €599 + VAT (Rayzr)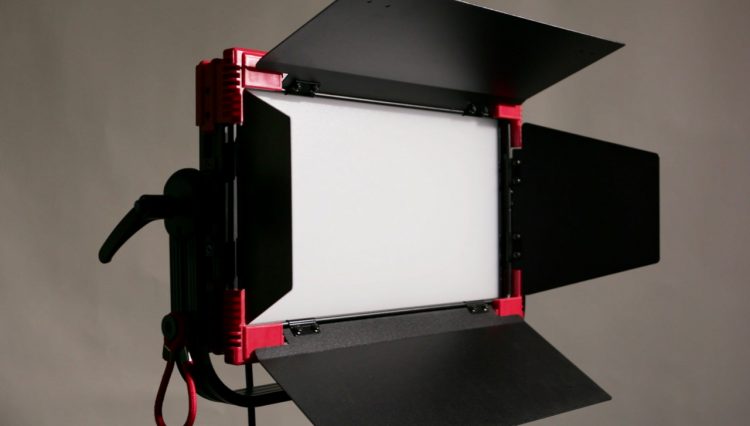 The first thing out gaffer on set really liked about this LED light is how well it was built. For an LED of this compact size (50cm x 34.5cm) the construction is mostly metal with some plastic corner bumpers (which also serve as receptacles for the quick release mechanism of the removable barns doors, which is a nice touch), which withstood some heavy use on set, that frequently had to move around, so all in all the construction is not something I'd be worried about – solid stuff there.
The two-way mountable combo-pin allowed for some overhead rigging, which came of use when we had to use the light as an overhead fixture over a table or in a dark hallway. Being portable and light at just 3.5kgs (7lbs) helped us also rig it overhead with a Matthellini clamp and without a stand, which saved our asses since the whole film was handheld and use super-long takes, which meant we had no where to hide lights stand for the most part and we placed the LED overhead.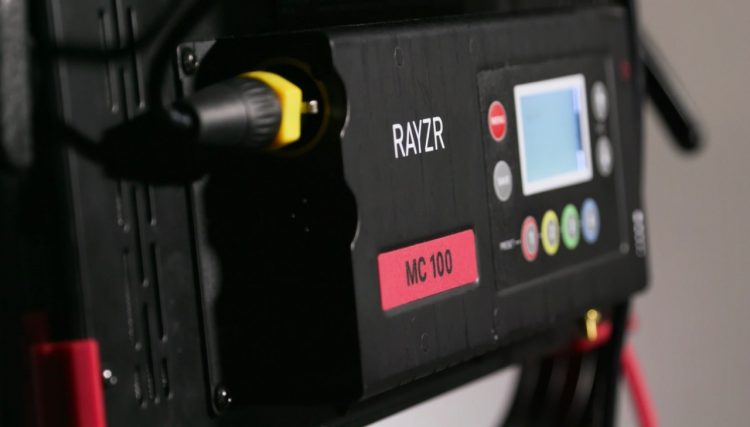 In terms of the quality of the light, at 5600K the output is rated at 2229 lux at 1 meter, which is more than enough for a variety of applications including interviews, music videos and documentaries. The full RGBWW control and built-in gels came in very handy in many situations, one of which was a club, where we literally blended the light with the club lights and used it as key for a short dialogue scene in a cramped booth.
Each of the Special Effects settings are fine-tunable, which is very nice since you can have more control given the shooting situation. In my case, I had to increase the frequency of the built-in CLUB effects to almost perfectly match the intensity of the actual club lighting, which saved us a tone of time and hassle, since we could blend our light with the existing lighting rigs in the venue.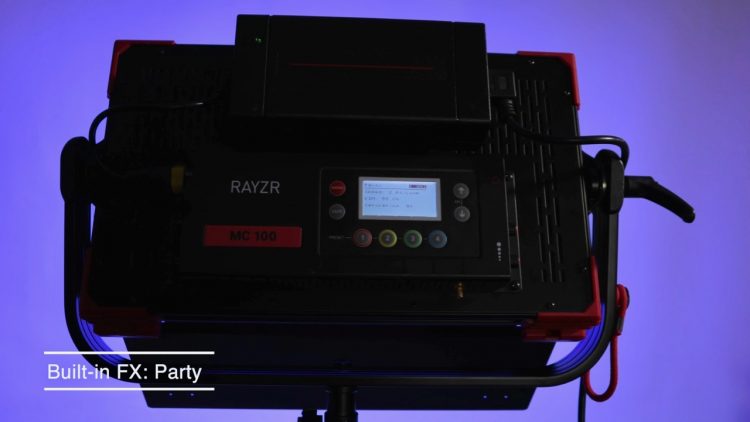 I didn't have a chance to explore the DMX feature, or test the colour accuracy, I don't have currently access to a light meter or a spectrometer (that Sekonic C-800 looks the business),  but overall when I set the camera to 5600K and would film a persons face in front of a white background, in post, all looks good. I am sure it's not perfect, but for $699 I'd say this light produces clean, soft light without a magenta or green tint (which you can actually add/remove since the MC 100 has a Magenta/Green +/- adjustment tool).
On the back of the MC100, the control panel is fairly easy to navigate, although I wish the screen size was a bit bigger and easier to read. The two knobs on the side feel smooth and easy to operate, making skimming through parameters a breeze. The buttons on the back (including the short cut buttons) do sometimes feel a bit "mushy" to press, but once you get used to them, you can navigate with no problems.
I found the menus to be intuitive and easy to navigate, even when I touched the light for the first time without going through the startup guide or anything. If I can get around the menus anyone could.
Saving a preset on the short cut buttons is very easy, just press to hold for a few seconds and you're good. The AC adapter slides onto the built-in V-mount sled, which can be used to power the camera via V-mount batteries when in the field. We did that frequently, and I found the light to be not as power-hungry as I thought. I did not test battery life, but we never ran into problems on set, getting more than an hour and a half out of an IDX battery (I believe it was a 150Wh, but I may be mistaken so don't quote me here).
The built-in soft diffusor is a nice touch, helping the light emit a pleasant soft light, suitable for human faces. This would make for a great interview key light for a lightweight setup for those video producers and cinematographers, who travel a lot and have to pack compact.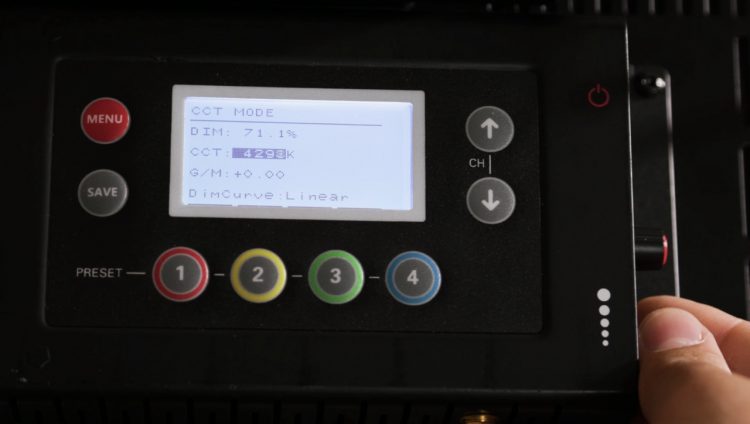 There's not many negatives about this light that I found, apart from the hard to read sometimes LCD screen; I'd say for the money this is an excellent bang for the buck and a really nice RGBWW soft panel that is perfect for low-budget music videos, corporate interviews, commercials or indie feature films.
The Rayzr MC100 was a true lifesaver on the set of our little indie film, we used it as a key, fill, back light and everything in between. This is one truly versatile light, that may not be super powerful, but for the size, built-quality and price, packs quite a punch!
Huge thanks to the team at Rayzr for letting me review this light, which I had to send back after the review, but will be picking up one on my own very soon.
You can pick one up from B&H here or Rayzr direct if you are in Europe.
Claim your copy of DAVINCI RESOLVE - SIMPLIFIED COURSE with 50% off! Get Instant Access!