A lot of you I am sure are familiar with the Rayzr 7 LED fresnel, and now the same company is expanding their LED lights portfolio with the new Rayzr MC Multi-Color Series advanced RGBWW LED Soft panels. Woha, that's a mouthful, but nevertheless these lights pack a huge array of features and quality light for all sorts of productions be it music videos, corporate interviews, commercials or indie feature films.
The new Rayzr MC Series are available in three sizes represented by three models – the "baby" Rayzr MC 100, the "1×1" Rayzr MC 120, and the "2 x 1" Rayzr MC 200, ranging from ultra-compact to ultra-soft always providing exceptional brightness and at the same time a wide, uniform beam field. The new MC Series feature an extended colour temperature range to help you match any source an can be adjusted from 2400K to 9900K.
And speaking of matching matching other light sources, the Rayzr MC Series Soft LED Panels enable you to mimic any light source for consistent results thanks to their powerful light engine and high quality RGBWW LEDs, making the new lights perfect companions to the Rayzr 7 LED fresnels and other popular fixtures such as open face tungsten lights, fluorescent or natural daylight.
The new Rayzr MC Series are fully colour tunable and also allow for quick and easy ± Green / Magenta compensation adjustment. The "MultiColor" Rayzr Soft Panels also feature a wide 120 degree beam angle with a diffusor for a naturally soft light that is suitable for skin tones. TLCI ratings range from 96-98 and CRI up to 95, both of which are indicative of a high quality light output.
Being true RGBWW LED panels, the MC Series feature an extended built-in Filter/Gel library, which includes more than 300 widely used filters. In addition, thanks to the high tunability of the Rayzr MC Series, the new LED panels allow cinematographers and gaffers to select and manipulate any colour they need by HSI values (Hue angle, Saturation, Intensity), x/y coordinates, RGBWW values and/or the built-in gels of course.
The MC series, of course, come with a wide range of built-in adjustable lighting Special Effects such as
Party, Candle, Club,
Cop Car, Fire, Fireworks,
Light strobe, Lightning and Television.
For those looking to shoot some high speed slow motion of 200fps/240fps, 480fps and above, worry not as the MC Series are rated for high speed shooting at any frame rate and shutter angle without flicker. The base frequency of the MC series can be adjusted to provide flawless high-speed performance at any settings.
Usually with high-end RGBWW soft panels, weight and size can be an issue for smaller productions, but this is not the case with the new Rayzr MC series – they are ruggedly built, but lightweight at the same; even at 4.6kgs the biggest of them – the Rayzr MC 200 weights significantly less than other 2×1 RGB lights and is also much slimmer.
The MC 100, 120 and 200 have also been designed and optimised for passive cooling through efficient internal airflow and therefore are fan-less, giving your sound recording a bit more peace of mind.
Another cool feature is that you can use the MC Series on location thanks to the built-in V mount battery plate for 14.4V batteries. Optionally, you can also get a Gold-mount adapter if you are using Anton Bauer 3-stud batteries. The barn doors are also included when you purchase any of the MC series LEDs from Rayzr, which is a nice touch that saves you some money.
The MC Series also get WiFi and DMX built-in for easier control and integration into already existing lighting studio setups.
Here is what the special promo pricing looks like for the Standard Bundle packs, which give you a 95Wh V-mount battery in addition to a Rayzr MC panel of your choice (with barn doors and Flight case for the MC200):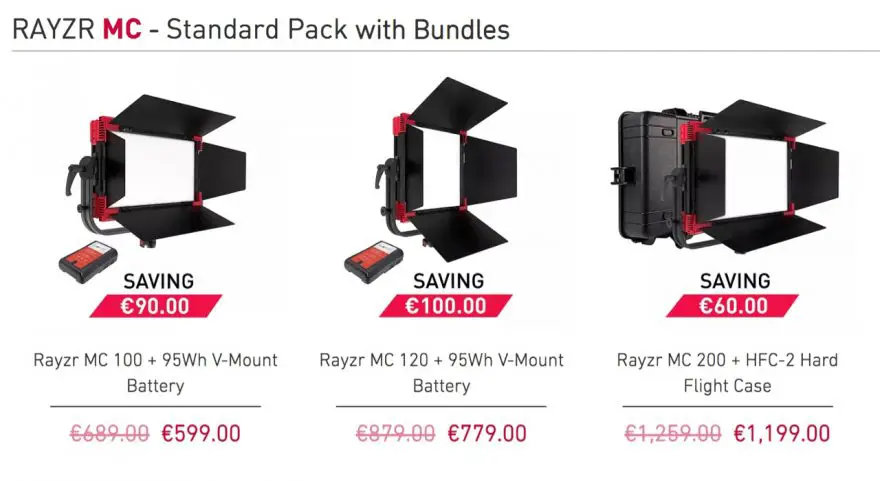 To learn more about the new Rayzr MC Series, get full specs and comparisons against other popular LED models, as well as order at the discounted introductory price (promo offer good until 4th April, 2019) then head over to www.rayzrlight.com
Claim your copy of DAVINCI RESOLVE - SIMPLIFIED COURSE with 50% off! Get Instant Access!