Apart from building some really fast mirrorless cameras such as their flagship OM-D E-M1 Mark II, Olympus are really into building "indestructible" action cameras designed to cope with even the harshest conditions. You may recall the TG-Tracker 4K action camera, which we told you about here here, and just earlier today, Olympus announced the Olympus TG-5 – the newest addition to the Tough product family. The new camera is the successor to the TG-4.
The new Olympus Tough TG-5 combines its new high-speed f2.0 lens (25mm – 100mm 35mm FOV equivalent) with some of the latest sensor technologies for digital imaging including a new high-performance BSI (backside illuminated) 12-megapixel CMOS image sensor, capable of pushing 4K/30p video recording and Full HD at 120fps super-slow motion. The use of a backside illuminated CMOS sensor is said to improve the cameras ISO/low light sensitivity.
Olympus' latest high-speed TruePic VIII Image Processor and a Field Sensor System that records movement and environmental data. The built-in Field Sensor System is comprised of a GPS sensor, manometer, compass and temperature sensor, and records movement and environmental data independently or in conjunction with still images or videos.
Data logs can be simultaneously displayed with images and videos using the Olympus Image Track app, enhancing the experience of reliving and sharing outdoor adventures.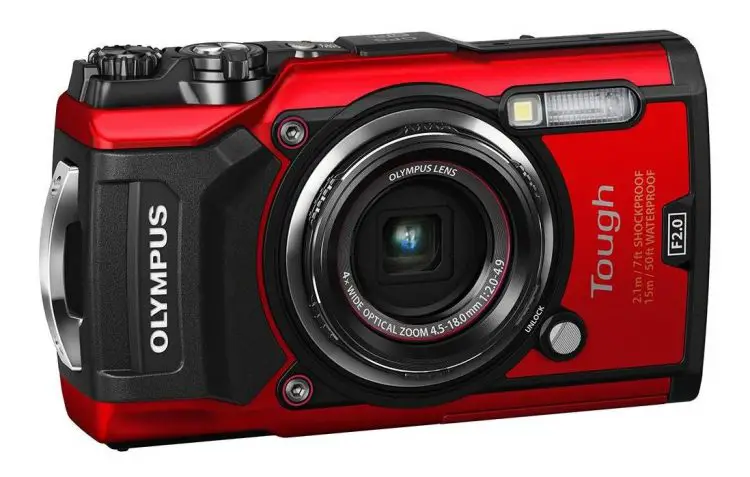 Olympus Tough TG-5 Features
New 12 Megapixel 1/2.3″ BSI CMOS Sensor
4K UHD /30p and Full HD at 120fps slow motion

3840 x 2160 (4K) / 30p, 25p (Bit rate: Approx. 102 Mbps)
1920 x 1080 (FHD) / 30p, 25p / IPB (SF,F,N)
1920 x 1080 (FHD) / 60p, 50p / IPB (SF,F,N)
1280 x 720 (HD) / 30p, 25p / IPB (SF,F,N)

Improved Low Light Performance and Noise Reduction
New Anti-Fog Lens with Sealed, Dual Pane Glass to Prevent Condensation
Bright F2.0 Hi-Speed Lens (25-100mm FOV equiv.)
Dual Quad Core TruePic VIII Image Processor
4 x Optical Zoom (35mm equivalent: 25mm-100mm)
RAW Capture
New Field Sensor System w/ GPS, Manometer, Compass & Temperature Sensor
On Screen Field Sensor Data Display
Olympus Image Track app Plays and Exports Videos and Still Images with Field Sensor System Data
Waterproof to depths of 50 feet / 15m
Crush-proof to 220 lb/100 kg
Shock-proof from 7 ft /2.1 m
Freeze-proof to  14⁰F / -10⁰C; Dust-proof
New PRO Capture Mode for Lag-Free Shooting
4 Macro Modes: Microscope, Microscope Control, Focus Stacking, and Focus Bracketing
4 Underwater Modes: Underwater, Wide, Underwater Macro, Underwater Snapshot, and Underwater HDR
Ergonomic Body Design with Convenient Dial Control, Zoom Lever, and Accessory Lock Button
Built-in Wi-Fi for Remote Shooting and Wireless Sharing
Ships with:

Camera Body,
Micro USB cable, Hand Strap, Instruction Manual, Warranty Card,
LI-92B Li-ion battery, F-5AC Li-ion Battery Charger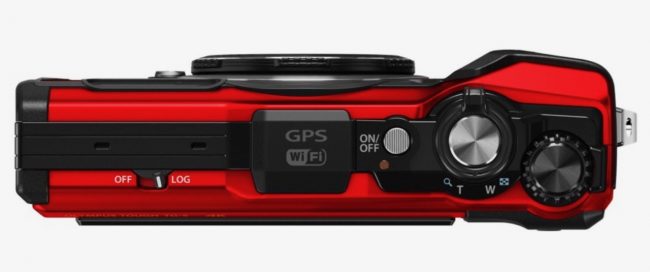 High-Speed video example with the Tough TG-5:
The Tough TG-5 excels in extreme conditions. In addition to being waterproof to 50 feet (15 meters), crushproof to 220 pounds of force (100 kilograms of force), shockproof from 7 feet (2.1 meters), freeze-proof down to 14°F (-10°C) and dust-proof, the camera now includes Anti-Fog Lens Cover Glass.
This allows the Tough TG-5 to capture amazing action shots on the slopes, underwater and in other uniquely challenging environments where other cameras can't perform.
Disclaimer: As an Amazon Associate partner and participant in B&H and Adorama Affiliate programmes, we earn a small comission from each purchase made through the affiliate links listed above at no additional cost to you.
Claim your copy of DAVINCI RESOLVE - SIMPLIFIED COURSE with 50% off! Get Instant Access!