Well, what do you say, what do you know – blink and there is a new 4K action camera in town – Olympus just dropped their new Stylus Tough TG-Tracker 4K action camera with a rugged and unique form factor, a flip/tilt-out LCD screen, detachable grip, 5-axis image stabilisation and some other interesting features for the adventure inclined. While GoPro Hero cameras still continue to dominate the market there surely is not shortage of competitor 4K action cameras out there and Lord knows, we've covered a few of them – such as the Olfi 4K, the Sony 4K FDR-X1000V, and the Ricoh WG-M2. And, while each of these has it's has a few things going for them, whether it's price or ergonomics, the new Olympus Stylus Tough TG-Tracker is quite a departure from what some of us a used to seeing from an action camera, at least in terms of design at first sight.
Designed to be used in extreme weather conditions without the need for added protection, the Stylus Tough TG-Tracker is shock-proof to withstand a drop from a height of around 2.1 metres, crushproof to a weight of 100 kgs (around 200 lbs), dust-proof, freeze-proof down to -10°C and waterproof down to 30 metres below sea level.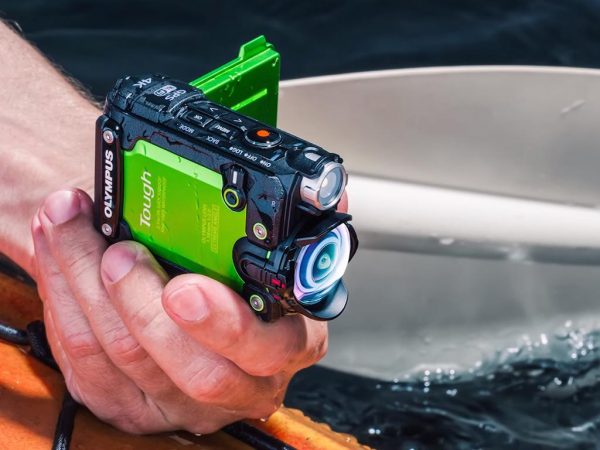 Of course, this being a 4K action camera the new Olympus action cam can record in UHD up to 30p, and 60p in Full HD. Drop to 720p and you can go up to 240fps for some sweet slow-mo. 8MP stills capture as well as timelapse functions are also included. The 1.5-inch tilt-out LCD screen is a nice touch too enabling you to frame easier when moving quickly.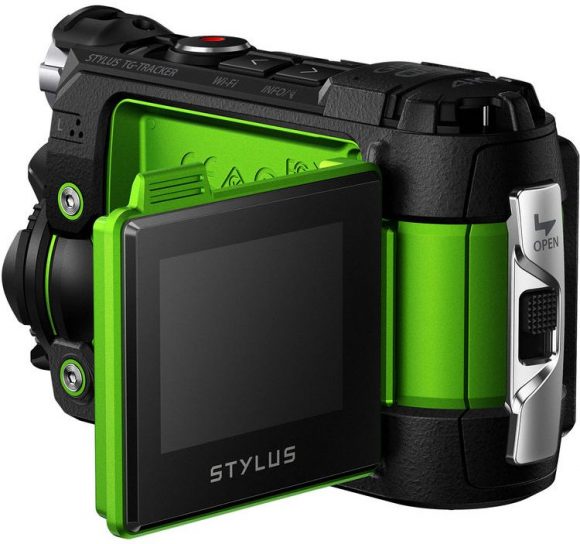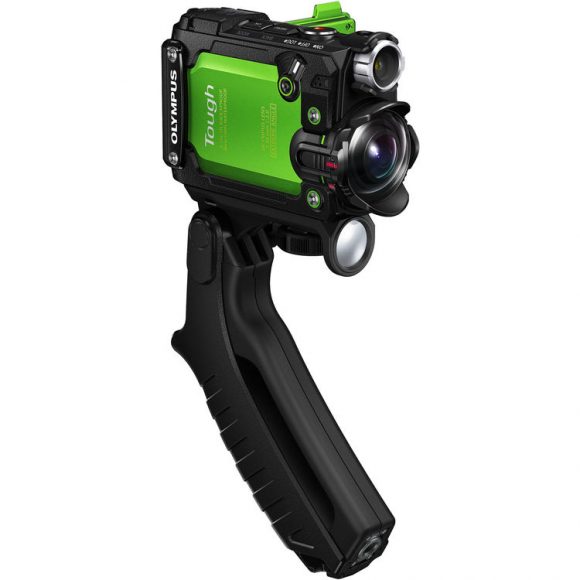 However, there are a few things unique to the Olympus Tough TG-Tracker, which unlike action cameras which use regular geotagging, the TG-Tracker can sense acceleration, altitude or depth and temperature as well as direction of movement – in addition to latitude and longitude. This gives extreme sports enthusiasts a much fuller picture of where they were, what was happening and how they were performing at the moment any given image was captured.
Features and Highlights
4K UHD (3840 x 2160) at 30 fps
1080p up to 60 fps / 720p up to 240 fps
Electronic 5-axis image stabilization
Water-proof to depths of 98.4′
Shock-proof from drops up to 7′
Crush-proof to 200 lbf
Freeze-proof to 14°F
204° f/2 lens
8MP still photos
1.5″ tilt-out LCD screen
Built-in spotlight (up to 60 Lumen) for shooting in dark settings
Interval capture for time-lapse
Built-in Wi-Fi for remote monitoring, control, and file sharing
Records to microSD/SDHC/SDXC memory cards
Our friends at B&H have a quick first look video at the new Stylus Tough TG-Tracker from Olympus:
The Olympus Tough Stylus TG-Tracker is going to be available in two colours – black and green, and slated to ship in Mid-July.
You can pre-order via the links below:
Disclaimer: As an Amazon Associate partner and participant in B&H and Adorama Affiliate programmes, we earn a small comission from each purchase made through the affiliate links listed above at no additional cost to you.
Claim your copy of DAVINCI RESOLVE - SIMPLIFIED COURSE with 50% off! Get Instant Access!