At CES 2018 Sony announces the launch of their latest 4K Ultra Short Throw Projector (LSPX-A1). As projector technology continues to evolve with a fast pace, the ultra-short throw laser projectors seem to be the next big thing in this market segment as we see another major player that rolls out a top-of-the-line product striving to be in the forefront of the latest technology trends.
The HDR-compatible LSPX-A1 can project striking visuals at native 4K resolution (4096 x 2160) that can stretch up to 120 inches with a peak brightness of 2500 lumens while sitting just 9.6 inches from the wall. Apparently, Sony seeks to provide a truly transformative cinematic experience with this device not only by producing superb 4K images with unprecedented detail, color, and contrast but also by complementing the picture with crystal clear sound quality.
Sony's latest lazer projector features a Glass Sound Speaker with Advanced Vertical Drive Technology that generates 360-degree audio via two organic glass tweeters installed on the front legs, three midrange speakers, and a separate subwoofer. Interestingly enough, the center speaker is designed to bounce off the wall the projector is facing as an efficient method of enhancing audio performance even further.
With the engineered marble top, half mirror finished aluminum frame and wooden shelf, the LSPX-A1 aims to seamlessly blend into your living room as an attractive piece of furniture rather than a component-heavy entertainment system. What's more, the premium furniture-like design of the rear cover allows for easy cable management to conceal connectors hidden within.
Sony LSPX-A1 4K Ultra Short Throw Projector Highlights
4K SXRD panel, projection system

4K

 Ultra Short Throw Projector
Native 4K Resolution (4096 x 2160)
High brightness 2500 lumens laser projection
Color Bit Depth – Up to 12 bit via HDMI
Screen Size – 85″ to 120″ (216 cm to 305 cm)
TRILUMINOS Display for rich color
360-degree audio enhanced by Advanced Vertical Drive Technology
Midrange speakers: 23 W × 3ch, Subwoofer: 50 W × 1ch
Midrange: Closed type × 3ch (L/C/R), Tweeter: Organic glass cylinder type × 2ch (L/R)
I/O – HDMI (HDCP2.2): × 3, LAN: RJ45, 10BASE-T/100BASE-TX, REMOTE: RS-232C, D-sub 9-pin, Subwoofer output, TRIGGER: mini jack, DC 12 V, Max. 100 mA
Bluetooth 4.2: for remote control
Weight: 165 lb 6 oz (75 kg)
Availability:  Spring 2018
Price: $30,000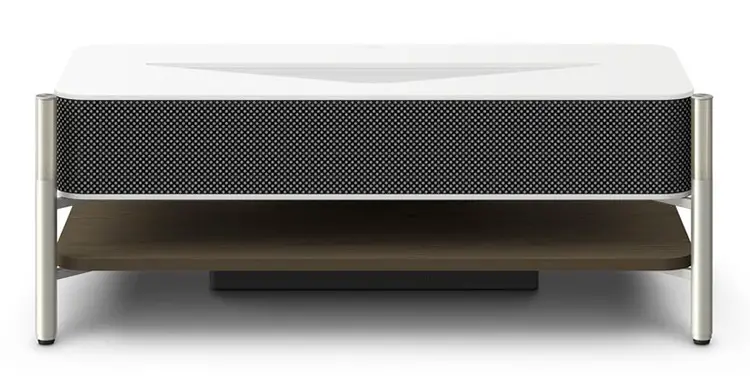 In addition, the LSPX-A1 comes equipped with an innovative remote controller with minimal buttons that fits perfectly the high style look of the projector. All in all, users can enjoy superb picture quality beamed out at 4096 x 2160 resolution simply by connecting to a vast array of 4K streaming devices, 4K Blu-ray player alongside other supported 4K content providers.
Unfortunately, the LSPX-A1 can't be called cheap by any stretch of the imagination.  The unit will hit the US market in Spring 2018, with a retail price of whopping $30,000. If you want to learn more about the product, head over to Sony's official website here.
[source: Sony]
Disclaimer: As an Amazon Associate partner and participant in B&H and Adorama Affiliate programmes, we earn a small comission from each purchase made through the affiliate links listed above at no additional cost to you.
Claim your copy of DAVINCI RESOLVE - SIMPLIFIED COURSE with 50% off! Get Instant Access!