It seems that the tedious and overwhelming nature of multi-camera live stream recording is about to become a thing of the past. Convergent Design have just announced Apollo, the industry's 1st portable HD multi-camera recorder/switcher that fits in the palm of your hand. The holy grail for field producers and reality TV-seasoned professionals records from any four HD cameras, providing an immediate quad-split playback accommodating the captured footage from all four cameras into a perfectly synced edit-ready Quicktime file. No more large flypack systems, bulky recorders, monitors and switchers, and a handful of wires on top.
Furthermore, Apollo can be utilized as a secondary recorder/monitor. In conjunction with Convergent Design's battery and wireless video receiver bracket, the multi-camera recorder turns into a great handheld director's monitor. Plus, the unit provides advanced built-in image analysis tools that can be used to match the cameras during setup. Apollo weighs just under 1.2lbs and can be powered via a camcorder battery storing the multi-camera recordings on a single SSD.
Using the new Apollo Media Manager app, recordings can be exported as separate Apple ProRes files or as a single multi-camera QuickTime file that drops directly into the timeline of supporting NLEs such as Premiere Pro or Final Cut X.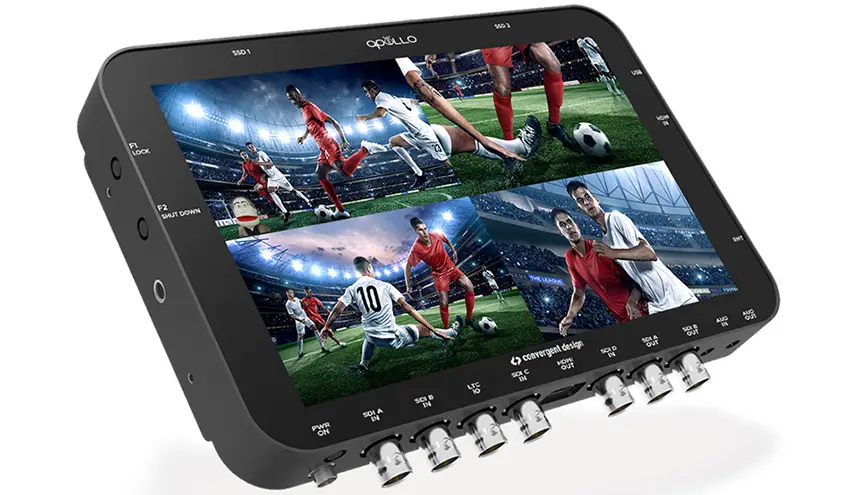 Apollo Recorder/Switcher Specifications:
7.7" OLED panel for true blacks and accurate colors
HD video recording, up to four signals simultaneously
1080p24 / 1080p30 / 1080i60 / 720p60 (60hz territories)
1080p25 / 1080i50/720p50 (50hz territories)
Apple ProRes HQ/422/LT Recording
Record four HD signals and one quad-split view
Record four HD signals and one live switch
Custom 3D LUT support
Up to four SDI inputs or three SDI & one HDMI
Dual SSDs allow long record time or simultaneous backup
3.5 hours recording time at highest quality (2TB of 4x HD signals & live switch, 1080p30, Apple ProRes 422(HQ); 8.5 hours in Apple ProRes 422(LT)
Two 2.5" SSD slots (Convergent Design SSDs or qualified 3rd party models)
No fans or vents
Additional features in free firmware update (Early 2016)
Dual 4K/UHD recording (Apple ProRes in 24p, 25p, 30p)
DNxHD recording
Record XML file Edit Decision List from Live Switch
Remote keyboard control pad
Audio delay
On-screen source naming
Cascade interconnect for 12-channel HD / 6-channel 4K recording
Availability – First quarter of 2016
Price: $3, 995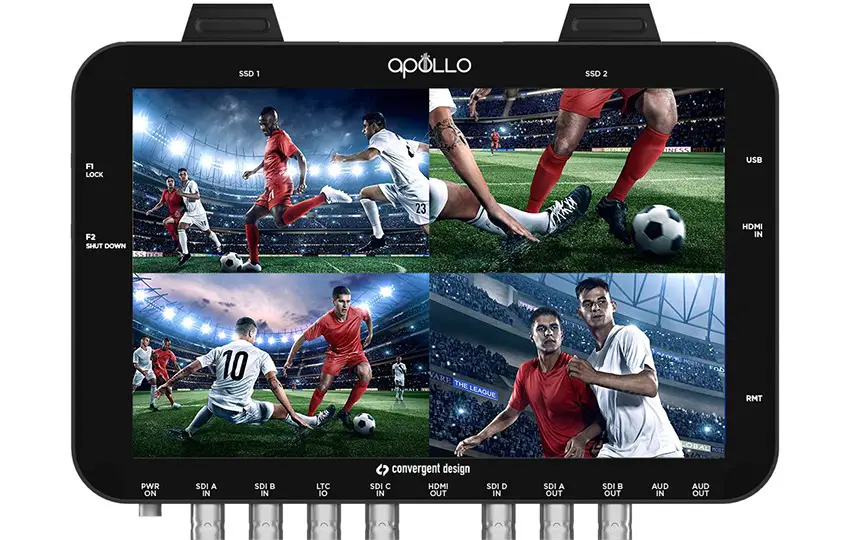 Additional functions are planned along with the release of the recorder/switcher, including two-channel 4K/UHD video recording, DNxHD recording, and cascade interconnect between up to three Apollos for up to twelve HD channel or six 4K/UHD channel simultaneous recording.
Convergent Design plans to make these and other additional functions available via a free firmware update sometime early next year. Further, a remote keypad control unit will be also offered along with a rack mount and other accessories. As for the price and availability, it's expected that Apollo will hit the shelves in the first quarter of 2016 for a retail price of $3,995 with an SSD to USB3 adapter, a 5-pack of SSD mounting handles, and a universal AC power supply included.
If you already own the Odyssey7Q or Odyssey7Q+ you will be able to purchase an Apollo recorder/switcher as an upgrade option for $1,795. The unit is already available for pre-order at B&H.
[via: Redshark News, source: Convergent Design]
B&H Order Link:
Apollo OLED Monitor, Recorder, Switcher
Claim your copy of DAVINCI RESOLVE - SIMPLIFIED COURSE with 50% off! Get Instant Access!