The Panasonic Varicam 35 is making its way into major productions worldwide. With a new TV drama to start shooting on the Varicam in the UK this fall, DPs in the States are already going with the 4K Varicam as A-cam on pilots for Amazon Studios and CBS. With the flexibility of simultaneous recording in 4K/2K/Proxy in manageable data rates, 14+ dynamic range, dual native ISOs, ProRes on board among other features, the Varicam 35 might just become the industry's 4K workhorse.
Award-winning cinematographer Theo Van de Sande, ASC recently completed his second pilot, CBS's Evil Men, shot with Panasonic's new VariCam 35 4K camera/recorder. His first VariCam 35 project, Salem Rogers, shot for Amazon Studios, is currently available on Amazon Instant TV, http://www.amazon.com/Salem-Rogers-Model-Year-1998/dp/B00RSGGEI6.
VariCam 35's Key Features:
S35MM 4096 X 2160 Advanced MOS Imager
Native ISOs of 800 and 5000
14+ Stops of Latitude
Variable Frame Rate — 1 to 120 fps in 4K
Dual Recorder
Records simultaneous 4K/ 2K/Proxy, or UHD/HD/Proxy + Raw to Codex (option)
Apple ProRes 4:4:4:4 and ProRes HQ Built-in
AVC-Intra Codecs — Class 100 / Class 200 / Class 4:4:4
2-piece Modular Design (docks to AU-VREC1G recording module)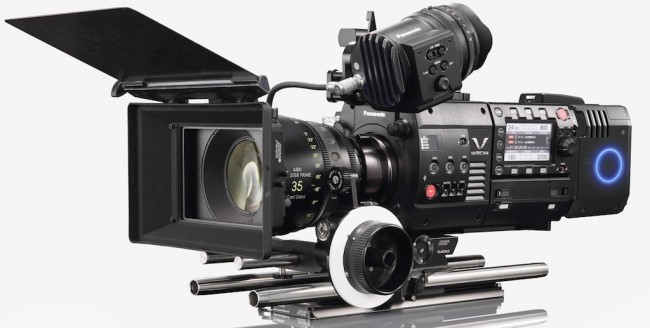 Van de Sande calls the VariCam 35 "the first 4K offering I feel comfortable with, an absolutely modern camera with tremendous scope, an embracing image, and whose dual native ISOs of 800/5000 will completely change the business."
Van de Sande, a graduate of the Dutch Film Academy, received the Golden Calf (the Dutch Oscar) for Best Cinematography both in 1982 and 1987. He shot numerous feature films in Europe that attracted international attention. The Assault, his last film in the Netherlands, became the first Dutch feature film to receive the Academy Award for Best Foreign Language Film.
His first American film, Miracle Mile, starring Anthony Edwards and Mare Winningham, became an instant cult classic. After settling in Los Angeles, Van de Sande continued to work on a great variety of both studio and independent films, shooting for such directors as Lasse Hallstrom, Garry Marshall, Joan Micklin Silver, and the legendary Robert Wise. His critically acclaimed and iconic work includes Blade, Cruel Intentions, Crossing Delancey, Once Around, Volcano, Out of Time and Homefront.
He has co-produced several award-winning documentaries with his partner Michèle Ohayon, includingColors Straight Up, which was nominated for an Academy Award, DGA Award and Spirit Award along with winning 13 national awards; Steal a Pencil for Me, which received the prestigious Yad Vashem award;and Cowboy del Amor, which won the Jury and Audience Awards at the SXSW festival, as well as several other national awards. In television, he worked with director Mick Jackson on the pilot for The Practice,Tuesdays with Morrie starring Jack Lemmon (Emmy and DGA Awards) and The Memory Keeper's Daughter (also nominated for an Emmy).
Van de Sande had been prepared to shoot the Salem Rogers pilot with an Alexa, but Amazon Studios stipulated a native 4K camera. Within days after signing on to the project, he saw a demonstration of the VariCam 35 at the ASC Clubhouse and literally "saw the (low) light."
"I simply didn't believe it when I switched for the first time from ISO 800 to native ISO 5000," he said. "How could this be accomplished without sacrificing dynamic range and imagery? I came to learn that at ISO 5000 the camera can actually see more and better than the human eye, and allowed me to create a whole micro world in front of the camera. What's more, with the VariCam 35 I can ramp from 24 to 120fps without changing the light, a tremendous economy of time and money."

"From the first day on the Salem Rogers' set I began to use the native 5000 ISO on some unexpected occasions (a day interior in a bookstore, e.g.) and was blown away by it," Van de Sande said.  "The last scene was shot at nighttime at Venice Beach with very little light. Shops were closed, but the arches of the buildings were still overexposed, lit by some small fixtures. The palm trees were silhouetted against the night sky, and I lit a huge area with just one unit from 100 yards away. The bottoms of the palm trees were lit with the headlights of our camera truck.
"Later in the CBS pilot I used 5000 ISO setting by night in cold, humid, wet Vancouver winter weather on overpasses, freeways, intersections and bridges with even more amazing results. And here again there were no issues: all went well on a grueling, impossible schedule of 12+ days."
Van de Sande also singled out the VariCam 35's ability to record three simultaneous video formats (4K + 2K + Proxy, or UHD + HD + Proxy). "You treat the 4K slot as if it were the digital negative–you don't touch that data. You have the SUB recorder slots where you can do all your work: 2K/HD is plenty of resolution for editors who normally work on highly compressed DNxHD36 images. So, you're recording to a high-res master and you are essentially cloning copies in different resolutions in camera, in real time."
"With the VariCam 35, its 4K sensor and native 5000 ISO setting, Panasonic has taken a front position in the line of professional digital cinema cameras," he said. "And the company's timing in bringing the Varicam 35 into the digital cinema and episodic television markets is the absolute right moment within the big picture of 4K and UHD standardization.
"It's been a total thrill to be at the cutting edge of this new technology; the VariCam 35 will push the other camera manufacturers forward, because soon the 4K pipeline will be the standard for TV and digital cinema. 4K will be the format that people request when they buy content in the very near future. And now, digital camera technology has finally realized the high standard of the 35mm film negative."
For more information about Theo Van de Sande and his work, visit www.theovandesande.com.
For an expanded interview with Van de Sande about his work on the Amazon Studios' pilot, see http://www.fdtimes.com/2014/12/19/theo-van-de-sande-asc-on-varicam-35/.
About the VariCam 35
Panasonic's VariCam 35 is an unparalleled tool for high-end filmmaking, commercials and episodic production as well as live 4K events. The camera provides superb image handling in multiple formats ranging from pristine 4K RAW to more practical 4K, UHD, 2K, HD and ProRes capture. Several assets set the VariCam 35 apart from other high-end cinematography cameras, including dual native ISOs of 800 and 5000, allowing DPs to realize incredible image quality in extremely low light situations; its ability to record
three simultaneous video formats (4K + 2K + Proxy, or UHD + HD + Proxy); an  optional high-speed 4K uncompressed RAW recorder (CODEX) that  will capture uncompressed 4K VariCam RAW (V-RAW) at up
to 120fps; internal AVC-Intra 4K / 2K / HD recording to 120fps; support for an ACES workflow for full fidelity mastering of original source material; and in-camera Color-Grading via CDLs / 3D LUTs.
[via Cinescopophilia / source Panasonic] 
Claim your copy of DAVINCI RESOLVE - SIMPLIFIED COURSE with 50% off! Get Instant Access!