You might remember the Scorpion Light, which we told you about last year. It's a really versatile and portable LED light made by Blind Spot Gear after a successful crowdfunding campaign. Now the UK outfit are back on Kickstarter with a new awesome LED light called the Tile Light. Their latest fixture is a pocket-sized premium LED light that can be used a camera top light, a fill, rim, or even a key light in a variety of shooting situations from interviews, to ENG work, documentaries, corporate work and just about everything else. We're huge fans of the Scorpion Light over here at 4K Shooters and we had a chance to chat with Billy Campbell from Blind Spot Gear back in March this year on Podcast Episode 41, which you can check out here.
Here's what Billy and the rest of the Blind Spot Gear crew have been up to lately:
Take studio quality anywhere you go. Beautiful light & premium colour rendition. From the creators of the Scorpion Light.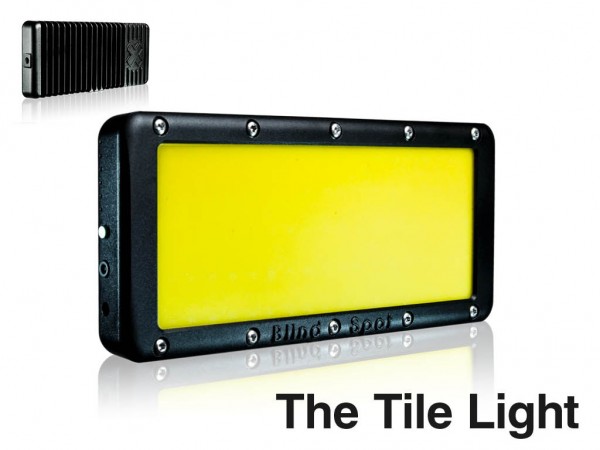 The cool thing about the Tile Light is that it not only features a rugged aluminium construction and very portable size, but is also modular – it can be arranged in various arrays and used as a ring style light or space lights for studio or location work. The Tile Light also produces a very high quality of light (TLCI > 92) utilising a single surface emitting technology, which eliminates the multiple shadows effect commonly seen on older style LED units.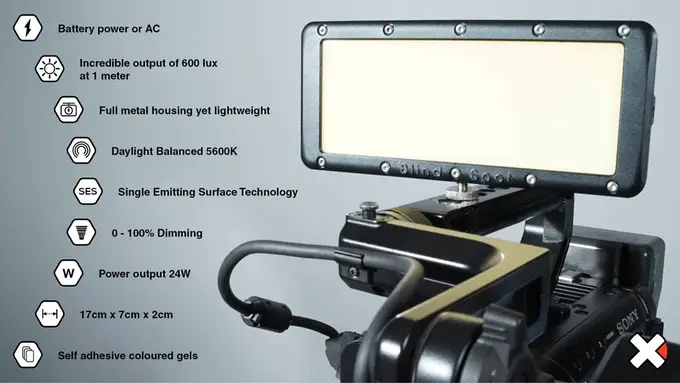 The Tile light also features a a built in 5 step dimmer and can be also continuously dimmed with the optional wired remote dimmer. If you're concerned with the power output from such a small fixture, don't be – the Tile light is rather potent at 600 lux at 1 meter. It can be battery operated (with NP-F Sony L-series style batteries same as on the Scorpion Light) or from the main via an AC adapter.
Tile Light Options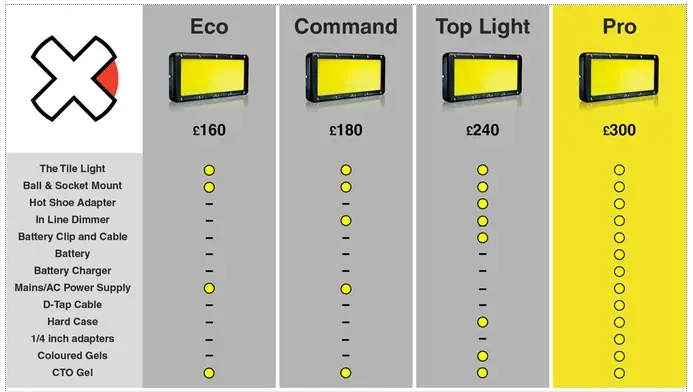 Here's some tutorials on what you can do with the Tile Light:
The Tile Light pricing starts at £160 which gets you the light, a small ball & socket mount, AC adapter to power it from the mains and a CTO gel. For £20 more you get a dimmer, and the Top Light level adds Colour gels, hard case, battery adapter and a hot-shoe adapter. The Pro Tile Light package gives you all of the above plus a D-tap cable for powering the light from a V-mount/AB battery plate, a battery/charger and 1/4 inch adapters for £300.
Their previous light – the Scorpion Light is also available for sale at B&H for $995 as a kit of 4 + 2 fixtures with a hard travel case (that's a total of 6 super versatile LED lights!). To claim your Tile Light and support Blind Spot Gear head over to their Kickstarter page.
Disclaimer: As an Amazon Associate partner and participant in B&H and Adorama Affiliate programmes, we earn a small comission from each purchase made through the affiliate links listed above at no additional cost to you.
Claim your copy of DAVINCI RESOLVE - SIMPLIFIED COURSE with 50% off! Get Instant Access!