Well, they may have the output of Sony, but Canon do release new cameras from time to time. This time the Japanese behemoth has some great news for vloggers, documentary filmmakers, and event videographers with the announcement of two new handheld video cameras to its X-series, the Canon XA35 and Canon XA30. The new Canon cameras are designed for professionals and enthusiasts alike, and their highly compact and lightweight design features a newly developed HD CMOS Pro sensor which provides higher sensitivity and improved low-light performance. Sadly, 4K recording is not present in any form, which is a serious flaw for a pro camera released in 2015. And while some of you may ask why are we featuring non-4K cameras – we've been getting a lot of requests from readers to cover more compact cameras, who are not necessarily 4K, so that's why. Plus, we've always stated that for us 4K resolution is not the only over-encompassing factor.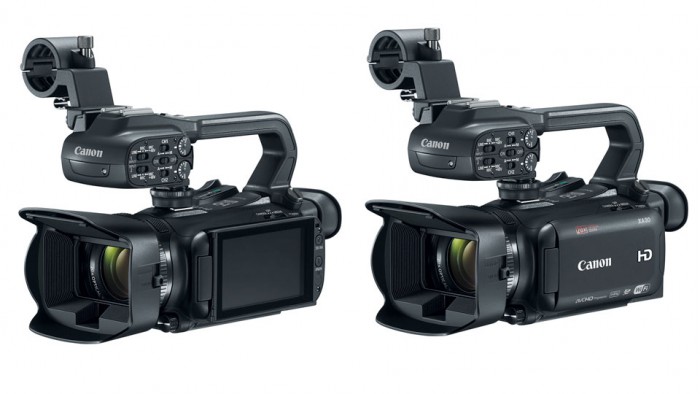 Both cameras also include new Wide Dynamic Range (DR) and Highlight Priority settings, making them suitable for shooting everything from news and documentaries, to weddings and corporate films. The difference between the two models is the presence of HD-SDI on the XA35 model, which accounts for the slightly higher price of $2,499 USD, compared to $500 less for the XA30 model.
While only the more expensive XA35 features HD-SDI connectivity, both camcorders provide an HDMI output for external monitoring, with onboard monitoring supported by a 1.56 million-dot electronic viewfinder and a 3.5″ OLED touch panel with a 1.23 million-dot resolution and a 10,000:1 contrast ratio.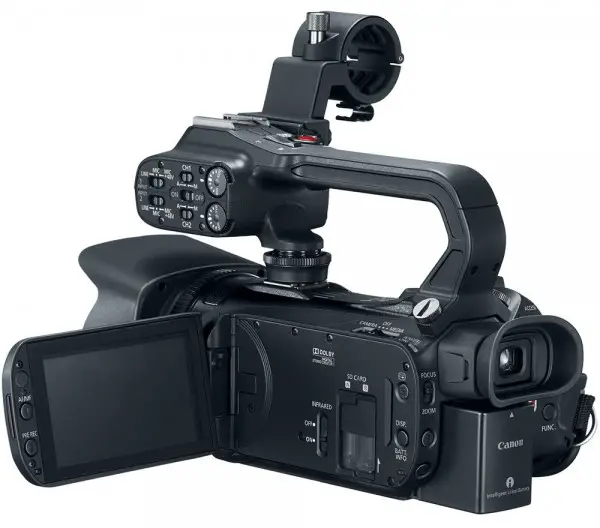 Both models should be a viable compact solution for event shooters, wedding and corporate videographers and/or docu shooters looking for the smallest footprint possible and those who are not too fussed about having a 4K recording option as their compact size and 20x zoom will enable those to get the shot no matter what.
B&H has a hands on video on the new Canon cameras, which you can see below.
A detachable top handle provides dual XLR audio inputs with phantom power and manual audio level controls. Also found on the handle is a built-in IR emitter to support infrared recording. Thanks to the enhanced sensitivity of the new sensor, IR recordings are approximately 1.4x brighter than with the previous models. When XLR audio connectivity or the IR emitter isn't required, you can remove the top handle to make the already compact camcorder even smaller and more portable.
Additional features include full manual controls for precise adjustment of focus, exposure, shutter speed, and white balance, and assignable function buttons for quick access to your most-used features, including more advanced options such as zebra, color bars, and test tone.
You can order yours from B&H via the links below:
Canon XA30 Compact Professional Camcorder – $1,999
Canon XA30 Compact Professional Camcorder – $2,499
Claim your copy of DAVINCI RESOLVE - SIMPLIFIED COURSE with 50% off! Get Instant Access!