The Blackmagic URSA Mini 4.6K has easily been the most awaited and delayed camera in 2015. Ever since Blackmagic announced the miniaturised version of the URSA Major camera with a brand new 4.6K Super 35 CMOS sensor capable of 15 stops DR (according to BMD), shooters from all levels marked their calendars for an over-optimistic July delivery, which of course did not happen. After months of delays and still largely unknown shipping date for URSA and URSA Mini cameras carrying the new sensors, today we have exactly that – brand new Blackmagic URSA Mini 4.6K footage was finally released earlier today by beta testers.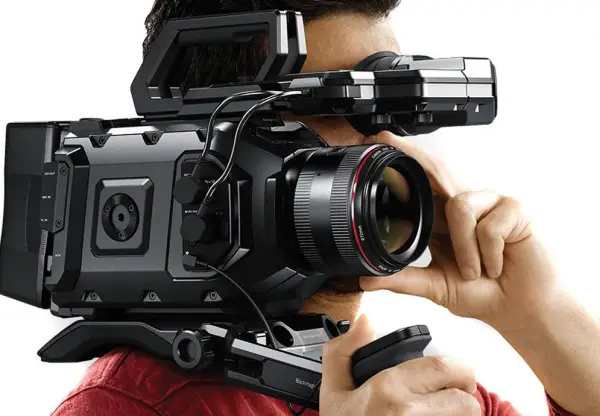 The footage above was shot by Roman Lah, who shared his experience with the new camera so far on the BMCuser.com online community. Here is an abridged version of what he said below:
1/3rd of the video is ProRes HQ 1080 and the rest is UHD HQ. The couple slow motion shots are 1080 HQ 120fps windowed mode. There is no 4.6K Raw in this video, it's all ProRes. I shot everything with the "Full" sensor read out, only slow motion shots were windowed

None of the footage was shot with Global Shutter, as the mode has yet to be employed. I used inexpensive vintage glass: Zeiss Contax & Canon FDs. Most everything was shot at 800 iso, with a few shots @1600. Hoya NDs were used for most of the daylight shots.

So, as you might know this is pre-production still at this point, as BMD is still nailing down the color science. Also to note, I am no colorist like Kholi, Hook and others here on the forums. These clips are as simple as it gets. I just did a VERY basic correction using 1 or 2 nodes at the most on any given clip, sometimes offsetting the color a bit for a look. No LUTs, or Filmconvert etc was used.

I hope to do a proper review soon, but for now I'll mention what I'm liking about the camera instead of getting too specific about differences between previous cameras and the Mini.

The new Film log is something else. Gone are the days of needing a LUT just to "correct" your footage in order to get it where it needs to be. There's enough contrast / saturation built into the log to get your images looking right in just 1 or 2 nodes. But there's a ton of flexibility. I'm able to dig a little deeper into the shadows, reach a little higher in the highlights and bend the image like I've never really been able to before.

Dynamic range is pretty significant and feels like no less than 2 full strong stops over the 2.5K. It's a little jarring to see so much information in both the shadows and highlights at the same time. It kind of made me want to crush some of the shadows and create "hard stops" to what we can see, because otherwise it just keeps going…

IR / Infrared. I don't think I'm really noticing any, or at least nothing that made me want to use the IR cut filter; none of the footage here had the IR Cut.

Noise / Low light: I have 2 night shots (the last 2 night ones in the video) which were at 1600 ISO. I decided not to use neat video or reduce the noise so you could see what that looks like. At 800 though, it's amazing and so contained it becomes a HUGE sigh of relief knowing I can go under by 1-2 stops, bring it up and see about as much noise as the 2.5K exposed properly @800. When exposed properly, it goes from good to perfect. Like… the noise is so well handled that adding in extra grain might be attractive for some (but it sure doesn't need it). In the video, there's quite a number of underexposed shots that I brought up 1-2.5 stops without doing anything to reduce noise and it was still looking solid.

Aliasing / Moire: If there is any, I haven't seen it anywhere.

Image: The image is amazing. The video here doesn't even begin to show or do the camera justice, like I'm sure other footage will soon do. The color, weight, richness… just general mojo is fucking awesome. I'm really overly satisfied with the what's coming out of the Mini 4.6K.

Hardware: This thing is a tank simply put. Absolutely solid through and through. The shoulder kit, EVF and camera meld together to form such a tight, compact and cohesive unit I shudder to think about having "put-together" rigs on my shoulder ever again.
And here is some more 4.6K ProRes footage shot by Kholi
4.6K DR CLIP from Camp Comet on Vimeo.
DoorSHOTS4 from Camp Comet on Vimeo.
Slime from Camp Comet on Vimeo.
4.6K, ProRes, Canon FD 50/[email protected] / All natural night, no lights added.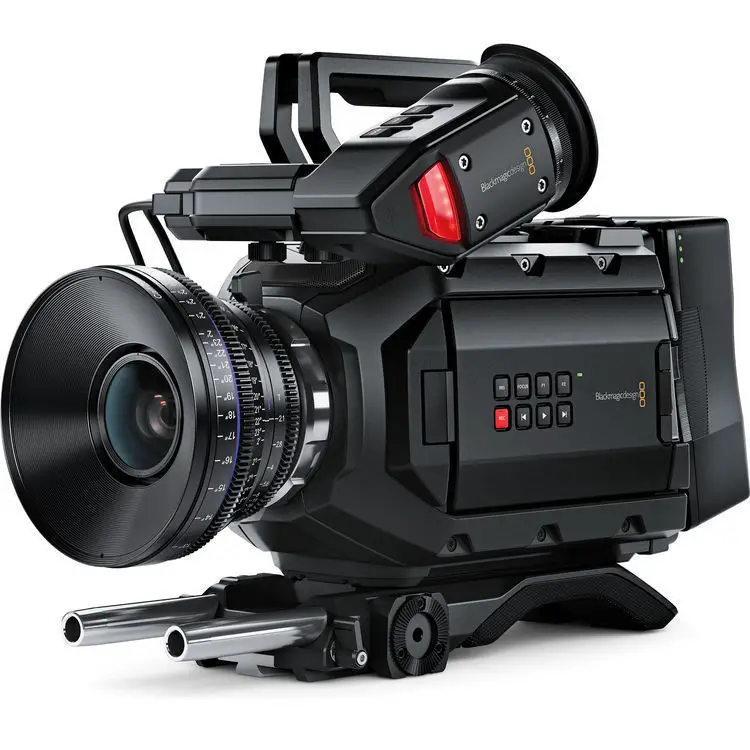 Blackmagic URSA Mini 4.6K EF ($4,995 at B&H)
Super 35mm CMOS Sensor
4,608 x 2,592 Video up to 60p
Compressed Raw Recording
Ready-to-Edit ProRes 444 + 422 Recording
Dual CFast 2.0 Memory Card Slots
12G-SDI Output, Timecode and REF Input
1080p Flip-Out Screen
Touchscreen Interface
2x XLR Audio Inputs with Phantom Power
Magnesium Alloy Body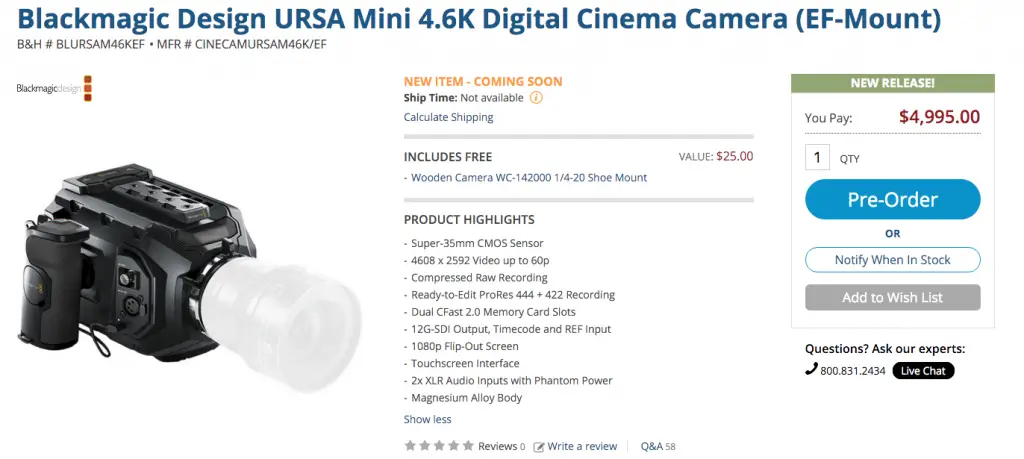 Even though there is limited footage from the camera, having owned a BMPCC and the original BMCC 2.5K EF (which is now cheaper than a Sony A7s) and shot a feature film with it, seeing this new footage from the new 4.6K sensor I really like how it renders highlights and skin tones. Having the flexibility to shoot in lossless compressed Raw in 4.6K and also 3K Anamorphic as well as 2K and 1080/120 (even though cropped) slow motion, or high quality ProRes, has put the URSA Mini 4.6K on the top of many shooters' shopping lists.
Considering the multitude of features you get there isn't anything spec-wise that can compete at this price point – everything is more expensive – RED Raven (due Feb 2015 at best), Sony FS7, Canon C300 Mark II, Kinefinity KineMINI and KineMAX, etc. However spec sheet and some early footage alone is not enough. How a camera performs in the real world out in the field day in and day out is a completely different ball game.
Having learned quite a few lessons from their previous generation cameras, I think Blackmagic Design may have finally struck gold with the URSA Mini 4.6K. A new sensor, better smaller body, improved ergonomics. All that is left is for them to finally ship the cameras and let content creators create amazing images with it.
Claim your copy of DAVINCI RESOLVE 16 - SIMPLIFIED COURSE with 50% off! Get Instant Access!