ARRI recently released SUP 3.0 Firmware Update for the ALEXA Mini, which we reported on here, and now their industry leading documentary AMIRA camera gets  some really exciting new features such as the highest quality ProRes 4444 XQ recording, MPEG-2 422 50Mb/s recording in MXF format for cross-compatibility with a wide array of broadcast workflows and support for more affordable Lexar CFast 2.0 cards.
ARRI recommends all AMIRA users to update to SUP 3.0 in order to get the latest features in the latest firmware. Here is a full list of all the new features in SUP 3.0 on the AMIRA: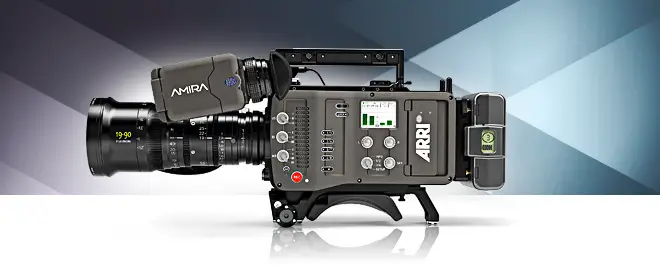 • MPEG-2 recording, 50 MBit/s [email protected] in MXF container: XDCAM HD workflow compatible
This new option has been demanded by broadcast users for quote some time as it allows recording with lower data rates and file sizes, while still maintaining a decent image quality. The format follows the specification for MPEG-2 [email protected], it is limited to 50Mbit/s and the container format is MXF. The recordings are fully compatible with XDCAM HD environments and workflows. Supported frame rates are: 23.98p, 25p, 29.97p, 50i, 59.94i fps.
• ProRes 4444 XQ recording (AMIRA Premium License only)
This recording option is available on the AMIRA Premium only. With SUP 3.0 AMIRA operators can now record also in the highest ProRes quality 4444 XQ as already supported by the ALEXA and ALEXA Mini. The data rate is about 392 Mbit/s at 25p in Full HD, which allows recording about 38 min onto a 128GBcard.
Productions looking for the absolute best quality ProRes for VFX heavy post-production workflows or productions requiring heavy grading in post the Amira can now record ProRes 4444 XQ up to 120 fps in Full HD or 2K and from 0.75 up to 30 fps in 4K UHD as well as 3.2K.

• AMIRA multi-cam interface: camera remote control with Sony RCPs
According to ARRI, this new interface allows remote control of the AMIRA according to broadcast industry standard remote control panels like the Sony RCP-1500. This requires connecting the panel to a Sony CNA-1, which also allows the use of other RCP models from Sony, as well as Sony MSU (Master setup unit) panels. This includes support for remote iris control with B4 or PL ENG lenses.
The interface's other functions include the return (PGM) input to be triggered by the ENG controls, as well as syncing to Genlock with the option to phase-shift. The camera tally can be triggered by an Ethernet command, as well as a tally out signal that can be triggered by the record flag in the SDI stream.
• Intervalometer: for sophisticated time lapse and stop motion recordings
• WiFi remote control support: full camera control with WiFi devices
• Viewfinder status overlay enhancements, other usability improvements and improved support for accessories
• Support for Lexar CFast 2.0 cards: 128GB and 256GB 3600x cards are supported 
NOTE: 64GB cards, 3400x cards and 3500x cards are NOT supported.
You can download SUP 3.0 for your AMIRA from ARRI's website here.
Claim your copy of DAVINCI RESOLVE - SIMPLIFIED COURSE with 50% off! Get Instant Access!