If you are one of those creative professionals who have been traveling day in and day out lately, and you need to have a portable and reliable storage solution that not only gives you a great deal of external media storage for your 4K footage but is also compact and durable enough then you may want to consider the AKiTiO Tunder 2 Quad Mini SSD as a feasible option for your workflow on the go.
In essence, this is a four-bay Thunderbolt-2 technology storage enclosure that allows easy installation and replacement of 2.5″ SATA 6 Gbps drives or SSDs. The unit comes with two Thunderbolt-2 ports supporting transfer speeds of up to 20 Gbps along with a large fan for active cooling. It can hold up to four 2.5″ drives with SATA 6 Gb/s interface and also provides removable trays for easy SSD and/or HDD installation.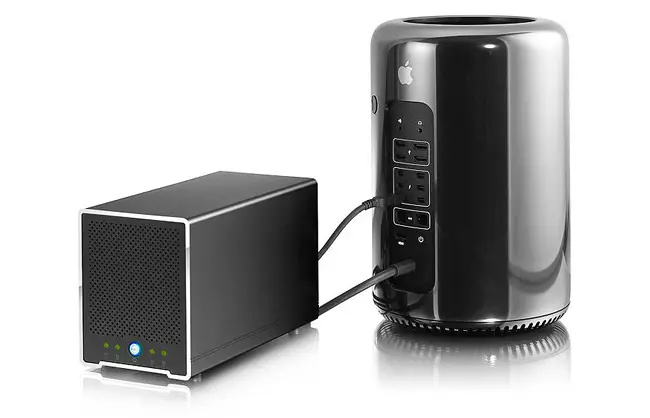 Overall, considering the small footprint and the extremely fast throughput performance of up to 1375MB/s, AKiTiO Thunder2 Quad Mini allows users to daisy chain up to five Thunderbolt devices together. For example, you can attach additional external drives and even a display all connected to your computer through a single cable.
Thunderbolt 2 technology incorporates DisplayPort 1.2 support, which allows for video streaming to a single 4K video monitor. In other words, you can now use a single port to connect your external storage drives and a 4K display which is a very useful feature, especially when your on the go.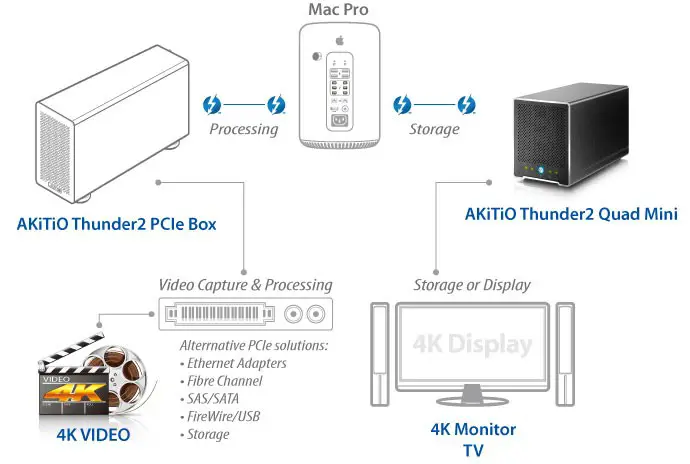 On top of that, the free AKiTiO Data Multiplier application allows users to back up and duplicate files faster than ever. In fact, it's about 34% faster when compared to manually copying and pasting media. Designed for video editors and data imaging technicians in mind, the application requires only a few clicks to simultaneously copy the files from one drive and duplicate them onto up to three other drives.
The unit comes with an ultra durable aluminum casing providing efficient heat dissipation and its most suitable not only for logging and backing up of 4K media files in the field but also for effective editing and colour grading of 4K video at remote locations or in your home editing suite. Being an integral part of your portable workstation, AKiTiO Thunder2 Quad Mini SSD enclosure provides high transferring speeds for your workflow having a small and compact footprint that makes it an ideal solution when traveling around.
B&H Order Links:
Akitio Thunder2 Quad Mini Enclosure (With No Drives)
Akitio Thunder2 Quad Mini 4TB SSDs 
Claim your copy of DAVINCI RESOLVE - SIMPLIFIED COURSE with 50% off! Get Instant Access!