Normally today most 7-inch budget field monitors for DSLR shooters and the like have a standard resolution of a either 800 x 480 or at best around 800×600 pixels. Usually in the 7-inch realm higher end manufacturers do tend to push the envelope to 1080p and even higher resolutions, but at a hefty price tag. Not Aputure. They have just announced two brand new monitors for DSLR and other budget shooters – the VS-1 FineHD and the VS-2 FineHD monitors. Both share stunning 1920 x 1200 resolutions, a notch above Full HD for pristine image quality and piece of mind when it comes to focusing especially when shooting in 4K.
Both the VS-1 and VS-2 FineHD monitors have some really cool additional features such as camera data or space for monitor menus so they no longer overlap your image. The closest monitor in terms of specs and resolution that Aputure offers at the moment is the VS-2, which sells for about $239 and is quote affordable, but has a resolution of only 1024 x 600.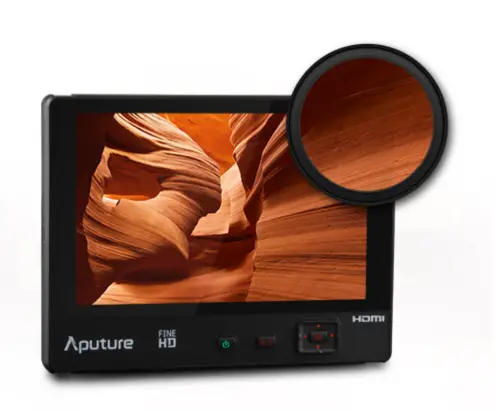 With a 450 nit brightness (outdoor viewing) and 1200:1 contrast ratio, the VS-1 FineHD provides richer, brighter and more dynamic colours than any contender in its class. Utilizing LTPS (Low Temperature Poly Silicon)  LCD screen technology, the VS-1 FineHD sports a thinner display, light weight and low power consumption.
In addition, it offers on-location and active outdoor filmmakers  near-perfect image viewing at every angle thanks to its 160 degree viewing angle. The VS-1 FineHD accepts HDMI and composite signals. No SDI here, but at this price point it's not reasonable to expect one.
For convenient, faster and more accurate shooting, we've added a wide range of selectable cropping frames to accommodate your shooting needs. Aspect rations from 2.35:1/ 1.33:1/ 1.66:1/ 1.85:1/ 70% /80% and 90% are easily selectable. These cropping frames provide a safe area to guide you, so you'll never have to guess again where your image is getting cropped or not offering a clear picture boxes representation.
And the best part is that the VS-1 FineHD will cost in the region of less than $200! This is quite a feat considering the fact that most 1080p or higher res monitors in this size cost close to a $1,000 or even more.
For shooters who demand additional professional monitoring functions, then you can get the Aputure VS-2 FINEHD for $279. It has the same body as the VS-1, but includes focus peaking in different colours, false colour for exposure, histogram, zebras and audio level meters. You also get a battery, charger, impact-proof, water-resistant case and articulating arm.
Here's a neat video by Aputure explaining the False Colour features in their more advanced VS-2 FineHD Monitor:
In my experience with Aputure products – mainly lighting – such as their Amaran on-camera lights, I've been kind of pleasantly surprised as to how well the perform. I haven't tested any of their monitors yet, but with these specs and at this price points, both the VS-1 and VS-2 FineHD seem like a really sensible investment for any shooter on a budget.
Claim your copy of DAVINCI RESOLVE - SIMPLIFIED COURSE with 50% off! Get Instant Access!