With nearly 2,700 backers from all over the world and $433K+ raised on Indiegogo so far (as of the time of writing of this article), it's fair to say that Mokacam – the world's smallest 4K action camera has had quite the successful crowdfunding campaign. In case you haven't heard of Mokacam, here's the skinny – it's the world's smallest 4K action camera with dimensions of 45 x 45 x 30mm and a few unique features that make it stand out from main competitors like GoPro.
The Mokacam features a rotating screen, which can also charge the camera battery and has a magnetic back allowing the camera to be attached to any metal surface without the need for any extra accessories. Additional magnetic snap-on batteries are another cool feature of the Mokacam, as they allow for hot-swapping while recording extending the running time of the camera to 4 hours in 1080p.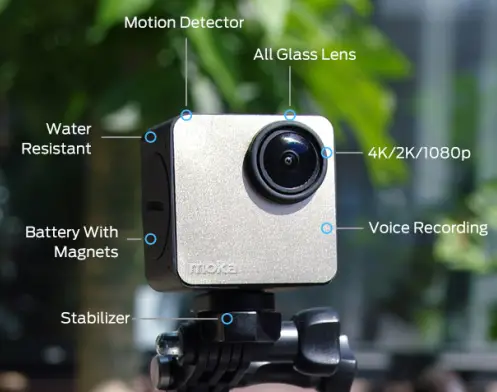 Check out their Indiegogo pitch video below.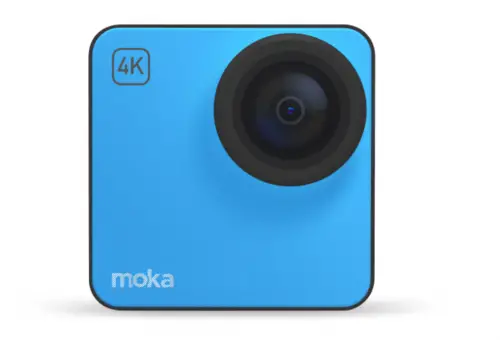 Here's a handy size and feature comparison chart between Mokacam and various GoPro models including the Hero4 Session (which doesn't do 4K) and GoPro Hero4 Black.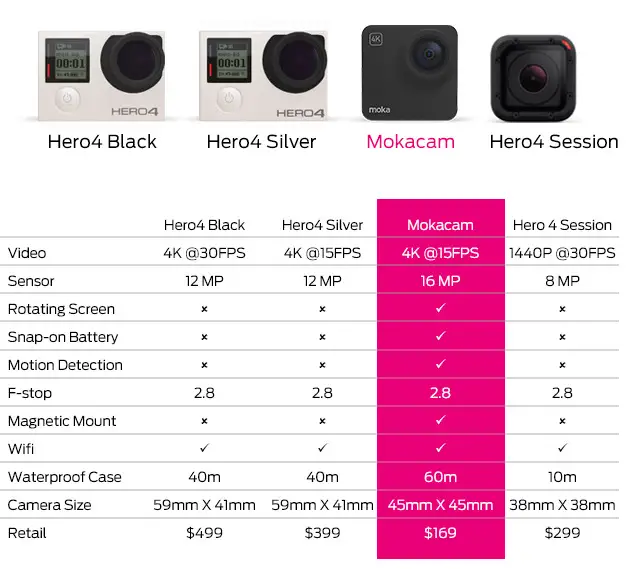 Mokacam Features
4K and 2K at 15fps
1080p/60
7-layers all Glass Lens
16 MP Sony IMX206 Sensor
152 Degrees Field of View
1100 mAh Built-in battery screen
802.11b/g/n/ 2.4GHz Wireless
79 grams weight
Free iOS and Android App
45 x 45 x 30 mm
Available in Black, Gold and Blue
Take a look at some new sample footage from the upcoming Mokacam:
Here's a quick look at a Mokacam camera prototype from about a month ago:
The magnetic batteries and built-in power, not to mention a 270 degree rotating screen are all features that a pretty cool for a small and well designed camera like the Mokacam, but when it comes to 4K, it is rather disappointing to see that it can only do 15fps in UHD, rendering it borderline unusable for serious video use. 1080p of course is a different story, but I really with they had at least 4K/24p.
The good news is that the camera is really affordable – right now you can grab an early bird special on the Mokacam for $99 and get a waterproof case with it as well. To learn more about Mokacam and pledge yours head over to their Indiegogo campaign.
Disclaimer: As an Amazon Associate partner and participant in B&H and Adorama Affiliate programmes, we earn a small comission from each purchase made through the affiliate links listed above at no additional cost to you.
Claim your copy of DAVINCI RESOLVE - SIMPLIFIED COURSE with 50% off! Get Instant Access!