The following is kind of an overlooked announcement that I almost forgot about, but I definitely consider it as a major one that is also worth sharing with all you guys. Better late than never, right? Earlier this week Samsung announced their new generation T3 SSD drives that likely enough are going to make a splash in the SSD drive market, again.
The drives will come in 250GB, 500GB, 1TB and 2TB units. They will also feature the latest USB 3.1 and type-c support, allowing for read/write speeds of up to 450MB/s. Further, these portable drives will provide a sturdy housing making them shock resistant and reliable enough, but I personally wouldn't take my chances on dropping any of those considering the price tag they will come with.
The latter isn't officially announced yet, but considering the fact that currently the Samsung Portable SSD T1 1TB USB 3.0 Drive costs around $400 we can only guess how much more the new drives will set us back.
In terms of build quality and performance, these premium, palm-sized, last generation solid state drives are equipped with Samsung's proprietary Vertical NAND (V-NAND) and SSD TurboWrite technology providing advanced performance and extremely fast data transfer speeds. With the rise of rich 4K content and the greater demand for reliable large capacity SDDs, the T3 drives yield blazing-fast file transfers with a USB 3.1 interface, which is up to four times faster than alternative external HDD solutions.
Overall, Samsung has designed compact, lightweight and durable SSDs even better protected from damage or data loss than their successors. All T3 models feature a new shock-resistant metal case and internal frame along with integrated Thermal Guard that prevents the SSDs from overheating in extreme temperatures. According to the manufacturer they can even withstand up to 1500G of force and will survive a drop of up to two meters.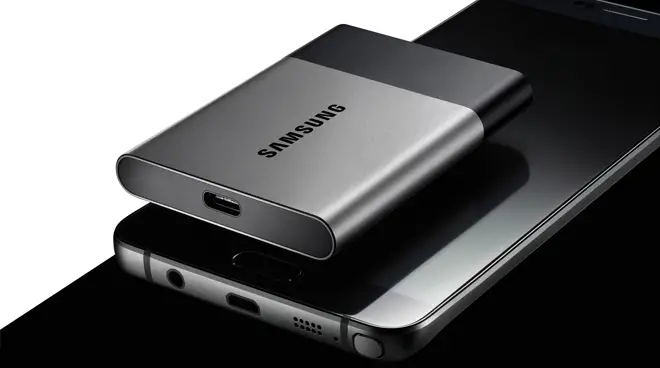 The T3 will also work with a brand-new complementary Samsung Portable SSD Android mobile app that supports password changes and remaining capacity checks. The software provides a simple set-up process for users, with one user-set password.
This way the T3 drives will be equipped with AES 256-bit hardware encryption for the high level of security and protection across Windows, Mac and Android OS based devices. Even if any of those drives falls into the wrong hands, the data stored on it would be inaccessible, as Samsung claims.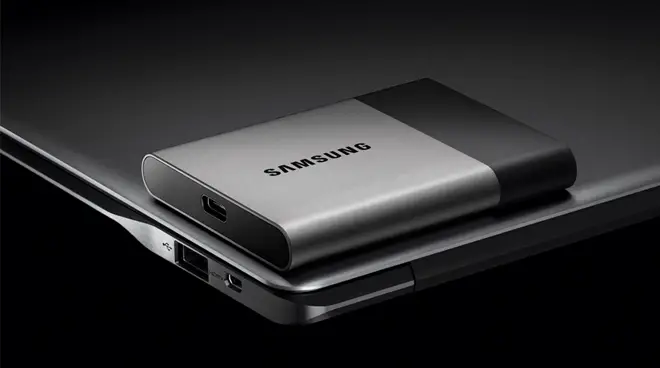 Overall, the T3 SSDs seem to be the perfect fit for all creative professionals looking for a strong, yet light and reliable portable storage solution while being on the go that provides extremely fast transfer speeds and fits in one's pocket. Samsung's Portable T3 SSD drives will be first launched the next month in the US, China, Korea and select European countries and will subsequently become available worldwide.
[source: Samsung]
Claim your copy of DAVINCI RESOLVE - SIMPLIFIED COURSE with 50% off! Get Instant Access!