Having some innovative and fresh tricks up your sleeve when colour grading is always a fantastic way to push the boundaries of your creativity and change the overall mood and aesthetics of your videos. Maybe that's one of the main reasons why Instagram became so popular among millions of users around the globe. The ability to instantly change the look of your pictures or videos captured with your smartphone on the go with just a tap or two is pretty mind-blowing.
So, what if you want to apply this approach and integrate it into your professional colour grading workflow? Well, with the Instagram filters provided by the filmmaking site CineBlur and its creator Brent Pierce, the process seems to be quite easy and straightforward. And, the best part is that you can use these filters in After Effects, Premiere Pro, Final Cut-X, DaVinci Resolve 12 or any other NLE that provides LUTs support. Further, the next video tutorial by TunnelvizionTV showcases how you can use Instagram filters within Adobe Premiere Pro in particular.
First off, you need to download the Instagram LUTs from CineBlur.com/Instagram.  Once the download is completed, copy the .cube files to the folder where Premiere Pro CC stores this type of assets. For instance, if you are a Mac user use the following path:
/Applications/Adobe Premiere Pro CC 2015/Adobe Premiere Pro CC 2015.app/Contents/Lumetri/LUTs/Technical­/
And here's where to look for the folder on a WINDOWS machine:
C:\Program Files\Adobe\Adobe Premiere Pro CC 2015\Lumetri\LUTs\Technical\
Now, you have to apply the Lumetri Colour filter located in Premiere's Effects Library to each of your clips. With your clip selected, navigate to the Effects Control tab, and under Lumetri Colour go to Basic Color Correction section. Access the Input LUT drop-down menu where you should find the already imported Instagram LUTs. Just pick the one that suits the mood of your clip.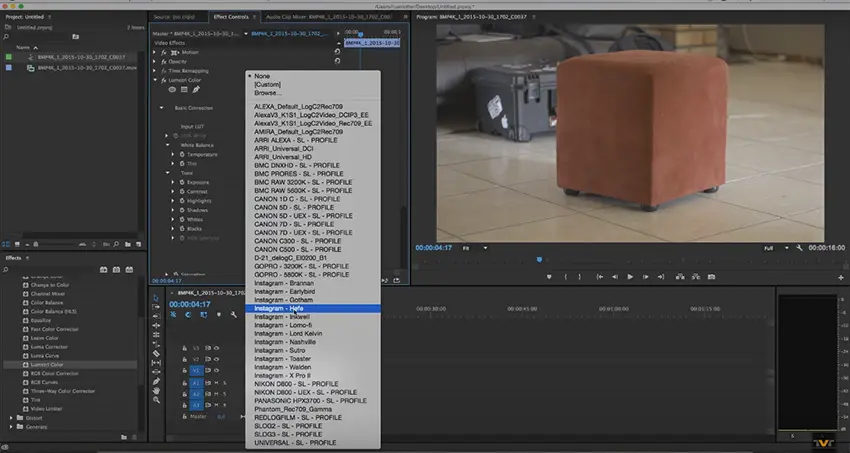 Another way to apply this technique is by using an Adjustment Layer. Just create one, drop the Lumetri Colour on it and access the Effects Control afterwards. You can control the amount of the effect the LUT creates once applied to your clip by changing the Adjustment layer's Opacity.
I would prefer the second option as it seems to give better control over the image. But it totally depends on what will work best in your case. Here's what type of results you might expect from this filters pack:
Instagram filters for video from Brent Pierce on Vimeo.
Ultimately, keep in mind LUTs are a bit limited in their functionality. For instance, they can't apply effects that use masks or generators, such as vignettes, diffusion, blurs, etc. But, you can always add those effects additionally if required. Whatever the case, these Instagram LUTs are another way to give your footage a different vibe when colour grading.
[source: TunnelvizionTV, CineBlur.com]
Claim your copy of DAVINCI RESOLVE - SIMPLIFIED COURSE with 50% off! Get Instant Access!