Ever since it was announced and shown for the first time at NAB 2014 the 4K ProRes and slow-motion capable AJA Cion has been a subject of long and heated discussions on forums and blogs. The 4K CION was a very welcomed and somewhat surprising announcement coming from a company known mostly for external recorders and post-production solutions. Very much like another similar company based in Australia, which started recently making cameras.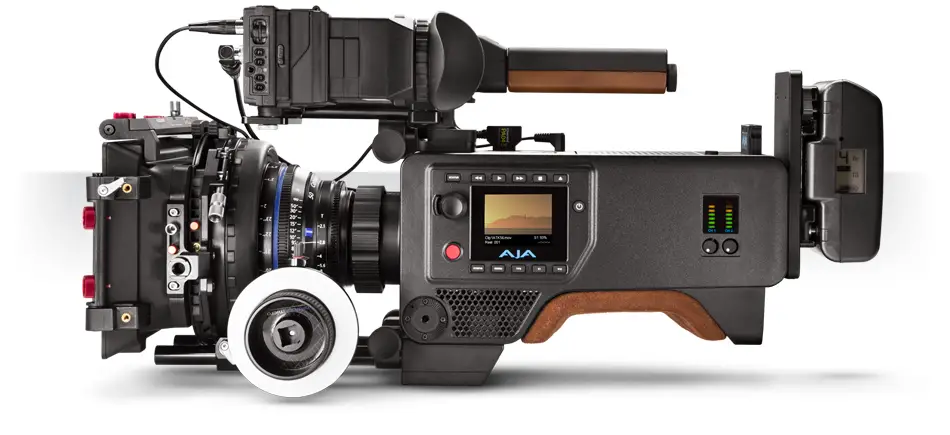 However, unlike Blackmagic Design's cameras, which are absolutely fantastic for the features they offer and the (very affordable) price, their design wasn't very ergonomic for broadcast use. The shoulder-mount style design of the AJA Cion on the other hand is reminiscent of the Aaton LTR/XTR and ARRI SR film cameras, which were much more ENG friendly and allowed for operators to easily shoot docu-style.
Not only that, the CION, much like Blackmagic cameras like the BMPC, shoots internally in ProRes – a broadcast favourite codec with native 10 bit 422 colour subsampling. 4K up to 120fps is possible via an external recorder. It is a beautiful and minimalistic design, the way a camera should be.
However, despite the native PL mount (Note: third party adapters were announced, such as those from MTF Services in the UK) 4K ProRes 422 on board up to 60p, and the Super 35mm sensor with global shutter, the CION uses proprietary SSD media from AJA and despite being marketed to an ENG/broadcast market, the camera lacks built-in ND filters! For me personally this is a big letdown.
After all, the CION has been touted on various forums and blogs as the "poor man's ARRI AMIRA" which has built-in ND's, PL mount, Super 35mm sensor and shoots natively on ProRes, on readily available, albeit expensive CFast 2.0 media (same as the Blackmagic URSA).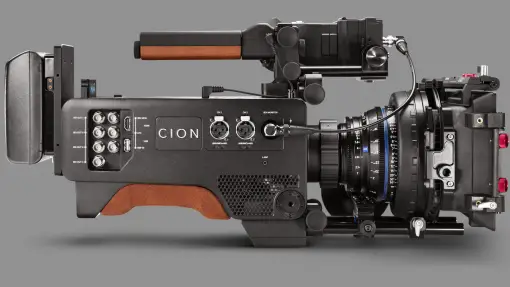 At first, the CION was estimated to start shipping late summer, and now that were in the middle of the Fall and approaching the end of the year, looks like AJA might have given a rather aggressive, but unattainable shipping goal for themselves.
The CION is still not ready to ship according to our sources and the camera was still with locked ISO at IBC 2014 in September, with unfinished colour science and not finalised sensor calibration and base ISO. And from what it looks like the CION may not have a LOG gamma mode, just a Flat picture profile.
Still not finished, but on its way, and hey it's their first camera, lets give them a break.
See some new footage from the camera below:
AJA CION Prototype "Rapunzel Jackson" Trailer from Spinflight Studios on Vimeo.
Meet Rapunzel Jackson. A young girl who's being pulled by her roots into womanhood by getting her first perm. Not all little girls have Bat Mitzvahs or Quinceaneras to define them as women, therefore Rapunzel quantifies it by her first perm.

Tech Specs:
Shot on a Prototype AJA Cion 4K Camera in June 2014
ProRes 4444 4096×2160 23.98
Panasonic GH4 with 12-35 zoom was used in one shot you see in the trailer.
Lenses: Schneider Xenon Primes and a Cine modified 18-35 sigma zoom.
Schneider Platinum NDs.

Prototype sensor shoots linear.
Perhaps log mode will come later, who knows.
We just had to take special care in protecting the highlights.
I cranked up the brightness of my Director's monitor to see what the shadows were doing while trying to protect the highlights.
In post is where you can bring the gamma back up with very little to no noise.
ProRes files seemed to have great flexibility for grading in resolve and keying blue screen was a breeze.

Many thanks to the AJA team for letting us try out their new baby before it was ready to go out into the wild.
Below you can read the latest from AJA on the CION.

Jon Thorn, Senior Product Manager at AJA, recently did a long post exclusively on Dvinfo.net, which answered some questions about their upcoming and eagerly awaited first camera – the AJA CION.
Every product I have ever proposed or been involved with developing at AJA has been originated by asking myself the following three basic questions: 
What tool could AJA create to help improve people's work?
What features do people want? 
Can AJA build it?
I developed the idea for the first Apple ProRes tapeless video recorder, the AJA Ki Pro, in 2007 (that year is not a typo; because complex products take time to develop, it reached the marketplace in 2009.) The Ki Pro was a success because it allowed a diverse (and disparate) group of cameras in the marketplace to be connected to the device with a wide array of connection types (SDI, HDMI, component), it could record to a high-quality edit-ready codec instead of one of the myriad of codecs being offered by the traditional camera manufacturers at the time and it could get all of these cameras to the same format (SD or HD) via up/down or cross conversion. Following the success of the original Ki Pro, I was asked many, many times if AJA would ever consider building a camera.
Why were people asking AJA to build a camera? Primarily, people wanted a camera that could record to a post-production friendly codec like Apple ProRes. People also expressed an interest in seeing cameras with a wider array of connectivity: SDI, HDMI, timecode, balanced analog audio, etc., etc. During this time, many of the traditional camera manufacturers had begun to "tier" their offerings; sometimes cameras were stratified by little more than the connection types used on the cameras.
AJA had a significant portion of what people seemed to want – a popular edit-ready recording format and the ability to offer an array of connectivity – but we did not have at that time was experience with sensors or the mechanical components associated with an optical system. People continued to ask me, "Will you ever make a camera?" 
In 2010, I made my first proposal at the company to produce a camera. In addition to a traditional market requirements document, I had also sourced a small camera head and so my "pitch" to others at the company involved showing that small camera head sitting directly in front of the Ki Pro. People were skeptical. Honestly, when you consider building a camera, you should be skeptical. Building a camera is not trivial; it requires a huge amount of time and a huge resource investment. I was asked to continue to develop the idea. So essentially I had answered the first question, "What tool could AJA create to help improve people's work?"… but I had a lot more work to do.
The second question, "What features do people want?", is always the "fun" question to answer if you are in product development. If you burden a product with too many features, you probably make the device too difficult to bring to the market in a timely fashion and you may "overshoot" what people really want. If you "overshoot", you will likely also unnecessarily burden your product with costs. Conversely, if you under-deliver on a feature set, you often aren't even considered a part of the conversation when products are being evaluated. I came from a camera background. I have a passion for cameras. I've toted around everything from massive 35mm camera rigs to tiny DV cameras. My heart though has always belonged to the 16mm and Super 16mm cameras that I learned to shoot on: ARRI SR I, II and III, Aaton LTR and XTR, Eclair NPR and ACL.
Somehow, over the last decade or so, the traditional camera manufacturers decided that a certain "tier" of cameras should have a certain shape. That shape involved a "pony-tail" viewfinder and the notion that the camera needed to be held out in front of you without any help from your shoulder. The lens would also be fixed on such a design, not interchangeable. If you didn't like or want this, you'd be asked to pay more money to obtain some ergonomics. So I believed whatever camera AJA made needed to be ergonomic.
To me, that meant it sat on your shoulder, not out in front of it. At the same time, it could not be what I sometimes refer to as "soul stealing"; if it was too heavy, whatever ergonomics that had been achieved would be a moot point. It's like a "sports car"; if the curb weight is too high, all the power in the world won't improve a fundamental issue with the design. So, personally, I wanted a camera that was comparable to Super 35mm… but in a 16mm/Super 16mm form factor. Sometimes you do think about what you want while answering the basic questions… because you believe firmly that what you want is what others will also want.
What should the image look like? Now we enter the most nebulous part of a camera design… Some people talk a lot about a "film look." That is a very, very subjective term and it means something different to everyone. Having said this, most video cameras tend to feel too "cold" to me. Somewhere over the last few years it felt like everyone producing cameras had become afraid of the rich blacks, of the rich colors… things I felt were hallmarks of photochemically produced moving images. I was lucky enough to shoot film in the 1990s, during the rise of Kodak's Vision film stocks. So every time I looked at a sensor for evaluation, that was something that influenced me. I thought that "look" was missing in other digital video cameras that were being offered. Other looks will be possible to produce as well if this isn't something that interests you.
In closing, the CION camera wasn't produced to compete with the Sony PXW-FS7; it was made to answer the questions noted at the beginning of this post. It was made because it was something people were asking AJA to produce. Any comparison of the AJA CION to the newest Sony product – with our first effort at producing a camera – could honestly be taken as a compliment. The development and introduction of the CION pre-dates the introduction of the Sony PXW-FS7. The AJA CION is a "from the ground up" effort which is why it has taken us time to produce. The Sony PXW-FS7 of course calls on elements that have been developed by Sony over time and can be found in pre-existing products.
While both cameras seem to share some similarities, they have many differences. From an included connectivity standpoint, the AJA CION has more in common with the Sony PMW-F55 than it does with the Sony PXW-FS7. To make the Sony PXW-FS7 connectivity closer to the AJA CION, you would need to add the optional XDCA-FS7 unit (roughly $2,000 USD) to the cost of the PXW-FS7. If you want a PL mount for the PXW-FS7, you'll need to source an adapter and factor that into the cost.
In fairness, if you want the CION to be comparable to the PXW-FS7, you'll need to source a viewfinder of your choosing for it. (For the Sony PXW-FS7, my understanding is you will need to use the viewfinder specific to that model; the viewfinders designed for the PMW-F5/55 aren't apparently compatible.) These types of comparisons can go on at length. In the end, only you can decide which camera suits your needs. Everyone's needs differ. Everyone's tastes differ. I'm happy AJA will be able to offer you the CION soon.
Disclaimer: As an Amazon Associate partner and participant in B&H and Adorama Affiliate programmes, we earn a small comission from each purchase made through the affiliate links listed above at no additional cost to you.
Claim your copy of DAVINCI RESOLVE - SIMPLIFIED COURSE with 50% off! Get Instant Access!