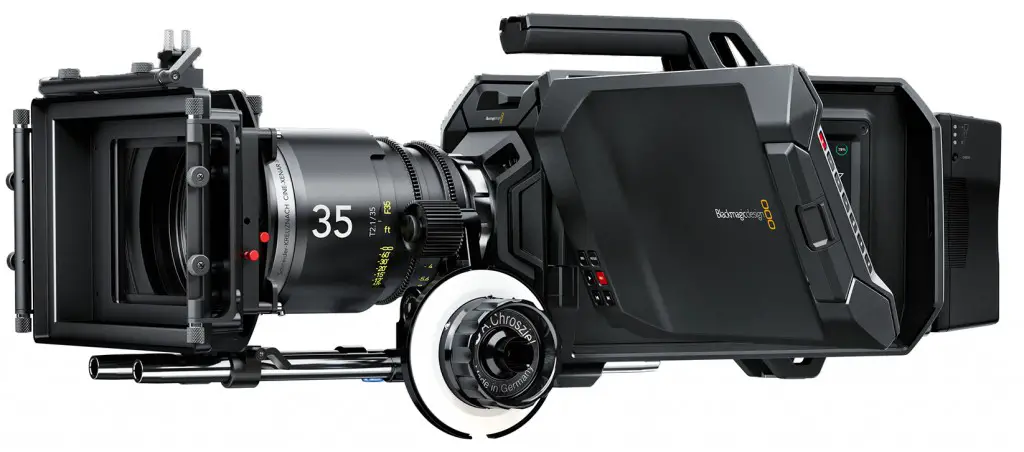 As URSA shipments are trickling slowly down the pipeline and the 4K footage it produces is spectacular especially when you put the camera into the hands of some immensely talented people. BMCuser.com moderator and top contributor Kholi, has recently shared his experience with a 4K URSA (dubbed "Duh Bear" – no joke!) on the aforementioned forum.
The URSA was mainly used for it's slow-motion ability to shoot 4K ProRes in 60p.
Check out the footage below from a multi-cam production featuring some smooth slow-motion 4K/60pfootage from the URSA:
Click here to see view on Vimeo (opens in a new window).
*ALL GRAIN ADDED IN POST*
Blackmagic URSA EF and BMCC EF
Canon 70-200 MKII, Sigma 50/1.4
4K60ProResHQ and RAW

Production: Ductapemedia
DP: Todd Hollien
Camera/Tech: Kholi
Here a list of cameras used in the above shoot:
1 x BMCC 2.5K EF & 1 x BMCC 2.5K MFT
2 x Blackmagic 4K Production Cameras
1 x Blackmagic Pocket Cinema Camera
Handful of planted GoPro Hero 3s for off angles
One High-Speed camera (60P is all one typically needs, there's not enough time to deal with more in this environment, 48 would actually be better)
Varavon Birdycam Gimbal (4K camera lived on this)
The URSA Kit was as follows:
3 x 120GB Sandisk CFast2.0 Cards
URSA XLR Wall Charger
1 x 4 Way Battery charger
4 x V-mount Batteries
IDX XLR Plate
Viewfactor Hinge Plate
15mm Studio rods
Sachtler V20 Head & CF legs
The camera is a forte. Its weight does catch you off-guard, looks as thought it may actually be made of heavy plastic because of the large LCD's side, and then the open AC LCD side (dummy side). This is a big sticking point that I'll probably hit a few times, because the camera's specs may say it weighs one thing, how a camera actually feels when you're handling it is just as important. The LCD at first sight was pretty absurd, and it did give me a big chuckle.
The absurd "iPad sized" 10 inch fold-out LCD screen did get a few laughs on set, but proved quite useful to the production. The side AC LCD was a neat addition according to Kholi, allowing the operator and assistant to have their own monitor and not look over each other's shoulder.

By the end of the shoot the crew's response towards the URSA was generally positive. Here's what else Kholi had to share about his URSA experience:
He then used the URSA on a no-budget sketch shoot, and handheld at that. Given the camera's massive weight and 10 inch screen that's quite a feat in itself. However, he did mention having a 10 inch screen in a handheld situation is completely usable. For the sketch he shot 4K Raw CinemaDNG in camera on 3 x 120GB CFast 2.0 cards, which were very quick to offload once (almost full) – around six minutes for an almost full card to offload via USB 3.0.
1 x 190WH Battery last about 2 hours.
1 x 90WH PAG battery – about an hour of usage.
Fast, light, easy to manage. Fast offload speeds. As capacities increase prices are expected to decrease. Although you can get only about five (5) minutes of 4K RAW per 120GB's CFast 2.0, larger (but more expensive cards) like 320 or 480GB CFast Cards make sense, however they are around $1,000 each at those capacities.
The main 10-inch LCD's performs well in daylight, much better than he expected and having an extra on useful.
Very similar to the 4K Production camera, however  "…a bit more robust, and less noisy. This cannot be taken as a definitive statement, as I haven't had the chance to truly side-by-side the 4K and URSA, and honestly I wouldn't personally bother because I like both enough as they are. It isn't WORSE so that's always a plus! 60P finally, BMD flavored. What's not to like about that?"
In conclusion, Kholi did mention his experience was positive and with a few improvements in the menus on the AC LCD side, the camera can be an even more enjoyable experience. The way it stands right now, the footage is very familiar to the 4K production camera, and the URSA is a very nice addition to the already solid line-up of cameras that BMD offers.
For more details and to join the full discussion head over to BMCuser.com. You can also follow Kholi on Twitter.

Claim your copy of DAVINCI RESOLVE - SIMPLIFIED COURSE with 50% off! Get Instant Access!