Samyang just announced two new additions to their XEEN budget cine lens line-up – the Ultra Wide XEEN 14mm T3.1 and the 35mm T1.5 making for a nice 5 piece XEEN Cine Lens Set (14/24/35/50/85mm) with the previously released 24mm T1.5, 50mm T1.5 and 85mm T1.5 XEEN full frame lenses. You can currently get a whopping $1,200 off on a set of 3 x XEENs – consisting of the three already released XEEN cine primes (the 24/50/85mm) in Canon EF mount, which will set you back $6,285, but considering the fact that that lump of money gets you about 1 and a half Zeiss CP.2 prime (about $4-4.5K a piece, and around $5K for the Super Speed versions), the XEEN cine primes offer significant value for money and at the moment are the most affordable "proper" cine lenses out there.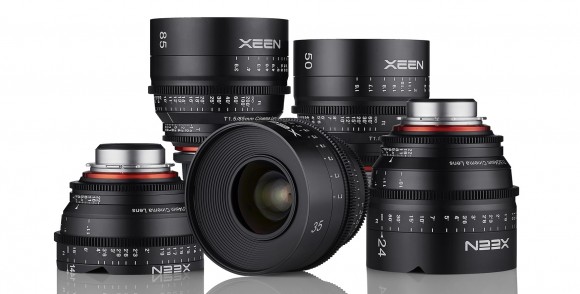 Another awesome feature of all the Samyang/Rokinon XEEN lenses is the fact that they cover 35mm full-frame, so if you are a Sony A7s II shooter, you'll feel right at home. The are available in a variety of mounts from the professional PL mount, to popular Canon EF, Nikon F, Sony E Mount and Micro Four Thirds enabling shooters from all sorts of backgrounds to take advantage of the XEEN cine primes.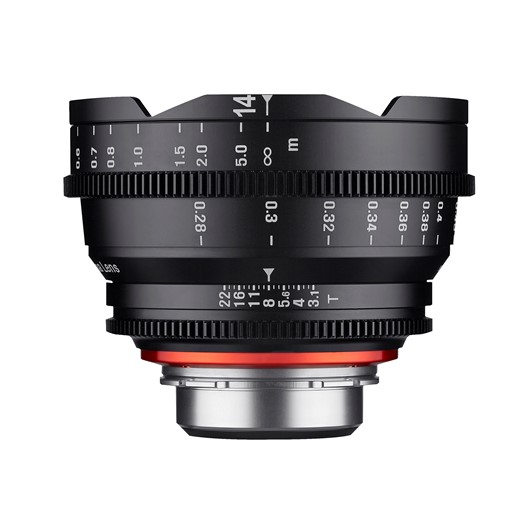 The XEEN cine primes are based around the optical design and formula of their VDSLR counterparts, which are much cheaper, but not build as fully pro cine lenses as the XEENs.
I am sure most of you are already familiar with the VDSLR and DS line of full-frame Samyang/Rokinon lenses which serve as the basis for the XEEN line-up, but for those that aren't – the VDSLR's have a more plastic design and are in essence slightly rehoused stills lenses with very useful pre-attached (and non-removable) aperture and focus geared rings so that users can attach a follow focus.
Samyang also announced that the pricing on both new XEEN lenses is $2,495 USD each and they should be available in early March.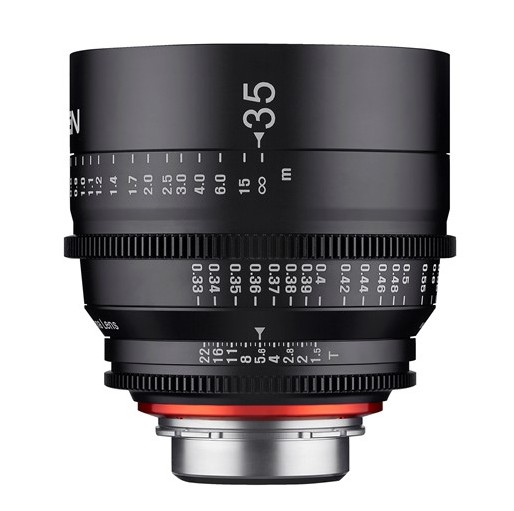 PRESS RELEASE
SEOUL, February 5th, 2016 – A global optics brand, Samyang Optics has announced the release of 2 new lenses: XEEN 14mm T3.1 and 35mm T1.5. These two lenses, along with the existing 24mm T1.5, 50mm T1.5 and 85mm T1.5 lenses, create a perfect balanced five-lens-set for filming video and cinema with the outstanding image quality from resolving power for 4K+ production.
XEEN is a specialised brand in professional video-cine lens launched by Samyang Optics in 2015. The XEEN lenses are designed with Samyang Optics' know-how and have outstanding optical performance for 4K+ with the X-Coating Technology, ensuring maximum image quality to create a cinematic look.
The 24mm x 36mm negative size allows XEEN to not only work with full frame cameras, but also with Super 35, APS-C and APS-H cameras. The lenses are available in five different mounts – PL, EF, F, E, and MFT and two different focus scales – metric and imperial units. Also, the aluminium metal housing is known for its reliability in various shooting conditions.
Most of XEEN lenses come in a bright T1.5 aperture. The lenses deliver high quality footage with clear contrast and impressive colours, even under less-than-optimal lighting conditions. The large aperture also creates a pleasing bokeh effect for a cinematic look.
"Thanks to the rise of multi-channel networks, the demands for video creation is internationally surging and the expectation of video quality is also increasing," stated by a XEEN official. He continuously said, "to satisfy the international needs, we have completed the first perfection of XEEN lenses with five lenses which deliver a high-quality cinematic image." As an answer to the future product plan, he carefully disclosed that two more XEEN lenses will be announced in the second half of the year.
Created to deliver infinite possibilities, XEEN 14mm and 35mm lenses will be globally available in early March. The recommended retail price of each lens is USD 2,495. More detailed product information is available on the official website and Facebook or Samyang Lens Global Facebook.
Claim your copy of DAVINCI RESOLVE - SIMPLIFIED COURSE with 50% off! Get Instant Access!