Just a few hours ago ahead of the Hollywood unveiling of the new Varicam LT that Panasonic teased a few weeks ago, Panasonic US spilled the beans and posted a press release on the Panasonic US website, which gave us some of the details of what the new Varicam LT is all about. The new Varicam LT shares the same Super 35 4K CMOS sensor as the Varicam 35, as well as the incredible Native Dual ISO 800/5000, V-Log, and 14+ stops dynamic range, a multitude of 4K/UHD/2K and HD codecs and frame rates, however this time the camera is one piece and much more compact as to accommodate handheld style shooting, use on 3-axis gimbals and drones. The camera is said to be available in March and priced at $18K for the body, and $24K for a package with an OLED viewfinder designed for the Varicam lineup. I expect prices for the UK to end up at around £15K + VAT, and £20K +VAT respectively, however with USD exchange rate fluctuations at the moment, those can be way off.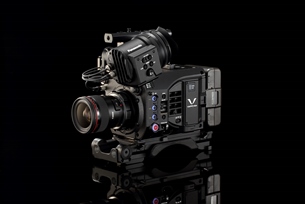 Unlike the PL mounted Varicam 35, the new Varicam LT features a Canon EF mount, which apparently can be swapped to a PL one – the details of whether this will be a factory thing or a user interchange-able process is yet to be officially confirmed. Other differences on the Varicam LT include: – a single ExpressP2 card slot for all recording; the Varicam LT does not have the dual sub-recording capabilities to record simultaneously to a microP2 card like its bigger brother.
Frame rates and codecs include Apple ProRes 4444 (up to 30p) and ProRes 422 HQ (up to 60p) in Full HD, as well as AVC-Intra LT (for 4K) and AVC-Intra 2K-LT, both designed to offer capture frame rates up to 240fps in imager crop mode.
The Varicam LT also features built-in ND filters and will have a RAW update (via SDI) a bit later in 2016. More details on specs to be announced shortly after 7PM Eastern time US. For those who have yet not see what the Varicam 35 sensor can do, check out these clips below:
PRESS RELEASE
Panasonic today unveiled the VariCam LT, representing the next generation of 4K cinema cameras. The VariCam LT camcorder  inherits the same super 35mm sensor and superb imaging capabilities that distinguish the award-winning VariCam 35, but with significant reductions in size, weight and price.
Incorporating this identical imaging "DNA" in a more compact rendition, the VariCam LT (model AU-V35LT1G) delivers 14+ stops of dynamic range with V-Log, and the esteemed cinematic VariCam image quality and colour science, as well as the VariCam 35's breakout innovation, dual native ISOs of 800/5000.
Weighing just under six pounds and having superior capability to similar sized cameras, the VariCam LT will be the ideal camera for handheld, SteadiCam, jib, crane, drone, gimbal and overall cinema verité work. The VariCam LT is likewise tailor-made for owner/operators, independent filmmakers, documentary makers and corporate production creators.
The VariCam LT delivers superb image handling in multiple formats ranging from 4K, UHD, 2K and HD, and like the VariCam 35, is fully capable of High Dynamic Range (HDR) field capture. The new 4K camcorder offers Apple ProRes 4444 (up to 30p) and ProRes 422 HQ (up to 60p) support for HD recording, as well as Panasonic's AVC-ULTRA family of advanced video codecs.
New codecs introduced in the VariCam LT include AVC-Intra LT and AVC-Intra 2K-LT, both designed to offer capture rates up to 240fps in imager crop mode, ideal for sports and other fast motion footage.
Powerful color management capabilities combined with VariCam's extended color gamut and support for the Academy Color Encoding System (ACES) workflow allow for full fidelity mastering of original source material. The VariCam LT offers in-camera color grading, with the ability to record an ungraded 4K master along with all on-set grading metadata. A new color processing feature is "V-LOOK," which acts as a blend of V-Log and video, and allows filmic documentary acquisition without the same need for intense color grading.
The VariCam LT differs from the VariCam 35 in being a one-piece, short-bodied camcorder vs. a two-piece camera head plus recorder. While the VariCam LT does not feature parallel sub-recording, it does have an SD slot for high-resolution proxy recording. Proxy files can be wirelessly uploaded via FTP, which facilitates wireless color grading. Variable frame rates are available with LongG6 recording.
There is one expressP2 card for all formats including high frame rate and HD/2K/UHD and 4K recording (the 256Gbyte expressP2 card can record up to 90 minutes of 4K/4:2:2/23.98p content). RAW output from SDI is planned to be supported by a firmware upgrade in early summer 2016.
The VariCam LT features an EF mount (vs. the VariCam 35's PL mount), suitable for the wide array of lenses available for smaller cameras.* The EF mount can be switched out to a robust standard PL mount, expanding the range of compatible lenses that can be used. The control panel can be separated from the camera body to facilitate real-time control and easy menu access. The camcorder has a production-tough magnesium body to assure durability and reliability in challenging shooting locations.
Other features new to the VariCam LT are power hot swap, IR shooting (further enhancing the camcorder's extreme low-light capture at ISO 5000), 23.98 PsF output, and image presets as scene files.
Among the camcorder's top-level production assets are ND filters (CLEAR, 0.6, 1.2, 1.8), an optional OLED electronic viewfinder (EVF) with optical zoom functionality, 24-bit LPCM audio for in-camera audio master recording, Focus Assist, anamorphic lens de-squeeze, special REC functions (PreRec, interval, one-shot), IP control via Panasonic's AK-HRP200 camera remote controller, and built-in GPS.
Professional interfaces include: 3G-HD-SDI x 3 (SDI-OUT X 2 and VF), LAN, genlock in, timecode in/out, USB2.0 Host and USB2.0 Device (mini B), and three XLR inputs (one 5-pin, two 3-pin) to record four channels of 24-bit, 48KHz audio.
The VariCam LT will be available at the end of March in two packages, suggested list price $18,000 (body only) and suggested list price $24,000 (body + AU-VCVF10G viewfinder).
Claim your copy of DAVINCI RESOLVE - SIMPLIFIED COURSE with 50% off! Get Instant Access!