SLR Magic are no strangers to the Anamorphic game. They do have a couple of Anamorphot adapters that mimics some, if not most, of the characteristics of true Cine Anamorphic lenses, and even already have a few 2x Anamorphic lenses for 4:3 sensors like the Anamorphic crop mode on the popular Panasonic GH4. Last year, at IBC 2015, they announced the 2x Anamorphic lenses, and now they are officially announcing three new 1.33x Anamorphic lenses in industry standard PL mount for 16:9 Super 35 sensors. The new lenses are a 35mm T2.4, a 50mm T2.8, and a 70mm T4.0. While availability and pricing have not been announced yet, I expect the new lenses to be priced around the $3K mark each.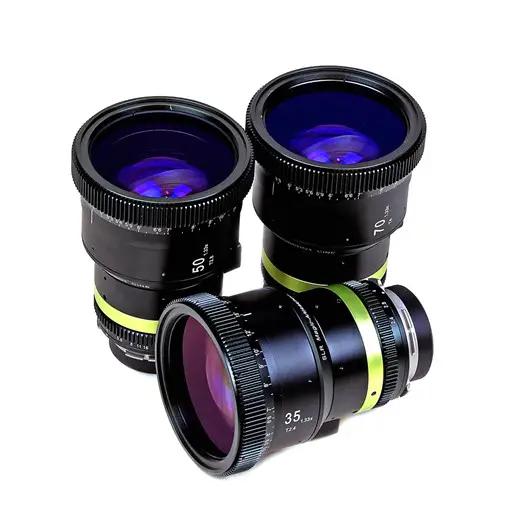 The new lenses are:
SLR Magic Anamorphot CINE 35mm T2.4 PL
SLR Magic Anamorphot CINE 50mm T2.8 PL
SLR Magic Anamorphot CINE 70mm T4 PL
These can be easily adapted to popular mounts such as Canon EF, Nikon F and Sony E-mount, so Sony A7R II shooters may need to start saving for these, which won't be exactly cheap, but considering the fact that big-boy Anamorphic lenses from Cooke and ARRI/Zeiss for example carry astronomical price tags for the budget shooters, the SLR Magic Anamorphot Cine 1.33x PL lenses may just be the right lenses for those looking for that elongated oval bokeh and delicious flares, but are on a tight budget.
The 1.33x squeeze factor may not as Anamorphic-ey to purists, who consider 2x as "true Anamorphic", but the 1.33x factor is right one for 16:9 sensors as to arrive at the magical 2.35:1 without throwing away resolution. Future RED Raven and Scarlet-W owners looking to shoot anamorphic on a budget may take a look at those as well.
Technical Specs:
Lens Type: Anamorphic lens
Squeeze factor: 1.33x
Objective front filter thread: Φ82
Mount: Titanium PL compatible with optional SLR Magic EF/F/MFT/E-mount
Titanium adapter.
Lens Coating: Multi Coated
Close Focus: 3'6
Weight (oz./g): 38.8/1,100
Length (cm): 13.5
Diameter (cm): 10
Image Circle: Super 35 for 35mm T2.4, FF for 50mm T2.8 and 70mm T4
Those of you who will be visiting the BVE Expo in Excel, London between February 23-35 can check out the new SLR Magic Anamorphic lenses at the Atomos booth K30.
PRESS RELEASE
Hong Kong, China (Feb 9th, 2016) – SLR Magic is proud to announce the SLR Magic ANAMORPHOT-CINE 1.33x PL lens set for filmmakers which could be adapted to EF/F/mFT/E-mount via adapter.
As a commitment to the film industry, SLR Magic developed the SLR Magic ANAMORPHOT-CINE lenses to deliver the classic contrast, distortion, chromatic, colour aberration, and flare characteristics of vintage anamorphic lenses, but with the convenience of a matched lens set without the hassle of aligning and matching lenses to the already popular SLR Magic Rangefinder with Anamorphot adapter combination.
To achieve the much loved scope aspect ratio, which gives a very pleasant, epic effect, filmmakers must crop off the top and bottom of standard 16:9 footage when using spherical lenses with modern digital cameras. As a result, 25% or more sensor/negative information is discarded.
This 1.33x anamorphic lens help filmmakers to maximize their image quality by preventing this loss of vertical resolution. The unique 1.33x squeeze factor uses the entire 16:9 sensor/negative area to achieve the desired 2.35:1 aspect ratio. The SLR Magic ANAMORPHOT-CINE 1.33x does this by compressing a 33% wider field of view to fit the width of the 16:9 sensor/negative without compressing image height. 
The SLR Magic ANAMORPHOT-CINE 1.33x create a unique "artifact" such as horizontal lens flare, commonly referred to as anamorphic streaks, and may create slightly elongated bokeh. Over the history of cinema, these same stylish effects have contributed to the cinematic "look" of epic motion picture photography. Characteristics that shape this anamorphic "look" come from "front-mounted" anamorphic designs such as the SLR Magic Anamorphot while "rear-mounted" anamorphic designs have more suppressed anamorphic characteristics.
Lenses would be on demo at the BVE Expo in London, UK from February 23-25 in the Atomos booth K30
[via DPReview / source: SLR Magic]
Claim your copy of DAVINCI RESOLVE - SIMPLIFIED COURSE with 50% off! Get Instant Access!