All is going according to plan at RED Digital Cinema HQ, with RED boss Jarred Land announcing recently that their latest 5K camera – the RED Scarlet-W has began shipping to customers (at least the Scarlet-W brain that is). He also announced that the RED Scarlet-W packages will be shipping in this week. For those unfamiliar with the RED ecosystem, it is worth to note that a RED brain requires quite a few additional bits to work – such as a lens mount, monitor and a battery expansion module in order to make it work, but since many who have already ordered the Scarlet-W brain are already in the RED ecosystem the possibility exists they may already have the necessary modules to make it work. Whatever the case, the vital bits required in the Scarlet-W packages will begin shipping this week so those of you who have pre-ordered the camera back in December may be getting your 5K Dragon Sensor camera with a DSMC 2 style body pretty soon.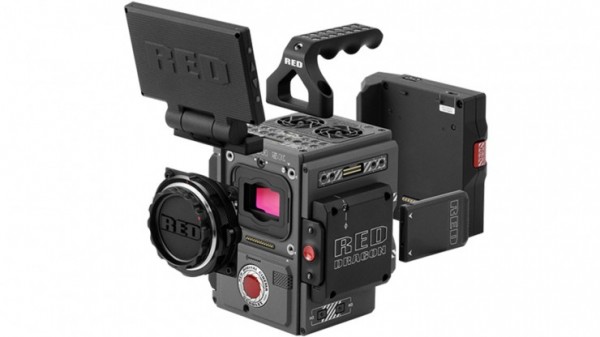 From Jarred over at Reduser.net:
We began blasting out notifications tonight…. The Scarlet-W program has officially begun. Brains are going out first, and the Scarlet-W Packages should start going out next week. Thanks to all our great customers for all for your support… and thank you to all the RED engineers for truly outdoing themselves on this one.
What is the RED Scarlet-W?
The RED Scarlet-W is a 5K capable digital cinema camera featuring a 13.8 megapixel 5K Dragon Sensor (5,120 x 2,700) capable of recording resolutions including 5K/60fps in REDCODE Raw as well as super-slow motion at 4K in 2.4:1 up to 150fps. In addition the Scarlet-W can record in the popular Apple ProRes codec at a maximum resolution of 2K (2048 x 1080) in 422 HQ/422/LT up to 60p.
The Scarlet-W is different than the entry-level RAVEN, which was announced back in September this year, in the sense that the Scarlet-W uses a Super 35 cut-out of the Dragon Sensor, features interchange-able mounts (can use PL) and also swappable OLPFs. The Raven has a fixed Standard OLPF and a Canon EF mount. The Scarlet-W is also able to record in 5K and does support 3D LUTs (17 x 17 x 17).
The RAVEN is scheduled to ship after the Scarlet-W in March. At this stage, RED is not offering a trade-in program for Scarlet Dragon owners, however they do get a juicy $2,500 discount on a purchase of a new Scarlet-W Base I/O V-Lock package.
The RED Scarlet-W Brain starts at $9,950 (no mount, just media bay), and $14,500 for the Base I/O Package, which includes:
SCARLET-W BRAIN w/ integrated media bay
DSMC Canon Mount – Aluminum
DSMC² OLPF w/ Case
DSMC² Base I/O V-Lock Expander
DSMC AC POWER ADAPTOR
RED MINI-MAG – 120GB
DSMC² RED Touch 4.7″ LCD
DSMC² Universal Handle
To order and learn more about the RED Scarlet-W head over to RED.
Disclaimer: As an Amazon Associate partner and participant in B&H and Adorama Affiliate programmes, we earn a small comission from each purchase made through the affiliate links listed above at no additional cost to you.
Claim your copy of DAVINCI RESOLVE - SIMPLIFIED COURSE with 50% off! Get Instant Access!