Video Devices just announced that their dedicated PIX-LR audio interface for the PIX-E Series of 4K recorder/monitors is now shipping worldwide from authorised resellers. The PIX-LR is a first-of-its-kind accessory that brings professional audio quality to video production and is the perfect addition to the PIX-E5, PIX-E5H and the bigger 7-inch PIX-E7, much thanks to its legendary quality Sound Devices-designed mic preamps. What sets the Video Devices PIX-LR from other companies who have similar 4K recorder/monitors like Convergent Design's Odyssey7Q+ and the Atomos Shogun for example is the full manual tactile control you get from a dedicated accessory manufactured from the world famous Sound Devices pedigree. Yes, the Shogun does have an XLR breakout cable, but its design is quite limited as it dangles on the side and never feels quite robust.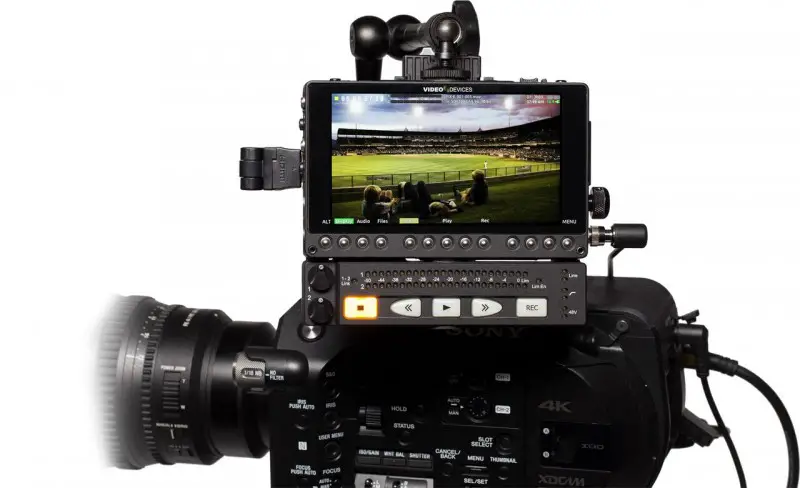 The PIX-LR on the other hand sports the same die-cast aluminium construction as the PIX-E series recorders and the familiar dedicated buttons and high-quality knobs we are have seen on other Sound Devices recorders and mixers in the past. You get very low noise pre-amps, 2 x XLR inputs and outputs as well – a pretty unique feature. The LED meters on the front are pretty detailed giving you a clear picture of where your audio levels are during a take.
Video Devices PIX-LR Highlights
2 x XLR inputs / 2 x XLR analog outputs
Extremely Low-Noise, Wide DR pre-amps
Mic / line-level inputs are switchable and offer phantom power.
Inputs #1 and #2 may be linked for stereo level and pan control
Illuminated, 23-segment LED metering
2 x dedicated gain controls – which may be recessed when not in use
Large backlit transport controls for record and playback
High-performance limiters with LED indication to prevent over-distortion
High-pass filters for reducing unwanted low frequencies such as wind noise
The PIX-LR is easily and securely mounted to the bottom of any PIX-E Series monitor including the 7-inch PIX-E7 via a single ¼-inch 20 thread screw without the need for further rigging with magic arms or cages, which is often the case with adding external audio recorders to Sony A7sII or Panasonic GH4 rigs with external recorders.

The PIX-LR also doesn't require an additional battery as it runs off the recorder it is attached to, which is a huge benefit in my book. The PIX-LR fits perfectly underneath a PIX-E5 or PIX-E5H, but it also fits on the bigger PIX-E7.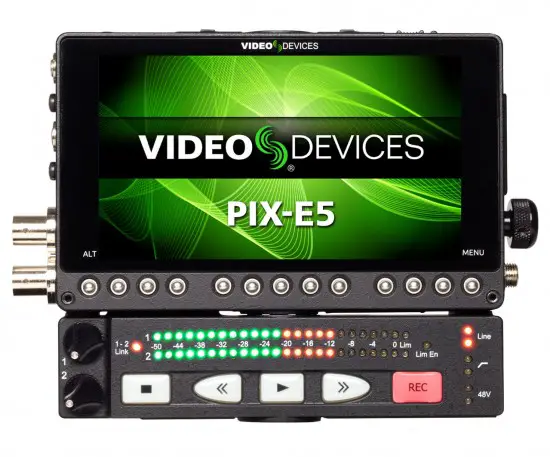 For shooters running around with the Sony FS5 for example, which does record UHD 4K but does so in a rather thin 8bit super compressed Long GOP codec, adding a PIX-E5 or E7 for a robust 10bit 4K ProRes recording makes so much sense and now with the PIX-LR you can have high end audio all in one file as well.
Video professionals and enthusiasts using smaller cameras like the Sony A7SII, A7RII or any other small compact camera can definitely see a huge improvement in the production value of their videos by adding a professional dedicated audio interface to their Video Devices 4K recorder/monitor.
The PIX-E5 and E7 4K recorders do require firmware version 2.00 in order to use the PIX-LR interface. You can download firmware version 2.00 here.
The PIX-LR is available from major authorised resellers such as B&H and Adorama for $399.
Disclaimer: As an Amazon Associate partner and participant in B&H and Adorama Affiliate programmes, we earn a small comission from each purchase made through the affiliate links listed above at no additional cost to you.
Claim your copy of DAVINCI RESOLVE - SIMPLIFIED COURSE with 50% off! Get Instant Access!