After a couple of failed attempts to revolutionise photography with their consumer oriented light field "post-focus" cameras like the Lytro Illum, which didn't really enjoy the success its creators had envisioned (even though the light field technology is pretty cool) the company recently shifted focus moving away from consumer stills towards VR/360 technology and cinema applications with their latest Lytro Cinema Camera. The latest Lytro innovation sound truly like an April's Fools prank (I did go back and check the date on the original press release to make sure it wasn't dated 4/1) or better yet something form a crazy 80's sci-fi flick – the Lytro Cinema camera utilised the company's light field technology allowing users to focus wherever they like in post, but this time it's targeting high-end feature films and TV productions.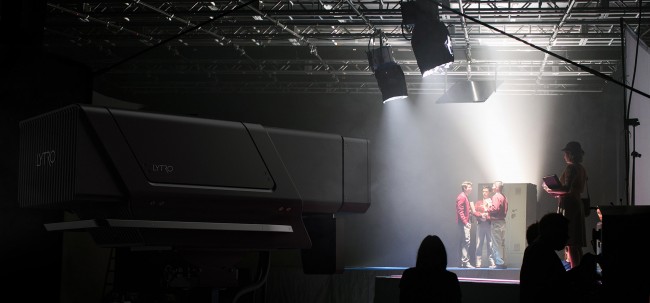 The Lytro Cinema camera features a massive 755 megapixel Raw sensor with a manufacturer stated 16 stops dynamic range that captures moving images in a totally unique way to conventional cameras and does it up to 300fps. Oh, and the resolution is not to bad either, it's around 40K. Not 4K, 40K!
But of course, the Lytro is not about resolution – it's not only about focusing in post, it's "a breakthrough capture system enables the complete virtualization of the live action camera — transforming creative camera controls from fixed on set decisions to computational post-production processes — and allows for historically impossible shots."
Lytro Cinema Features
The highest resolution video sensor ever designed, 755 RAW megapixels at up to 300 FPS
Up to 16 stops of dynamic range and wide color gamut
Integrated high resolution active scanning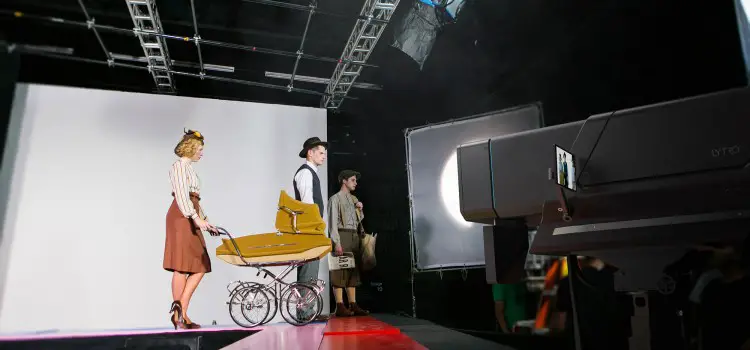 Designed for cutting edge visual effects usually incorporated by big budget Hollywood movies, Lytro Cinema aims to change the game and move productions into an integrated live action footage and computer generated (CG) visual effects into a complete capture system capable of cranking out data at rates of 400 GB/s – that's 400 gigabytes per second! This insane data rate requires a proprietary server, as no storage media made today can cope with this amount amount of throughput.
Due to its unique ability to map out every single pixel in a completely 3D environment, VFX work becomes a breeze – and the need for Green Screen almost redundant as plates can be inserted and objects removed with ease. Cinematographers will also have the ability to adjust focus and depth-of-field due to the 3D environment created in camera.
The rich dataset captured by the system produces a Light Field master that can be rendered in any format in post-production including, but not limited to Dolby Vision, IMAX, Real D, Blu-ray or any other format for exhibition of home viewing.
"Life" the first short produced with Lytro Cinema in association with The Virtual Reality Company (VRC) will premiere at the National Association of Broadcasters (NAB) conference on Tuesday, April 19 at 4 p.m. PT at the Las Vegas Convention Center in Room S222. "Life" was directed by Academy Award winner Robert Stromberg, Chief Creative Officer at VRC and shot by David Stump, Chief Imaging Scientist at VRC.
Learn more about Lytro Cinema activities during the 2016 NAB Show and get a behind-the-scenes look on the set of "Life" at www.lytro.com/nab2016.
"Lytro has always been a company thinking about what the future of imaging will be," said Ted Schilowitz, Futurist at FOX Studios. "There are a lot of companies that have been applying new technologies and finding better ways to create cinematic content, and they are all looking for better ways and better tools to achieve live action highly immersive content. Lytro is focusing on getting a much bigger, better and more sophisticated cinematography-level dataset that can then flow through the VFX pipeline and modernize that world."
The Lytro Cinema camera is said to be available in Q3 2016 and as a rental only option starting at $125K. Whether it will be widely adopted in the near future or become a niche for tent-poles and specialty projects is yet to be seen, but more importantly it's adoption may displace some focus pullers and VFX artists and fundamentally change both the camera and VFX departments.
Also – light field technology such as this raises a few important questions – Wouldn't this technology give less control to the DP and more to the producer and other non-technical decision makers who will have the power to fundamentally alter the captured images in post? Would light field technology threaten the fundamental art form of telling a story with light in camera practiced by cinematographers for over 100 years?
To be continued…
Claim your copy of DAVINCI RESOLVE - SIMPLIFIED COURSE with 50% off! Get Instant Access!