You may remember the pistol grip 3-axis stabilizer craze that started last year with the Nebula 4000 from FilmPower, which spawned numerous competitor products namely gimbals from budget manufacturers such as CAME-TV and Pilotfly. The latter had the H1 and later H1+ which offered a lightweight single hand gimbal that produced smooth shots with mirrorless cameras such as the Sony A7s, Sony RX10 II or Panasonic GH4. And while FilmPower followed up the Nebula 4000 with the 5-axis (sort of) Nebula 4200, that goes into two hand territory, a major departure from the design of the original, even though they have a version similar to the 4000, Pilotfly released the H2 – sporting a very similar, but upgraded design to the H1. Below you can find some new footage from their latest Pilotfly H2 single grip 3-axis gimbal stabilizer that you might find useful.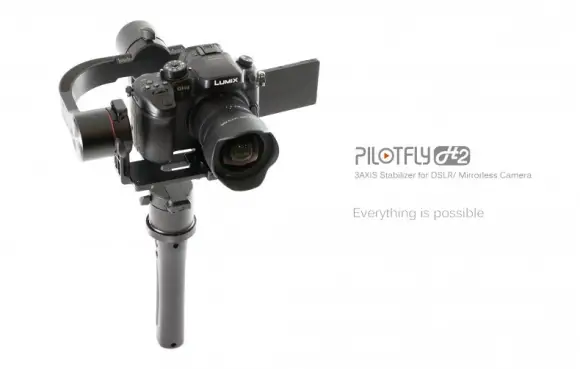 For those not familiar with these type of gimbals, the Pilotfly H2 is a single hand type 3-axis gimbal with a 32bit AlexMOS board with Triple-MCUs and 2 integrated IMU sensors that offers a more powerful and stable shooting experience than ever before. The Pilotfly H2 features an intuitive and easy to operate 4-way joystick, and 3 x integrated standard 1/4″ 20 screw holes (one on each side and one at the bottom) allowing users to mount accessories.
An improvement over the design of the original H1/H1+ is that on the H2 the handle is now detachable. The material used in the construction of the H2 is CNC aluminium alloy and the design is also tool-less. The new brushless motors were designed with integrated MCUs and Pilotfly claim they've achieved a weight reduction of around 30% compared to standard motors on other gimbals.
The gimbal can do inverted mode, and the Yaw and Roll axis have a full 360° rotation, without obstructing any cables. The Pilotfly H2 can take camera/lens combos up to 2.2 kgs (around 5 lbs.) making it a good fit for the Sony A7sII or the Sony a6300.
Pilotfly H2 3-Axis Gimbal Features and Highlights
32bit Alexmos with Triple-MCU technology
High pay-load motors with integrated encoders
Tool-less design / Quick-release plate
2.2kg payload
360° Yaw (no limitation)
4-way joystick
Detachable handle
3 x ¼" screw holes (one on each side and at bottom of the handle)
5 pre-configured profiles (Follow Mode, Pitch Lock, Full Lock, Follow Roll and Home Move)
Auto-Invert-Mode (all profiles can be also used in this condition)
Roll axis 180° turnable to mount cameras with flip screen
Integrated 4S Li-Po battery with an operation time up to 26h
Status LED for power and battery level
Integrated Bluetooth module for remote control (RM-01 remote controller is coming soon)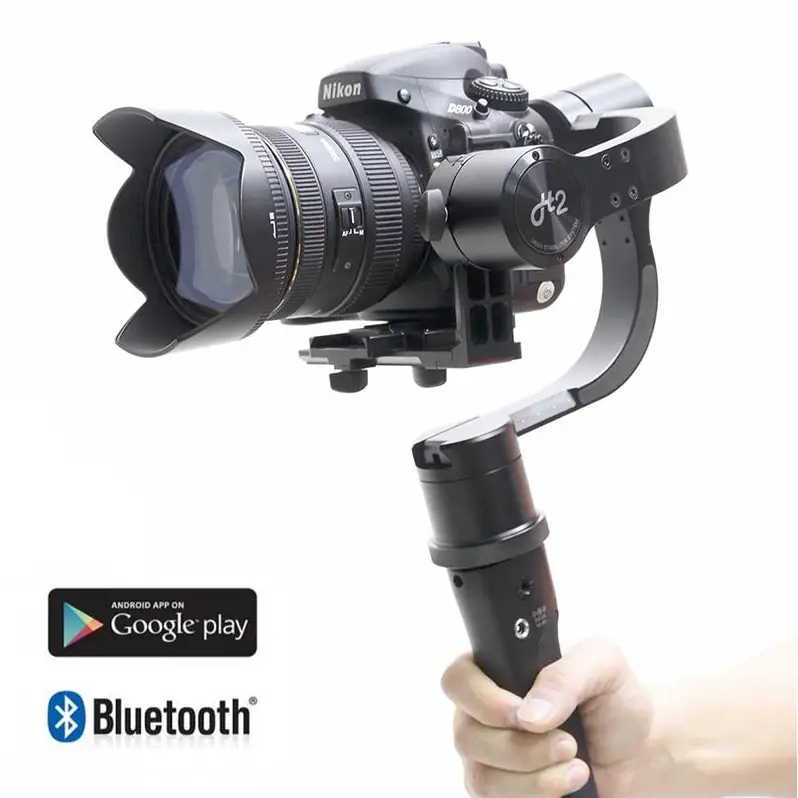 A 2-hand grip handle is available as an additional accessory. The Pilotfly H2 package includes also a carrying case as pictured below: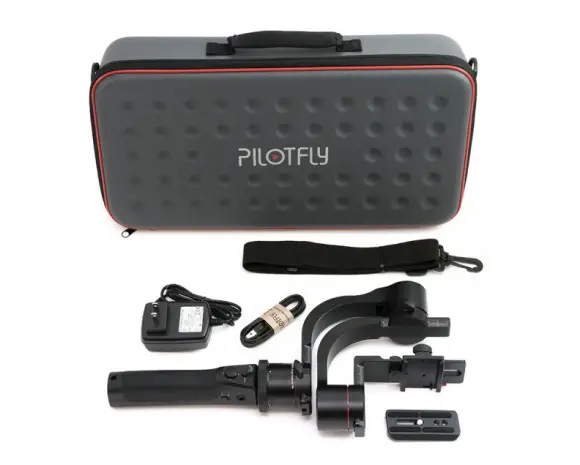 Specifications
32bit Alexmos 3 axes gimbal
integrated Triple-MCUs with 2 IMU sensors
Weight appox. 1200g (including battery)
Dimension 370 x 190 x 190mm
Max. motor payload up to 2.2kg
Integrated Li-Po battery 14.8V 1800mAh
Operation time up to 26 hours
4-way-joystick
Integrated Bluetooth module
Supported temperature accelerometer calibration
5 user-configurable modes of system operation with a toggle button
Pitch and roll angle can be controlled by 4-way-joystick
Adaptive PID-algorithm for preventing vibrations in big angles
"ACC low-pass filter" to improve the stability
Low-voltage protection for integrated battery
System beep sound alert for low voltage / mode change / calibration / Wireless remote control with Android App via Bluetooth
Firmware upgradeable to be always up-to-date
System configuration via different platforms possible (Windows, MACOS, LINUX)
Our friend Dave Dugdale from LearningVideo.com has done a first test video on the Pilotfly H2 and you can check out his thoughts on the gimbal so far in the video below:
The Pilotfly H2 can be ordered directly from the manufacturer here for $998 or if you are in the US you can order yours from B&H here.
Disclaimer: As an Amazon Associate partner and participant in B&H and Adorama Affiliate programmes, we earn a small comission from each purchase made through the affiliate links listed above at no additional cost to you.
Claim your copy of DAVINCI RESOLVE - SIMPLIFIED COURSE with 50% off! Get Instant Access!