Canon just announced a truly affordable compact cine servo zoom lens that won't cost more than your camera! I have a feeling that if NAB 2016 isn't so much about new cameras, it will be about new cine lenses this year. And starting off with the brand new Canon CN-E 18-80mm T4.4L IS KAS S the show is off to a smashing start. Technically the show hasn't officially started yet, but unlike prior years, the NAB announcements are coming a few days before the trade show floor opens for attendees. Last week, Fujifilm kicked-off the new lens season with a brand new lightweight Cabrio 20-120 T3.5 PL that will supposedly cost less than $16K or £10K in the UK, but today Canon shattered that price bracket by announcing a $5K cine zoom lens with a very respectable 18-80mm range for serious shooters on a budget who want to invest in a serious lens for docu/run-n-gun work.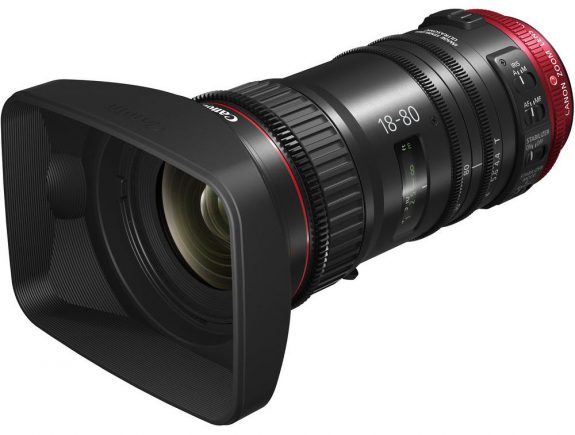 The new CN-E 18-80mm T4.4 is a more budget-friendly cine-servo zoom lens that is imbued with the DNA of the much more expensive CN7x17 (17-120mm T2.9, which is an incredibly excellent lens but one that costs the moon at nearly $30K) and even more crazy CN20x50 (50-1000mm!!! at $66,000) in terms of build-quality and servo functionality.
The CN-E 18-80mm is parfocal lens for Super 35/APS-C sensor cameras with a maximum aperture of F4.0 or (T4.4 equivalent for a more precise light transmission measurement) and an ergonomic design designed for handheld shooting. The lens is available in EF mount and fully compatible with the Dual-Pixel AF cameras like the Cinema EOS range including the Canon C100 Mark II and Canon C300 Mark II.
The design of the lens makes it deal for shooting documentaries, interviews, weddings, live events, low-budget independent films and much more. The CN-E 18-80mm features 3 modes for image stabilisation, three independent rigs with full manual or automatic control via ergonomic switches on the operators side as well as an optional servo hand grip.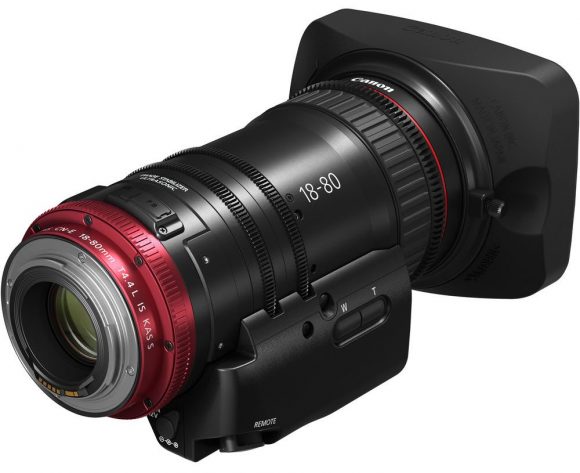 Features and Highlights
Super35/APS-C Coverage
18-80mm focal length (35mm equivalent)
Optical zoom of 4.4x
Parfocal design to maintain focus during zoom
Consistent max aperture across range of T4.4 (equivalent of f/4)
Servo and manual operation to suit shooting movies or professional applications
Colour balance consistent with EOS Cinema lens series
3 types of image stabilisation
Compact size and lightweight
4K superior level of optical performance
9 blade iris for attractive bokeh
Minimal focus breathing
Detachable servo hand grip (ZSG-C10) for shoulder style operation (optional)
Functionality with Cinema EOS Cameras
Auto focus function (Continuous AF, One-Shot AF, Focus Guide)
Image Stabilization
Remote control of zoom, focus and iris via camera
REC start/stop from ZSG-C10 Grip
Peripheral illumination correction
Chromatic aberration correction
Lens metadata record
T-stop/F-stop number display select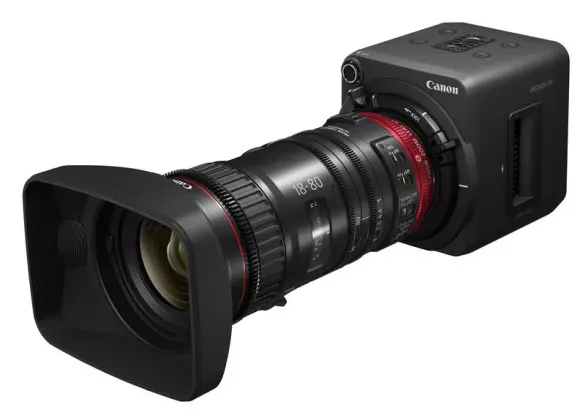 Canon CN-E 18-80mm T4.4L IS Specifications
Lens Mount: EF
Image Coverage: Super 35 /APS-C
Built-in extender: None
Focal Length: 18-80mm (35mm equivalent) 
Maximum Relative Aperture:
(T No.) 1:4.4 at 18-80mm
(F No.) 1:4 at 18-80mm
Angular Field of View:
68.7°× 41.9°
17.5°× 9.9°
72.1°× 41.9°
18.6°× 9.9°
M.O.D (from Image Plane ): 0.5m
Object Dimensions at M.O.D.
43.4×24.3cm [at 18mm]
9.5×5.3cm [at 80mm]
46.2×24.3cm [at 18mm]
10.1×5.3cm [at 80mm]
Dimensions (W×H×L): 93.4 × 107.2 × 182.3mm
Weight: 2.65 lbs/1.2kg ( includes servo unit)
Given the price point and specifications Canon may have very well struck gold with this lens. It's the budget servo zoom that a lot of shooters using not just the C300 and C100 cameras have been demanding for a long time. The CN7x17 is great no doubt, but at nearly $30,000 it's beyond the financial abilities of many camera professionals working in documentaries and event work.
I am super excited about seeing this lens land in the UK towards the end of the year as I am sure quite a few of you out there are as well. For those who would ask – why would anyone pay 5 gran for a F4.0 lens when you can get a 24-105L for a lot less. Without going into too much detail as to why the $5225 price tag is more than fair and realistic for what the lens can do, I'd simply say that using a proper cine servo zoom lens in a fast-paced run-n-gun environment compared to a stills lens is very much akin to driving a Honda Civic compared to a more refined and premium sedan such a BMW for example.
It would be really interesting to see how the CN-E 18-80mm would compared to existing Canon EF stills glass in terms of image quality and also stack up against the Fujinon Cabrio 20-120 T3.5.
The CN-E 18-80mm lens is expected to ship in the Fall 2016 and pricing for the US is set at $5,225 currently. In the UK the lens is expected to start shipping at a MSRP of £4699.99 including VAT.
The optional ZSG-C10 Servo Hand Grip is priced at £430 including VAT in the UK and 480 Euros in Europe.
Pre-order links for US:
Canon CN-E 18-80mm T4.4L IS KAS S EF Mount – $5,225 (B&H / Adorama)
Disclaimer: As an Amazon Associate partner and participant in B&H and Adorama Affiliate programmes, we earn a small comission from each purchase made through the affiliate links listed above at no additional cost to you.
Claim your copy of DAVINCI RESOLVE - SIMPLIFIED COURSE with 50% off! Get Instant Access!