Just a few hours before the opening of NAB, Atomos announced the flagship Shogun Inferno Monitor/Recorder. Apparently, the unit combines the best in monitoring technology as it boasts HDR capabilities, 10-bit processing, 1500nit brightness, PQ in/out, 4K 60p, HD 240p, Raw recording and Quad SDI ports. The Shogun Inferno also provides unprecedented playback and editing functionality that encourages on set collaboration and makes mastering a high resolution, high frame rate, high dynamic range workflow available to all filmmakers. As a flagship model, Shogun Inferno sits on top of the new Atomos HDR line-up which has expanded to include HDR as a free update to the Blade HD series, Ninja Assassin, Shogun and Shogun Studio along with the recently announced Flame series.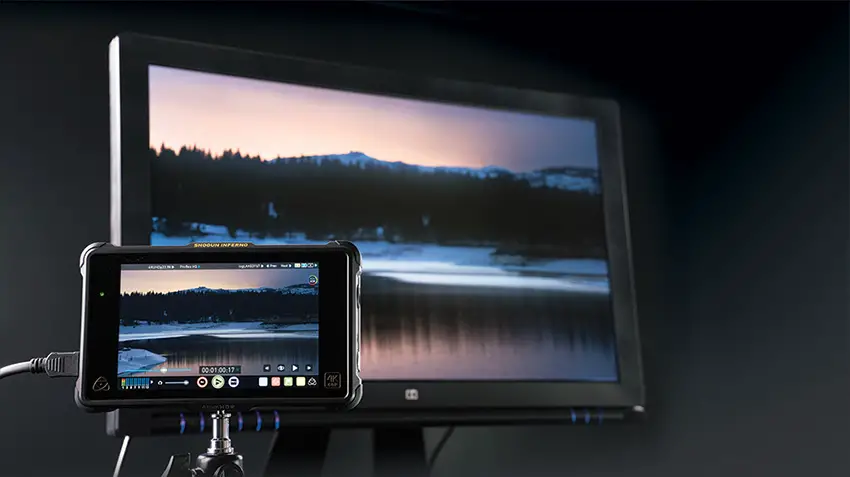 Shogun Inferno has all of the premium monitoring features previously announced on the Shogun Flame including 10 stops of dynamic range with AtomHDR, 1500nit brightness for outdoor monitoring and 10-bit processing for smooth color transitions and more.
Atomos Shogun Inferno Monitor/Recorder Highlights:
High-quality 4K 60p and HD 240p ProRes and DNxHR recording, from either a video or Raw signal – perfect
for sports broadcasters and slow motion recordings
Raw to Raw CDNG recording up to 4K DCI/UHD 30p or 2K/HD 120p. CDNG support will also be added to
existing Shogun Flame, Shogun and Shogun Studio users one month after the launch of Inferno.
Versatility of Quad SDI connections to let you input from cameras with 1.5/3/6/12G SDI outputs without the
need for converters – perfect for 4K HDR multi-cam events
7" 1500nit brightness; For Standard Dynamic Range (SDR) shooting ramp the brightness slider up to 1500 nit
for hood-free outdoor monitoring.
Apple ProRes & AVID DNxHR recording; Record to visually lossless Apple ProRes or AVID DNxHD in Rec709
or Log formats as an edit friendly, visually lossless industry benchmark independent of the camera brand used.
Custom looks, Continuous power, Playlist generation
PQ (ST-2084) input that allows you to use Inferno as a grading monitor in Post
PQ (ST-2084) output standard HDR to compatible TVs and monitors
Retail Price: $1,995
Availability: Q3 2016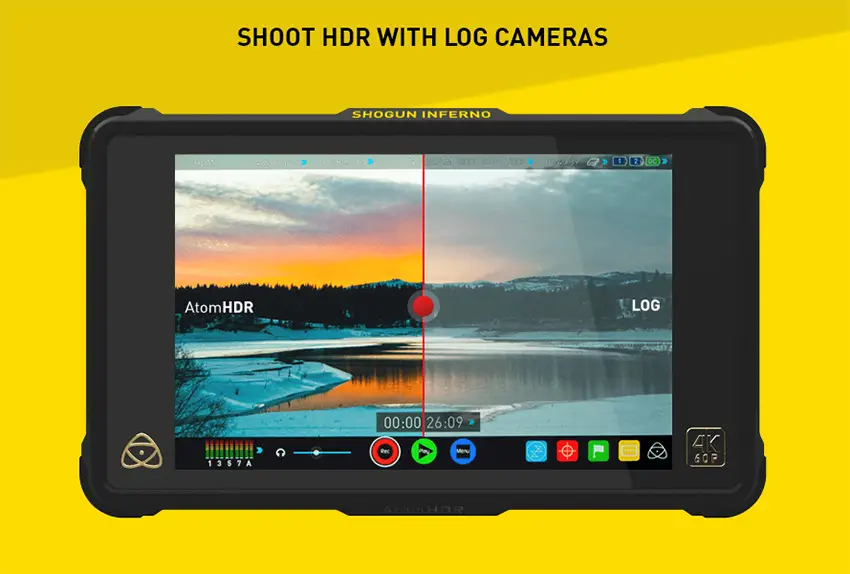 The Shogun Inferno is going to hit the shelves in the second half of 2016 for a retail price of $1,995/€ 1,995 (ex. VAT). Further, all users of the Samurai Blade, Ninja Blade, Shogun and Ninja Assassin will also get a free upgrade to the AtomHDR image processing scheduled for May 2016. In addition to the announcement of Shogun Inferno and the expanded HDR line-up, Atomos have made further announcements at NAB to support this new 4K 60p, HDR creative workflow.
[Source: Atomos]
Claim your copy of DAVINCI RESOLVE - SIMPLIFIED COURSE with 50% off! Get Instant Access!