The Veydra Mini Prime project was a huge success making high quality cine prime lenses accessible to a vast pool of budget filmmakers using Micro Four thirds and Sony E-mount cameras. Today at NAB 2016, Veydra announce their latest addition the the Veydra Mini Primes line-up of lenses – the 19mm T2.2 Mini Prime designed for Super35 sensor coverage. The 19mm T2.2 Mini Prime will be available primarily in Sony E Mount for full sensor coverage of the popular Sony a6300, Sony FS5, Sony PXW-FS7, and crop sensor coverage of the Sony A7RII and A7sII cameras.  The 19mm T2.2 will also be available in Micro Four Thirds and C Mounts as well.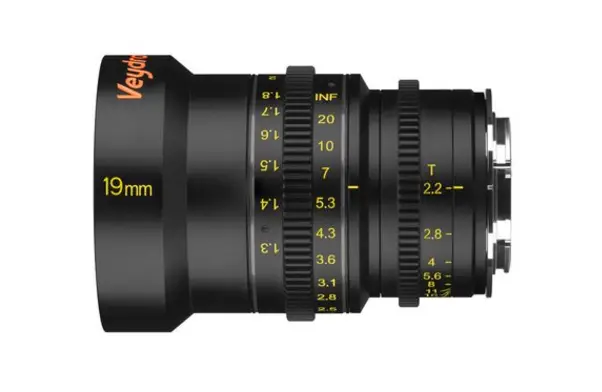 The Veydra 19mm T2.2 is expected to ship in late 2016 and be available for pre-order on Veydra.com and authorized dealers in summer 2016.
Sadly, the company is no longer considering their 2x Anamorphic project that they announced last year at NAB 2015. Here is more from Ryan Avery, founder of Veydra:
As a leading small manufacturer of things people need, we sometimes get the trend too early.  We jumped on one such early trend with the 4K anamorphic shooting modes found in cameras like the Panasonic GH4 when we announced the Veydra 2X Mini Anamorphic Project last spring at NAB Show 2015.  We did in fact spend a fair amount of money and months of design and prototype efforts in 2015 on the 2X Mini Anamorphic.  We found that our high quality standards and risk of manufacturing this specialty lens would cause many problems in delivering the best quality product.  We therefore announce that we have discontinued the 2X Mini Anamorphic project.

On a similar note, we have also decided to discontinue the Wide Angle Project for Veydra Mini Primes. We did work on design of an 8.5mm Mini Prime however we found the size would be larger than current Mini Primes, would feature at T3.0 or slower aperture, and likely would have cost nearly $2,000 US Dollars at retail pricing.  We have decided all these factors and the increase in popularity of our Sony E mount lenses to signal that more customers want us to make more Super35 coverage Sony E mount lenses than wide angle Micro 4/3 lenses.

Veydra will focus on the new 19mm Mini Prime which will rapidly move from current design phase to production deliveries later in 2016.
Claim your copy of DAVINCI RESOLVE - SIMPLIFIED COURSE with 50% off! Get Instant Access!