Just before we wrap up this year's NAB coverage, we've got another exciting news this time from Polly Systems. The German manufacturer known for its innovative solutions for film and video productions showcases its Polly Slider at the Blackmagic Design Booth at NAB in Las Vegas. In a nutshell, it's the most compact, lightweight camera slider of its class that boasts the newly developed and patented high-inertia flywheel stabilization. This innovation tends to solve the typical uneven motion produced by operator's hand movement, that, unfortunately, can't be detected until the postproduction phase. Due to the integrated flywheel with a fine-tuned gear, the camera slider mounting plate speeds up significantly during camera handling thus increasing the system's inertia considerably. The final result is an extremely smooth and stable camera panning movement.

The Polly Slider comes with a slick and sturdy design as it's built of high-grade lightweight materials. The unit also features adjustable and foldable feet that can be folded in and out with one easy movement. The Polly Slider also has a flexible mounting plate with three integrated connection options.
The tripod side features the new, patented Polly Connector that provides three combined fastening options for all common thread formats, plus a 75-mm half-ball cup. In addition, the slider comes with an integrated bubble level for getting the perfect alignment adjustments.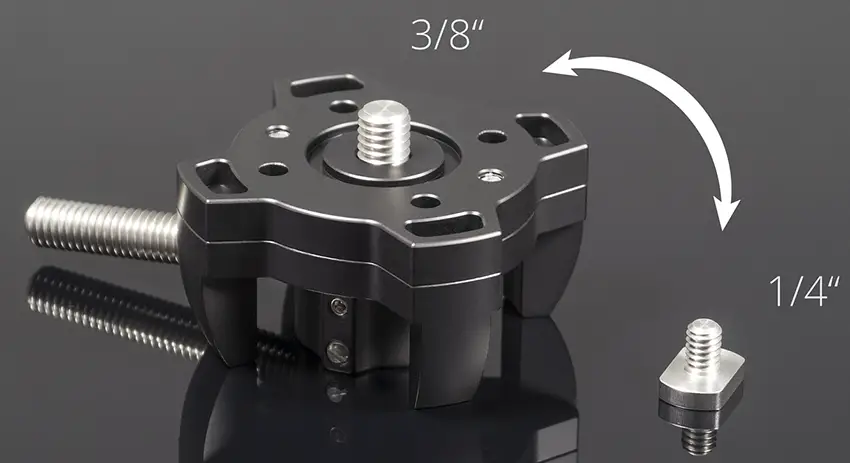 Polly Slider Highlights 
Patented stabilization technology (gear-accelerated flywheel)
Ultralight design (1.5 kg)
Integrated flexible mounting system (Polly Connector)
Flexible mounting plate (3 integrated options)
High-grade materials (aluminium and carbon)
Adjustable and foldable feet (jackknife technology)
Integrated bubble level
Price: $1,072/ €940  (excl. VAT)
Both the Polly Slider with the Polly Connector will set you back €940/$1,072. Customers can also get the Polly Connector as a separate accessory for €160 (excluding VAT). Currently, the German manufacturer offers free worldwide shipping for all ordered items until May, 31st 2016.
[source: Polly System]
Disclaimer: As an Amazon Associate partner and participant in B&H and Adorama Affiliate programmes, we earn a small comission from each purchase made through the affiliate links listed above at no additional cost to you.
Claim your copy of DAVINCI RESOLVE - SIMPLIFIED COURSE with 50% off! Get Instant Access!